Journal
Saturday, March 23, 2002
---
Major IT (Information Technology) changes are occurring at the firm where I work. Last year, the firm hired an IT consulting group to analyze and make recommendations about our IT organization. In January, a new CIO was selected. These events were foreshadowing the IT changes that were about to occur.
On March 6th, the firm announced IT Restructuring. After surviving two rounds of IT layoffs, the IT changes were finally affecting me. Two parts of the IT Restructuring affected me. First, all national IT staff would need to move to Tampa to retain their current positions. Tampa, Florida is the firm's national technology headquarters. Secondly, I would no longer have a position because the IPT (Implementation Planning Team) group that I work for was being dissolved and the tasks that IPT performed were being dispersed among other groups. The IT Restructuring changes affected about 30 national IT staff. We were given the options of applying for IT positions in Tampa or taking a nice severance package.
To start the process rolling, I applied for a development position and QA (Quality Assurance) position in the Client Systems group in Tampa. I have worked closely with the Client Systems in my IPT job. The manager of Client Systems is aware of my abilities so I should have a good shot at the positions. The development position would actually be a more enjoyable job than my current IPT job because it involves more hands-on technical work rather than management.
On April 16th, we will be informed if we have been chosen for the positions. Then we will need make a final decision to accept the position or take the severance package.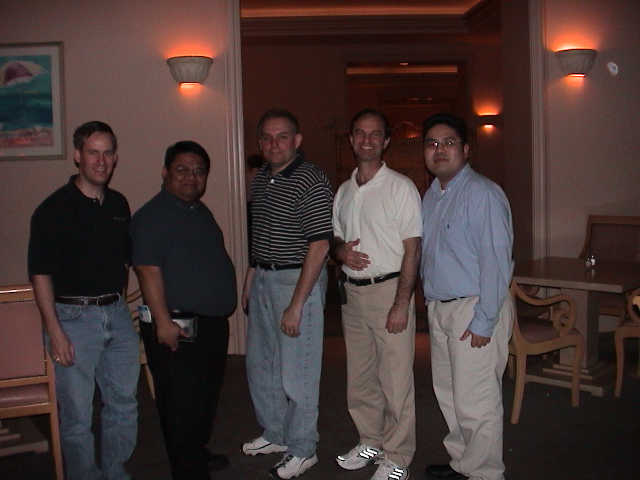 Me, Leonard, Mike, Lou and Mark
IT offered a site visit to Tampa to become familiar with the Tampa Bay area before making a decision. I took the trip to Tampa and met several co-workers from around the country that were in the same situation. IT gave us a bus tour of Tampa, took us to dinner and provided us each an individual real estate agent to show us the type of residence we preferred. I asked my real estate agent to show me houses within a 30 minute commute of the office. We toured several neighborhoods and new developments.
---