Journal
May 26, 2003
---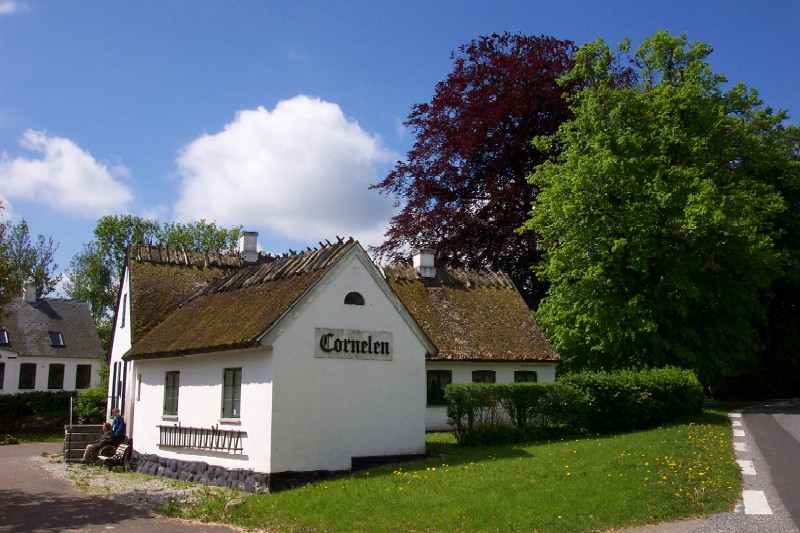 Thatched houses in Farum, northwest of Copenhagen
Museum with items from old-fashioned grocery stores
Mormor in wheel chair and Hanne by the base of the stairs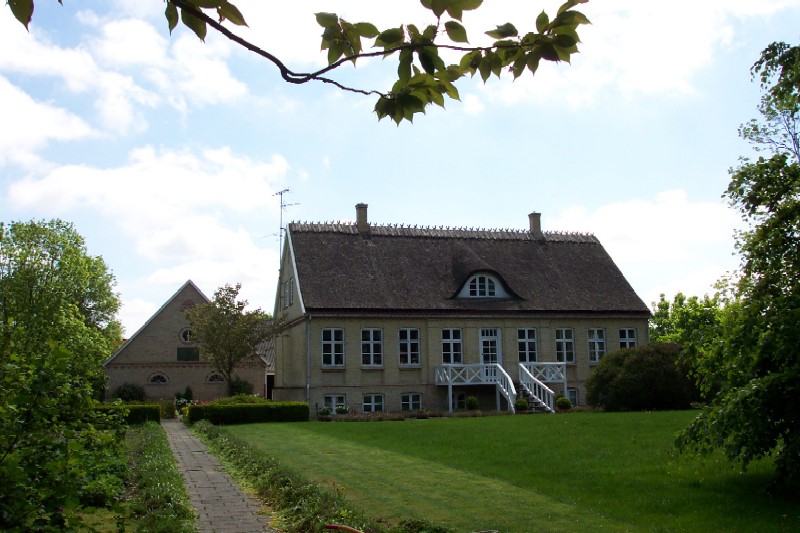 Main house of farm in Farum, near Mormor's nursing home
The gable of one of the wings can be seen to the left of the main house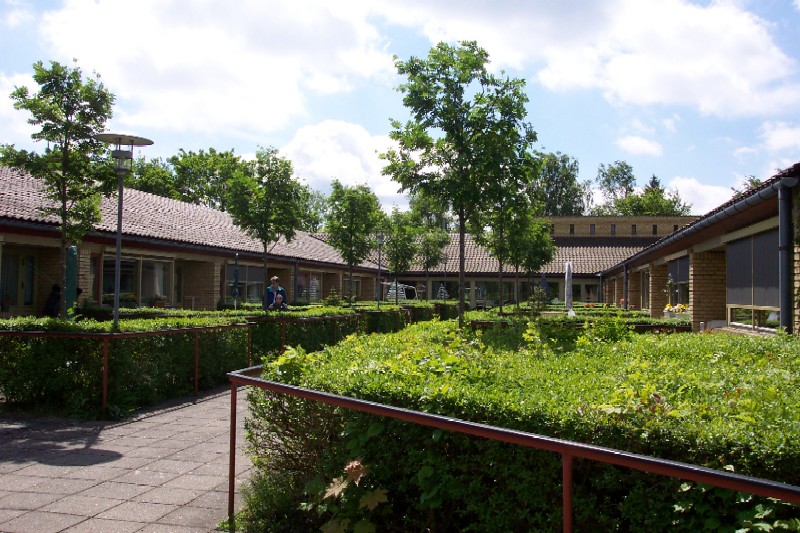 Hanne standing and Mormor sitting on Mormor's patio outside her room at the nursing home for the blind, named Solgaven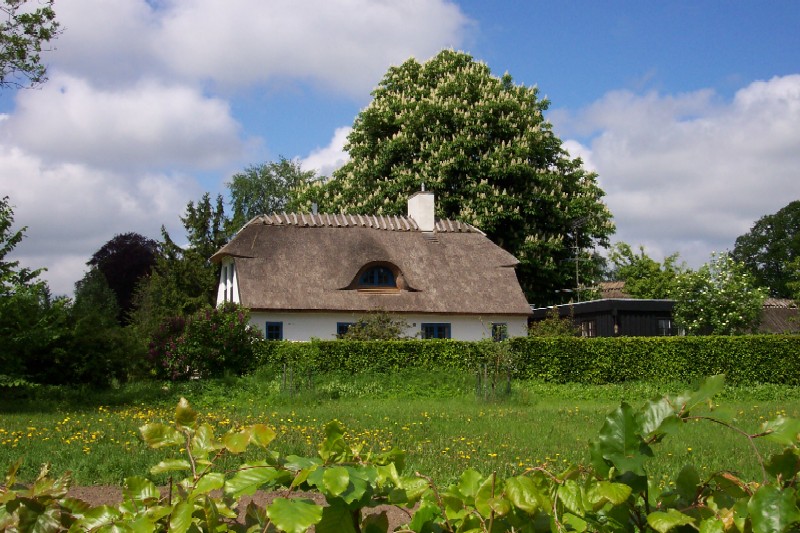 Idyllic farm house with thatched roof in Farum, near Mormor's nursing home
It's a chestnut tree with flowers in the background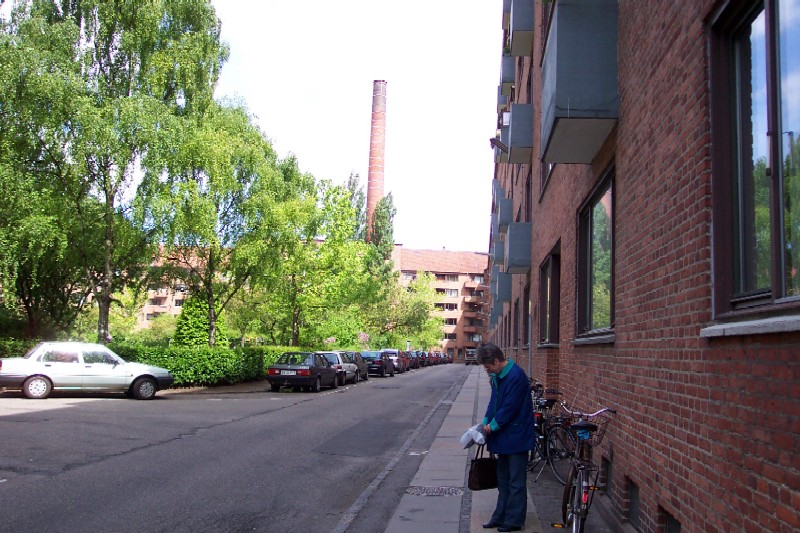 Hanne at Hostrups Have 8 in Copenhagen, the apartment complex where Mormor and Morfar lived when my brother and I were children.
In the background behind the greenery is a park, a small soccer field and a playground for children.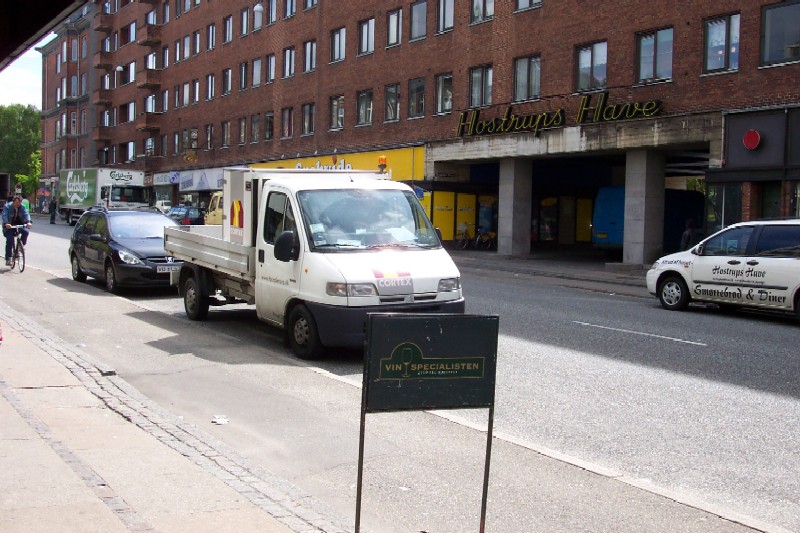 The north entrance at Rolighedsvej to the Hostrups Have apartment complex where Mormor and Morfar lived, when my brother and I were children. Notice the golden pretzel with crown, mounted on the wall of the building on the other side of the street near the Carlsberg beer truck. It's our favorite bakery.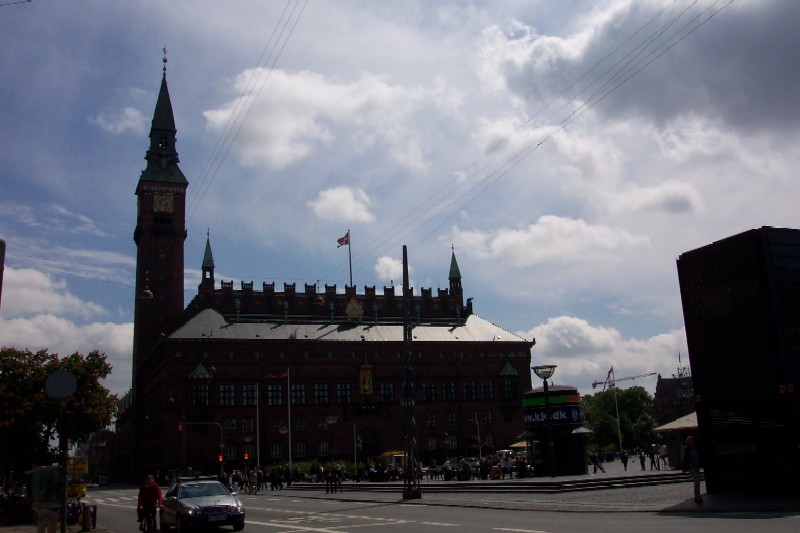 Outline of the Copenhagen City Hall in an odd afternoon lighting, which leaves the facade in the dark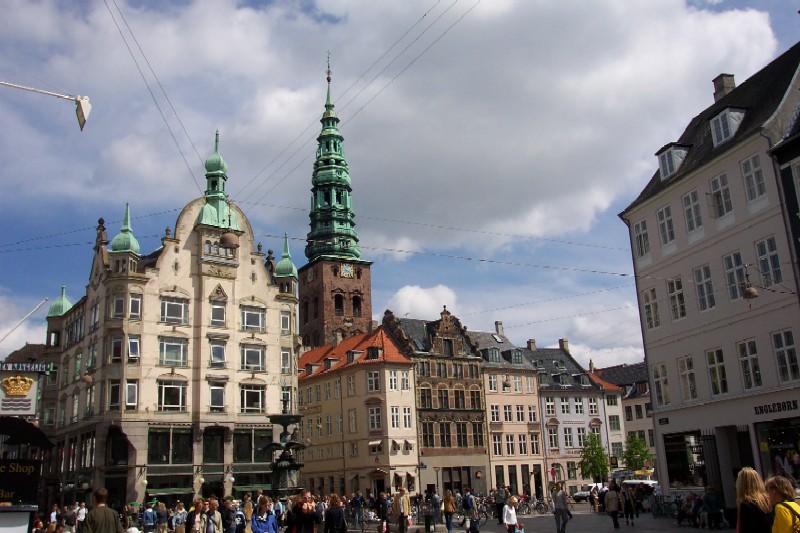 Amager Square in the city of Copenhagen. The sign with 3 wavy lines and the golden crown belongs to the Royal Danish Porcelain shop. The steeple is from Nikolaj Church. The building straight ahead is from the Renaissance approximately 1650.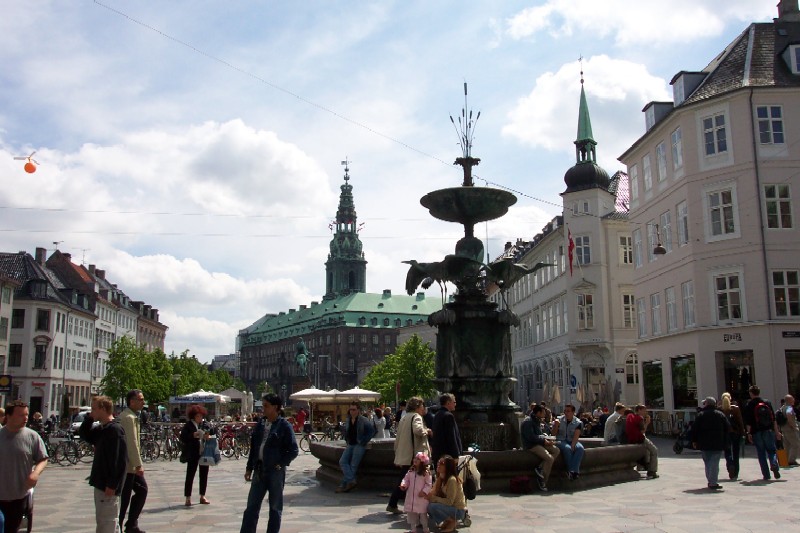 Amager Square in the city of Copenhagen. A view toward Christiansborg, the Danish parliament, with the green roof (oxidized copper) in the background. The Stork fountain in the foreground.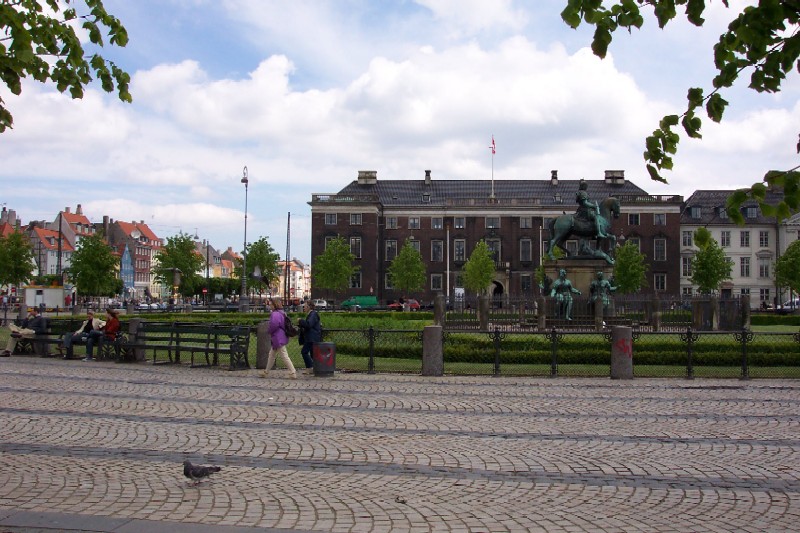 Kongens Nytorv, another famous square in Copenhagen. When students graduate from the college preparatory schools in late May, early June, they can be seen, wearing their white graduation caps, holding hands, while "dancing" and singing around the horse/rider sculpture in the center. That's an annual tradition.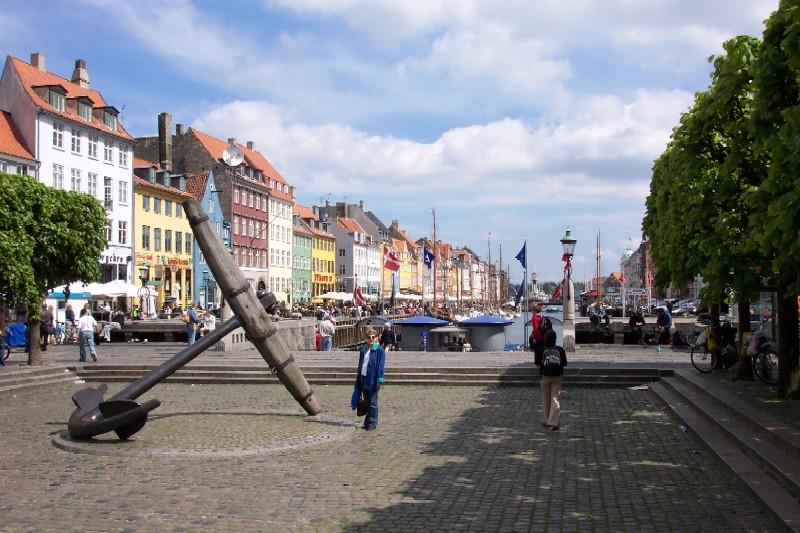 Nyhavn, part of the Copenhagen harbor, with an anchor in memory of sailors lost at sea. The picturesque houses have many restaurants with tables on the sidewalk.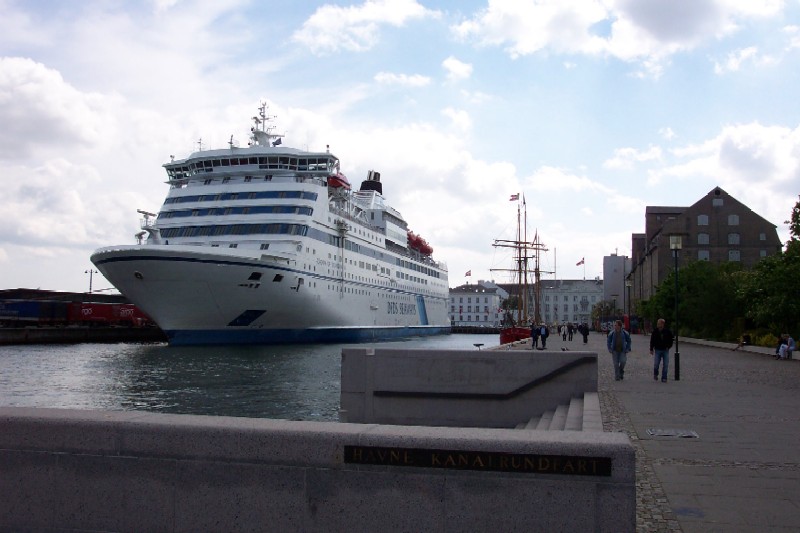 Copenhagen Harbor and the ship, which sails between Copenhagen and Oslo on a daily basis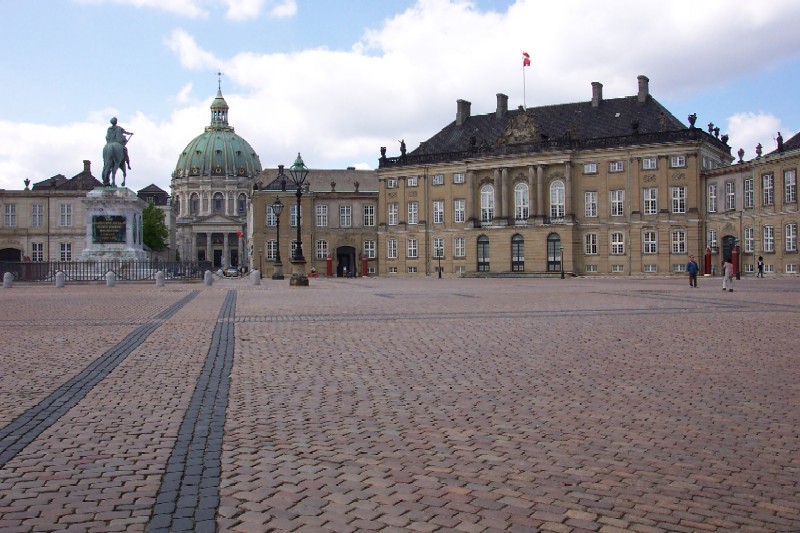 Amalienborg Castle, the residence of Margrethe II, queen of Denmark. Frederik's Church is in the background. Way to the right is one of the Queen's guards wearing his black bearskin cap. The red, skinny houses are for the guards on rainy days. The Danish population and traffic is allowed on the square.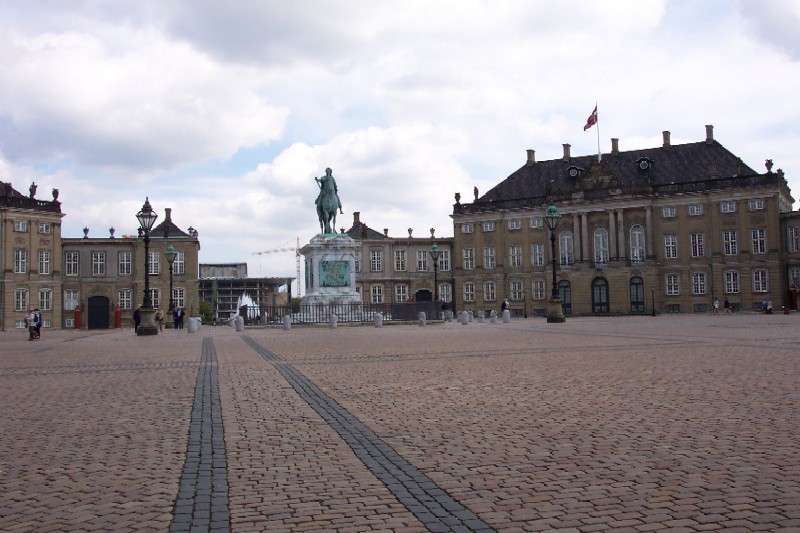 Different view of Amalienborg Castle, the Queen's residence in Copenhagen. Behind the statue and the fountain is an opera house under construction at the other side of the harbor.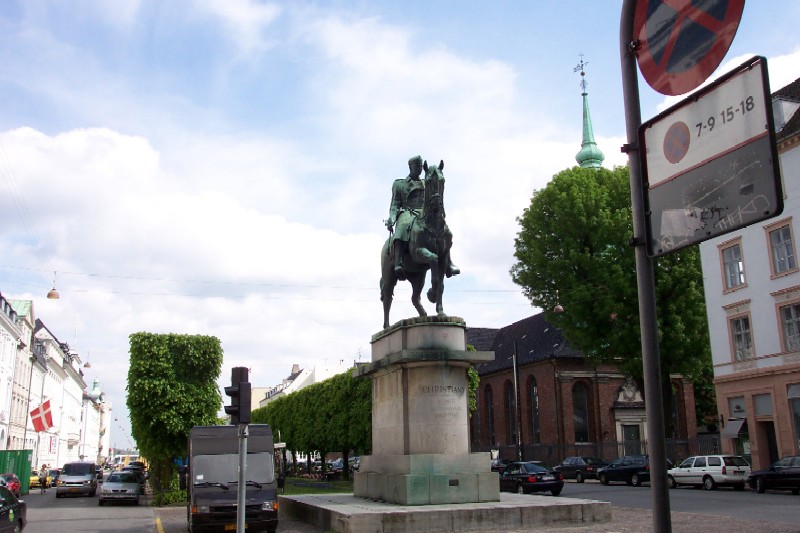 Statue of King Christian X, the paternal grandfather of the present Queen Margrethe II, just as he's remembered by the Danes. This statue is a St. Anna Square in Copenhagen, not far from Amalienborg Castle. During the German occupation of Denmark 1940-45 Christian IX, king of Denmark at the time, rode out through the streets of Copenhagen every day with total disregard for any danger or threat presented by the German occupation forces. For this he was held in high regard by the population.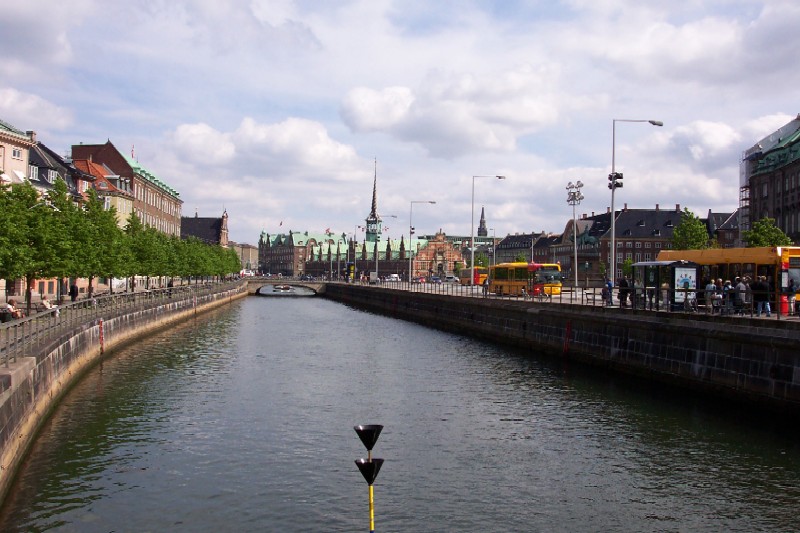 One of the canals in Copenhagen (part of the old city moats) with the Copenhagen Stock Exchange in the background. It's the low building with green, oxidized copper roof and the unusual spire made up of 3 twisted dragon tails, another building from approximately 1648.
---