Vacations
June 21 - July 9, 1999
---
Scandinavia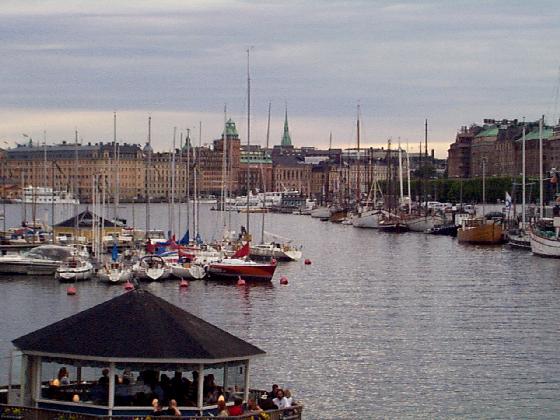 Stockholm harbor.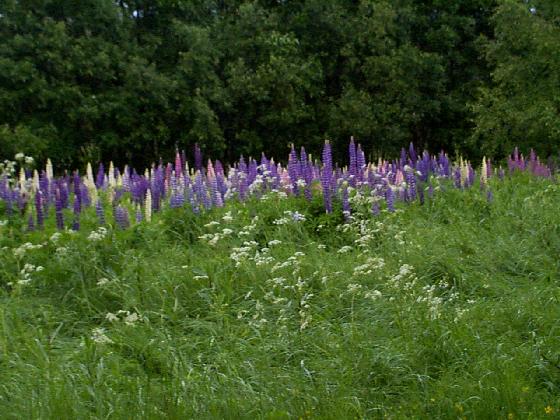 Wildflowers on contryside.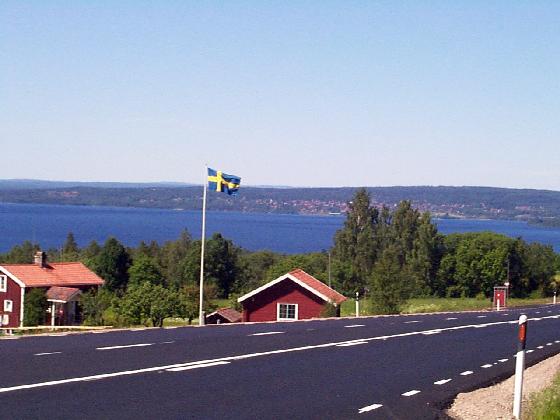 Lake Siljan near Rättvik, Sweden.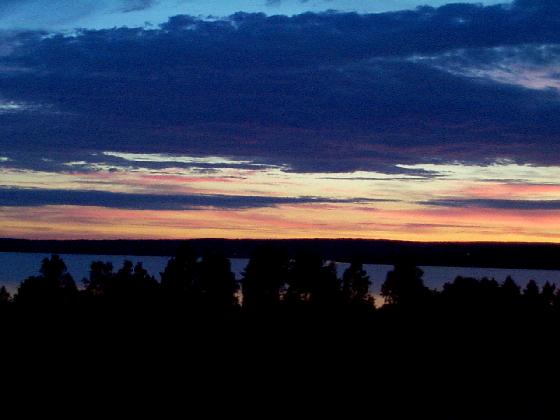 Midnight at Lake Siljan.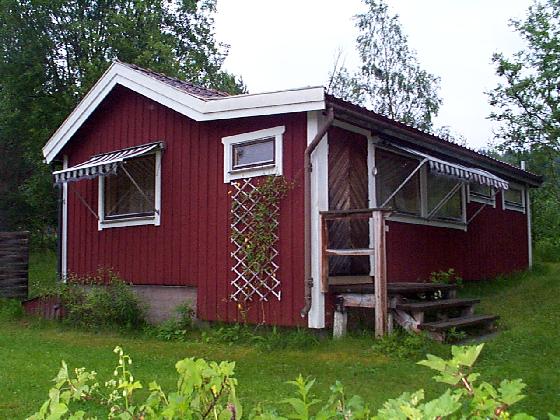 Ellen & Styrbjörn's guest house where my brother and I stayed.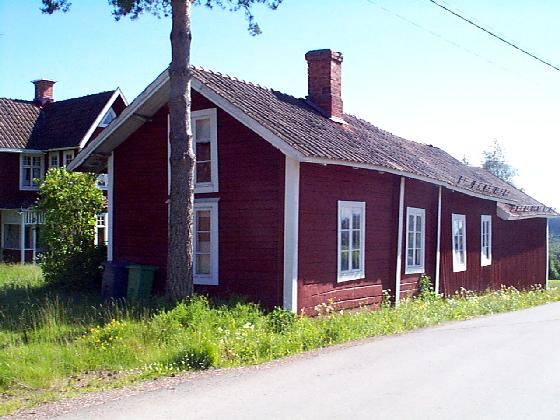 Kristina "Kerstin" Andersson's childhood house (my great grandmother).
The horizontal logs is the original house and vertical boards is where a newer section was added.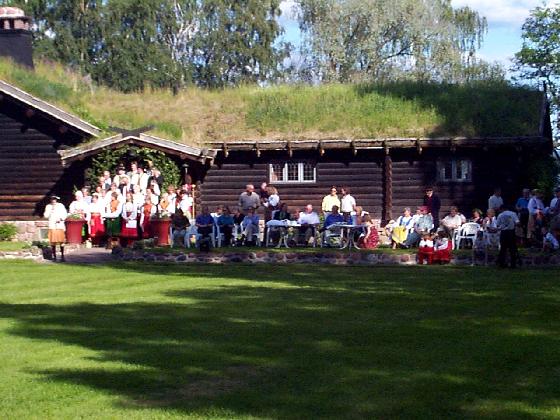 Honored guests at Midsummer Celebration in Mora, Sweden.
We were provided front row seats with coffee and pastries.
A choir is singing on the steps of a historic house (they need to mow the roof).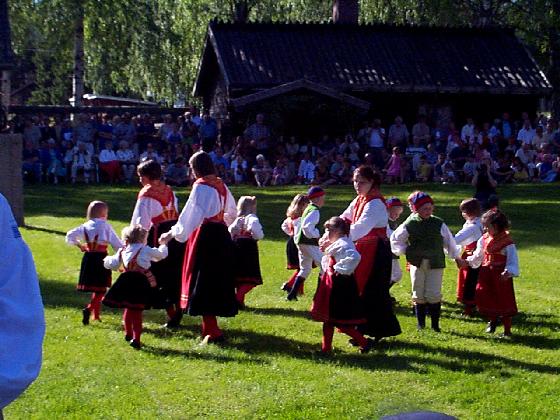 Folk dancing in traditional local costumes at the Midsummer (summer solstice) Celebration.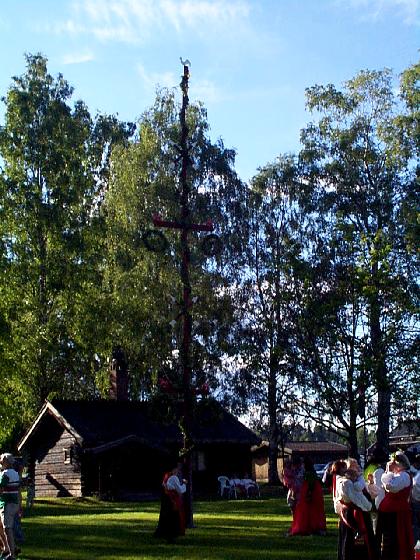 Raising of the Maypole during Midsummer Celebration.
The Maypole symbolizes fertility and is decorated with fresh flowers.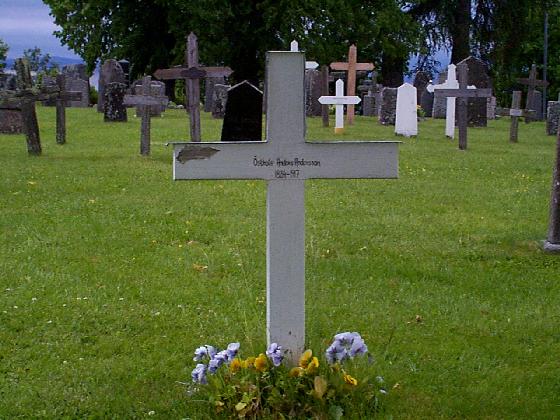 Grave of Östhols Anders Anderson (my great great grandfather) at Rättvik Church cemetary.
Östhols Anders Anderson our common Swedish ansestor of the Swedish and U.S. descendants.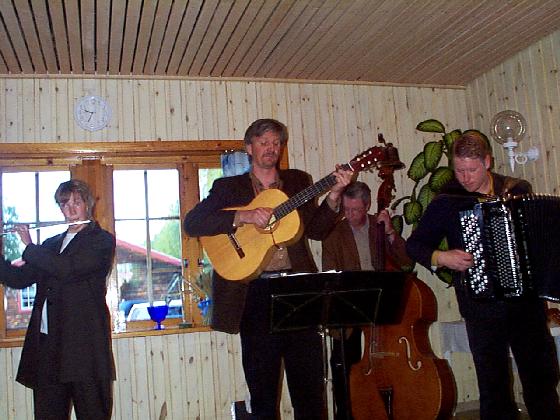 Swedish band performing at Erik's party for family and friends.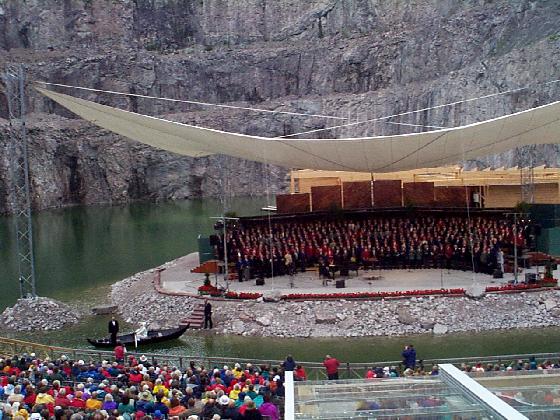 Dalhalla limestone quarry amphitheater featuring the Grand Men's Choir concert of 17 local men's choirs.
Dalhalla web site.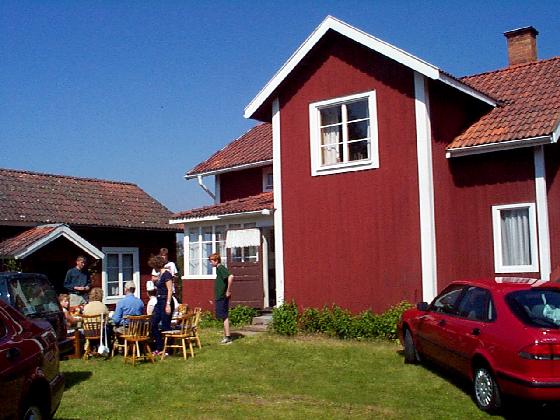 Pellas Olof Hansson's farm (my great great grandfather) in Bäck, Sweden with the main house (on right) and summer house (on left).
Pellas sold the farm to his sister and the farm is now owned by descendant Lars Bäckström.
Lars Bäckström is a member of the Left Party in Swedish Parliment.
Lars gave us a tour of the farm and a tour of the Swedish Parliment in Stockholm.
The Swedish Parliament web site.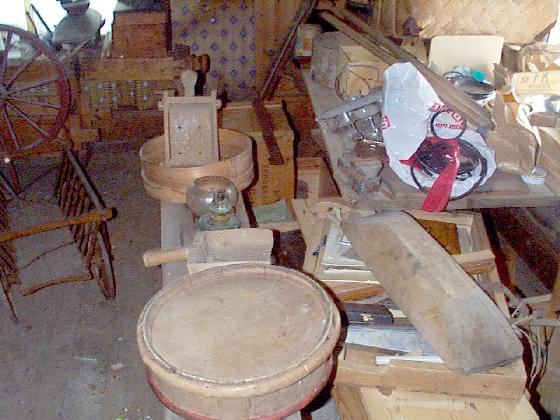 Antiques inside Pellas' summer house.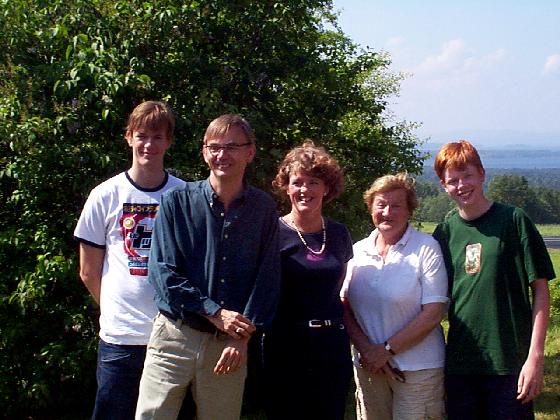 Lars Bäckström and family with Ellen.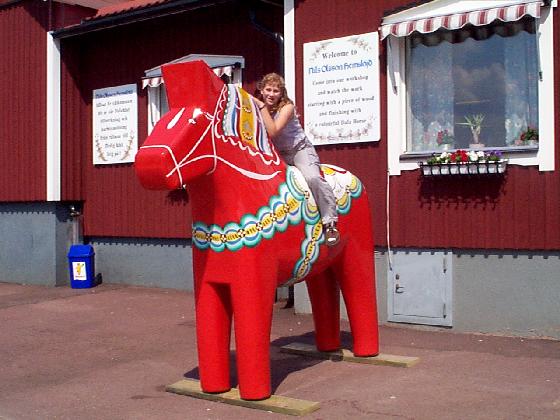 Britta Dahlstrom riding a giant wooden horse at the Nils Olsson Hemslöjd (wood hand-crafters) Dalahäst (Dala Horse) factory.
The Dalahäst factory is in Nusnäs, Sweden in the province of Dalarna.
Nils Olsson Hemslöjd web site.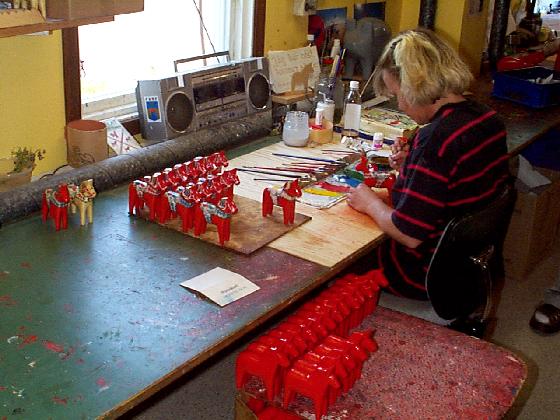 Dala horses being hand painted at Dalahäst factory.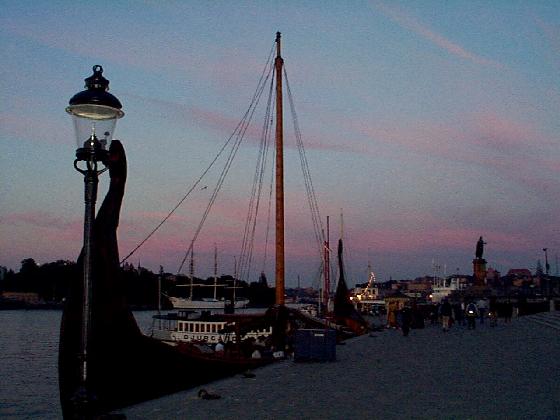 Dining Viking ship at Stockholm Gamla Stan (Old Town) harbor.at midnight.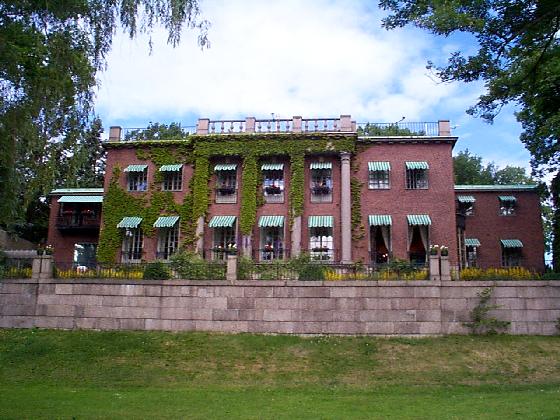 U.S. Ambassador's residence in Stockholm, Sweden.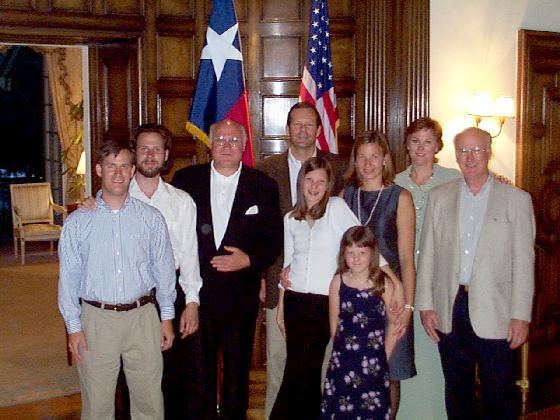 U.S. Ambassador to Sweden, Lyndon L. Olson, Jr., and relatives.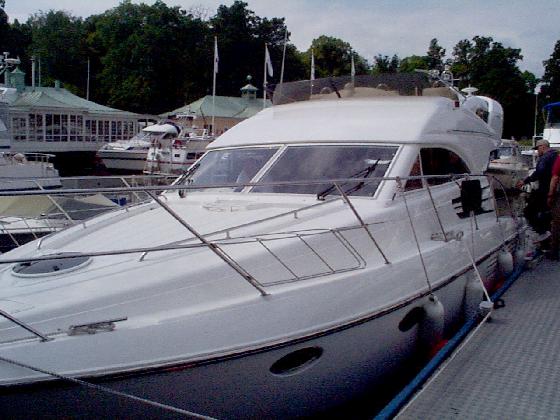 The U.S. Embassy yacht is a Fairline Phantom 38.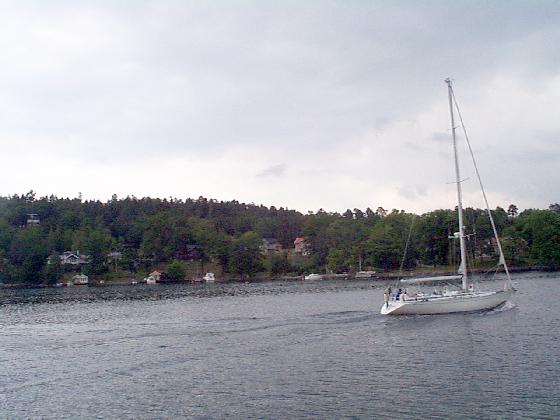 Cruise along the canals in Stockholm on U.S. Embassy yacht.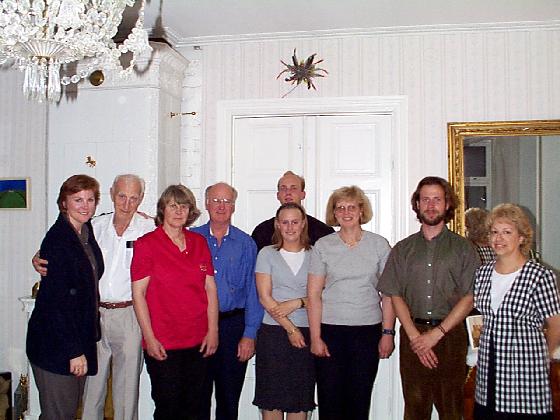 Rttvik relatives.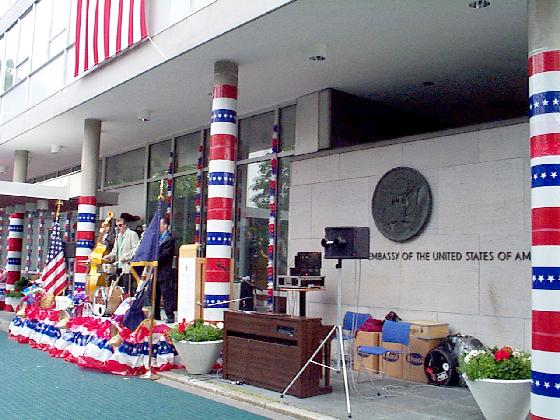 Independence Day celebration at U.S. Embassy to Sweden in Stockholm.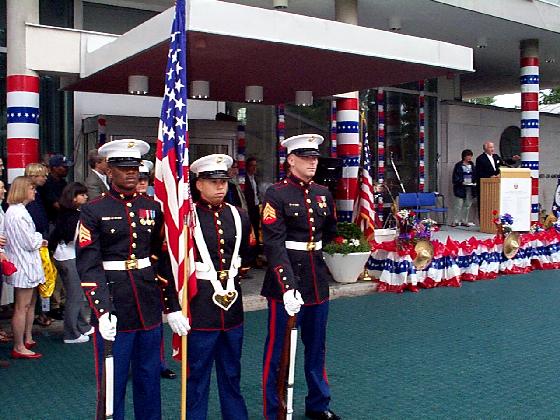 U.S. Ambassador, Lyndon L. Olson, Jr., giving speech at Independence Day celebration.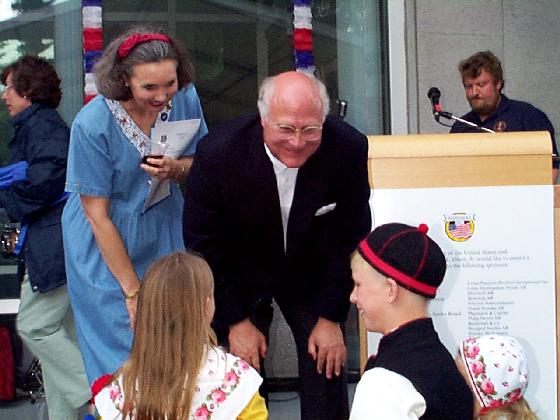 U.S. Ambassador, Lyndon L. Olson, Jr., greeting childen in traditional Swedish costumes.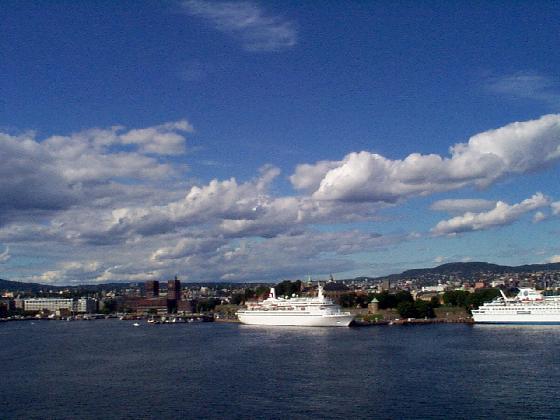 Oslo harbor.with Akershus Castle (behind center cruise ship) built in 1299 and city hall (left of center cruise ship).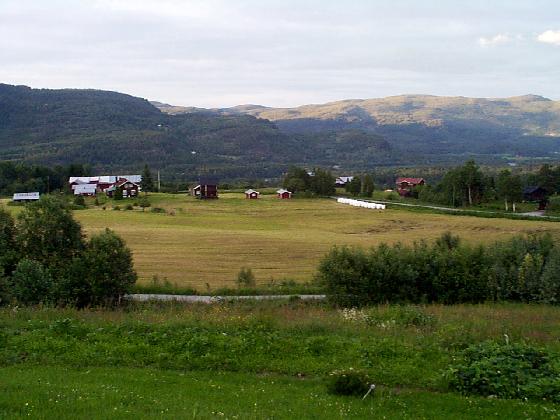 Countryside in town of Veggli in Numedal valley of Norway.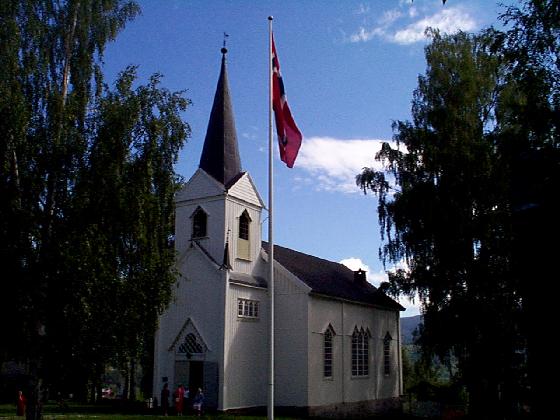 Veggli church where we met Norwegian relatives and pastor gave special church service.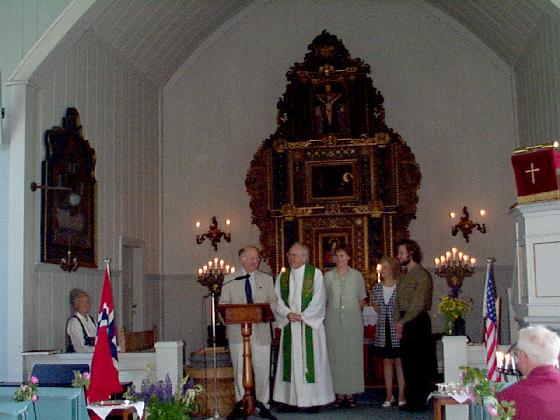 Don Olson (my father) giving welcome speech in Norwegian at Veggli church services.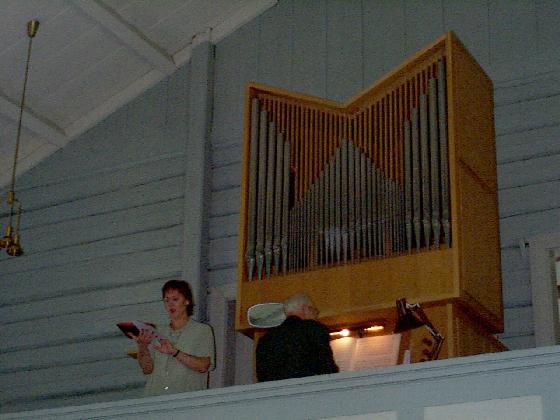 Sherry Olson (my cousin) singing a Norwegian hymn at the church services.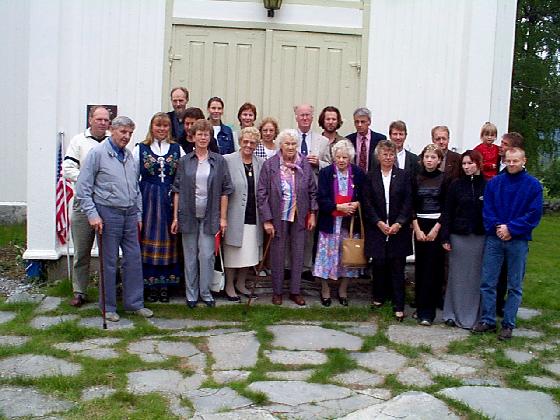 Norwegian relatives.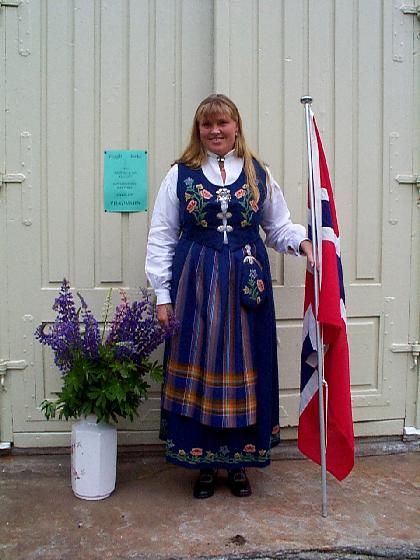 Teresa in traditional Norwegian costume with wildflowers and Norwegian flag.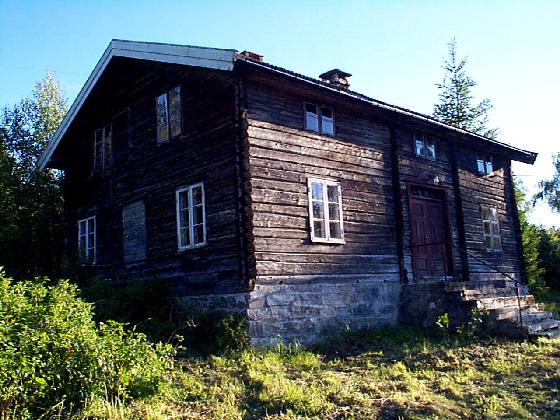 Haslerud ancestoral farm.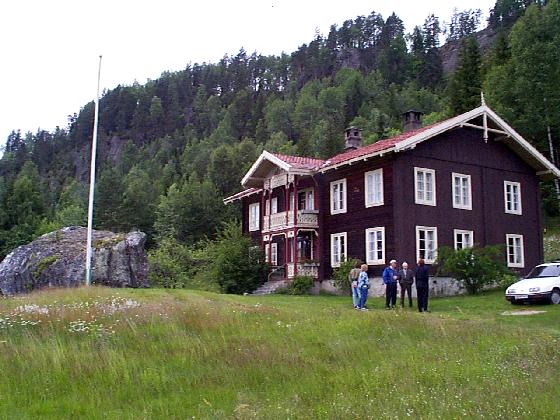 Hvammen ancestoral farm.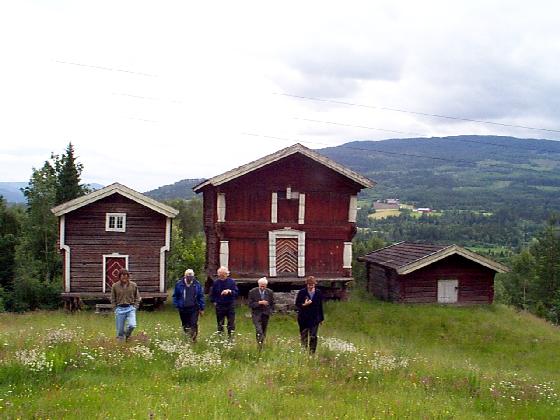 Raised food storage houses built in 1730 on Hvammen ancestoral farm.
The houses were raised to keep out mice that can't climb upside-down.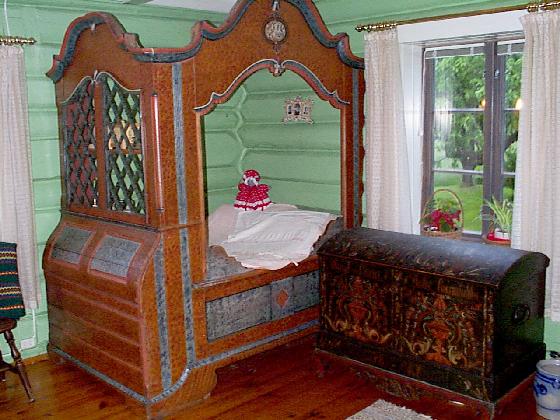 Antique bed and chest.
Scandinavians would sleep sitting up in 18th & 19th century from fear of choking on bodily fluids.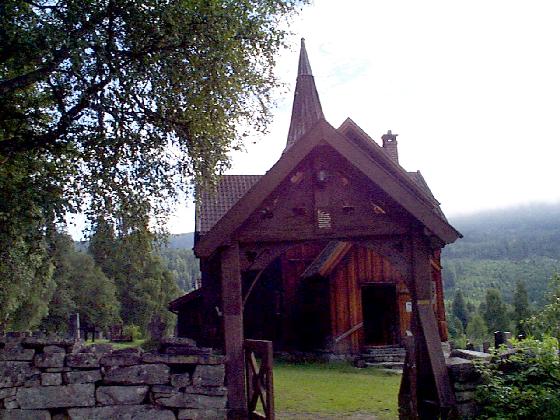 Rollag Church, the oldest church in Norway built at about 1200 A.D. in Rollag, Norway.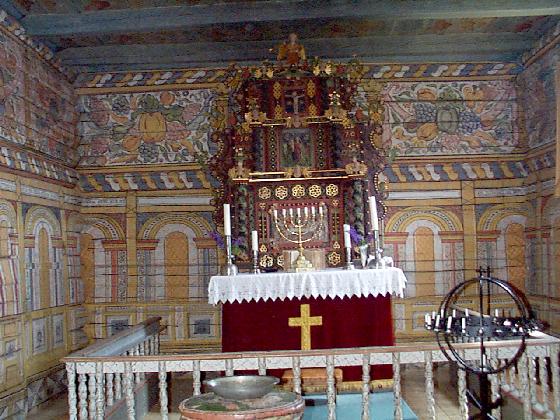 Alter of Rollag Church.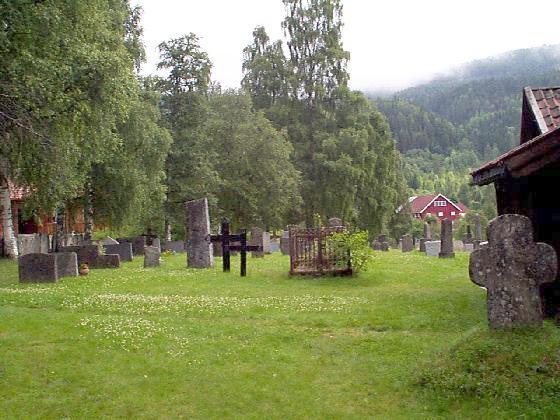 The large gravestone (on the right) is from about 1000 A.D., before the Rollag Church was built.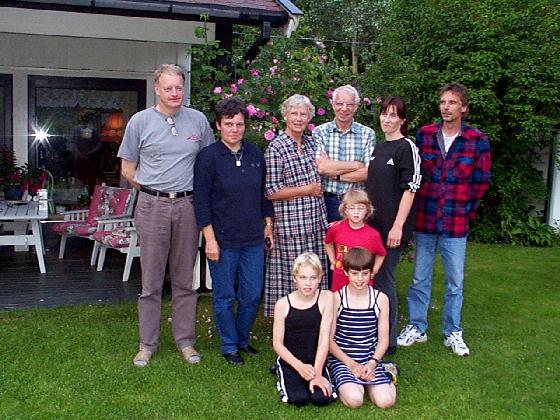 Veggli relatives.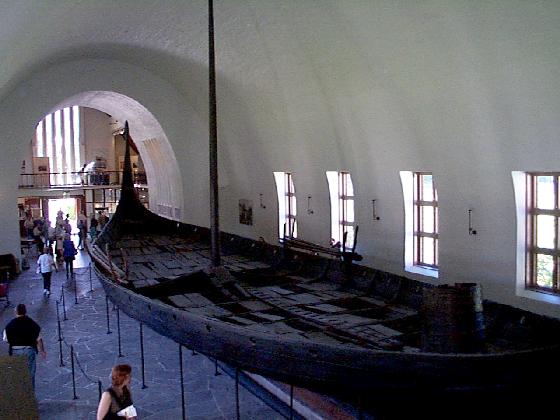 Vikingskipshusset (Viking Ships House) museum of Viking ship burials of the 9th and 10th centuries.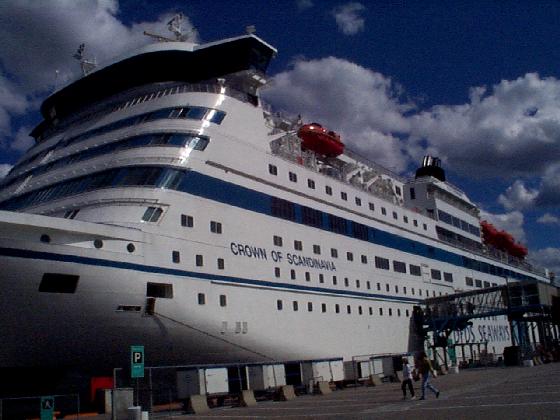 The DFDS Seaways cruise ship Crown of Scandinavia which sails from Oslo, Norway to Copenhagen, Denmark.
DFDS Scandinavian Seaways web site.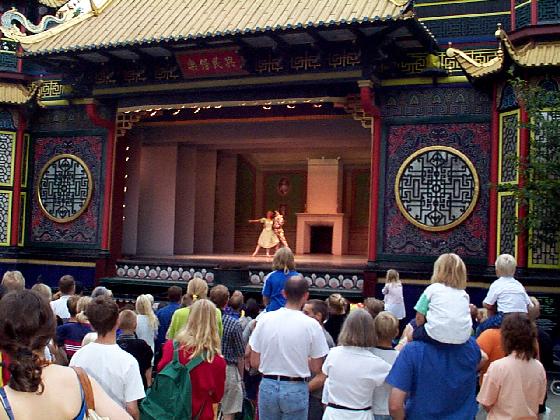 The Pantomime Theatre in Tivoli Gardens amusement park in central Copenhagen, Denmark.
Tivoli Gardens web site.
---