Crest of Dalarna, home province of the Olson Clan

September 2001, No. 11

A Periodic Publication of the Blixt and Kristina Olson Family Branches
Note From The Publisher: The e-Chronicles will be a continuous publication. When new articles come in, they will be posted and everyone on our e-mail address list will be notified via e-mail that a new article has been added. We welcome articles from any family member who wishes to contribute.
The e-Chronicles will likely evolve over time. Please let us know what you like about the newsletter, what you don't like, and what is missing that you'd like us to add by sending an e-mail to Kevin E. Olson.
---
CHARLIE and HILMA OLSON'S STORY
by Florence Olson Cooper
FROM THE PAST -
- The Early Years
By Florence Olson Cooper
Karl (Charlie) Olaf Olson was born August 9, 1885, in Sweden
In the spring of 1888, Kristina Olson left Sweden with her two young boys, Charlie not quite 3 years old and Ernest, just over 1 year old. She was following Blixt who had emigrated to America one year earlier to work in the iron mines at Ironwood, Michigan. Their first crossing of the Atlantic ended in quarantine and return to England, then back to New York when the quarantine was lifted, and on by railroad to Ironwood, Michigan.
As a boy, Charlie worked in the Ironwood mines until he was injured in an accident. In 1900, Blixt left for Malo, WA in the northwestern part of the U.S. to homestead on land that had been part of the Colville Indian Reservation. One year later he sent for Kristina, Charlie and his six other children. Charlie was 16 years old. Shortly thereafter, Blixt was forced to find a job paying cash to supplement their income on the homestead. He found work at Phoenix, B.C., a booming copper mining town just north of the border in Canada. The family lived on the homestead during the "farming" season and in Phoenix during the winter. Thus, Charlie went to work in the Phoenix mine as a teenager.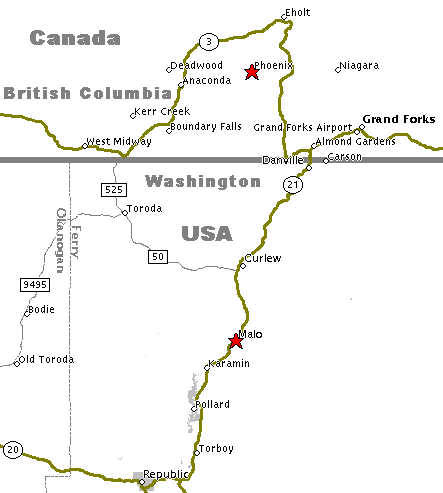 Hilma Sophia Brusk was born June 30, 1885 , also in Sweden near Charlie's birthplace. Hilma was always certain that it was predestined that Karl was to be her mate and that she had to go to America to find him.
Hilma was almost 18 years old when she left Sweden. It must have been a sad day for her parents when she departed to travel so far afield. She promised them that she would return when she was 21 years old and that she did.
She traveled with her brother, Pete Brusk. They visited a sister in Minneapolis, MN enroute. They were acquainted with John Swanson, a foreman in the copper mine at Phoenix, British Columbia. He was the reason they came to this mining town atop a mountain in far off Canada.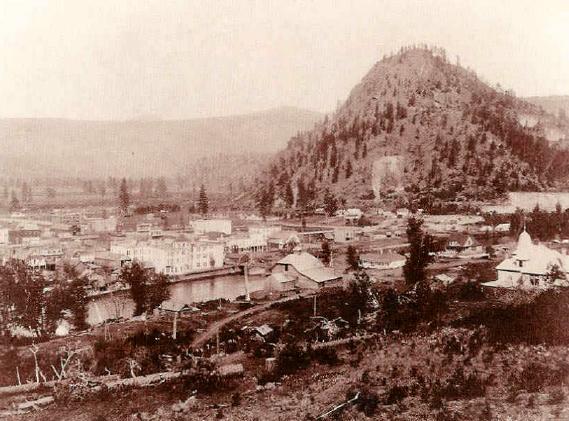 Phoenix, B.C., Canada in 1907
They must have had great courage and a spirit of adventure to undertake such a journey by ship across the Atlantic Ocean and by rail across the North American continent with very little money and unable to speak the English language.
It was through John Swanson, who was also a friend of Blixt and Kristina, that Hilma and Charlie met. In fact, Hilma met Kristina and Blixt before she met Charlie. She instantly called them "mor och far" (mother and father). It was love at first sight! Charlie never had any other girlfriends.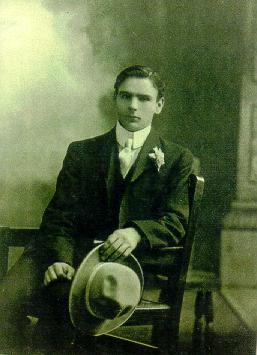 A handsome, young suitor, Charlie (Karl) Olson, seen here in 1907, had eyes only for Hilma Brusk.
Hilma, however, had many other suitors. The frontier mining town of Phoenix had an abundance of young men, but a limited number of girls. Charlie often complained of the competition he had. However, he was handsome and persuasive and Hilma was certain they were meant for each other. They did not marry for five years since in those days a couple had to have "money in hand" to start married life and set up housekeeping. Hilma wanted an adequately furnished home.
Hilma worked first as a waitress in one of the many hotels. Phoenix, at this time, was the largest copper mine in North America, a bustling boom town of over 6,000 people. The mine was operated by the Grandby Company with owners located in nearby Spokane, WA.
Charlie worked in the mine, but not as a miner. Blixt did not want his sons working underground since it was such a hazardous occupation. Charlie, at 14 years of age, had been badly injured in a mine accident in Ironwood, Michigan before the family migrated west to Malo, WA.
Charlie worked as the operator of a trolley that moved the mine cars in and out of the mine. His ambition was to learn a trade so he apprenticed as an electrician, learning by doing. He had a natural aptitude for this work, took International Correspondence School courses and became a very proficient journeyman.
Hilma, meanwhile, secured the position of housekeeper for the Company officials who came to Phoenix once a month. It was a pleasant job, with a warm comfortable home and all the amenities. The very congenial officials became her good friends.
Hilma had promised her parents that she would return to Sweden when she was 21 years of age. She saved enough money for the trip, then was stricken with typhoid fever and had to spend time in the hospital, which was expensive. But somehow she succeeded and made the trip home to visit her parents. Hilma certainly knew how to save money.
When she returned to Phoenix, she set her mind to getting married. Once again she concentrated on building up her bank account. Charlie, however, was inclined to be a spender so Hilma set about retraining him with such remarkable success that his brother, Ernest, nicknamed him "The Solvent Swede". Hilma joked that she never bought anything she couldn't afford, except Charlie!!
Before Charlie and Hilma married, the mine manager had a very nice house built for them with the Company allowing them to pay for it through payments equal to rent. They used the furniture they purchased for the next 29 years.
Charlie and Hilma were married on November 12, 1908 in their own home. Florence, their first child, was born March 15, 1910 and Mabel, their second child, was born on April 3, 1916.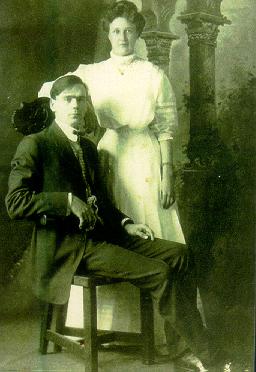 Charlie and Hilma Olson at Phoenix, B.C. (11 days after their marriage)
Their home became the "home-away-from-home" for the Olson Family. Siblings, Ernest, David, Esther, Annie, Sam and Christina often came to stay with many happy times. Agnes, Hilma's niece, immigrated from Sweden, met brother David through Charlie and Hilma, fell in love and married, thereby founding another branch of the Olson Family. Charlie's sister, Esther, met Bill Brissenden, an engineer at the mine. They fell in love, were married in Charlie and Hilma's home and started the Brissenden Branch of the family. Florence reportedly cried so loud and lustily throughout Esther and Bill's marriage ceremony that Esther had to hold her. Esther jokingly always said that Florence was the start of her big family.
Florence remembers Uncle Ernest visiting while in the U.S. Army and Hilma teased him by singing,
"Rule Britannia, Britannia rules the waves."
Canadian and American Olsons were quite sensitive about their "national" pride at that time and loved to rib each other about which country was the greatest. Charlie and Hilma were proud of Canada and the accomplishments of the British Empire, while their American brothers and sisters were disdainful of the idea of royalty and the king.
Hilma's niece, Agnes, a delightful person, stayed with Hilma and Charlie after emigrating from Sweden. She became very ill at the time Mabel was born at home. Three days later, Florence succumbed to the same ailment. It was diagnosed as measles. Quarantine rules were strict in those days. Agnes and Florence were billeted out to a neighboring house with a nurse. Charlie was required to move to a hotel. Maternity patients were confined to bed for ten days at that time, so Hilma had to have nursing care. Times have changed and we still all survive!
Since there was a great demand for copper during World War I, Phoenix was a bustling, prosperous town. Railroads ran through the town, yet today nothing remains. Florence remembers being "train sick", while on rides since the train had to shunt back and forth to climb the 4,500 foot mountain.
Phoenix had a winning hockey team. Special trains brought in players and fans. In fact, the National Hockey League probably had it beginnings in Phoenix since the Patrick brothers of Canadian hockey fame were involved.
Charlie had a love for machines. He had a motorcycle and would take Florence for rides. Florence recalls, "Dad put me on the back seat and I hung on for dear life. That was about 85 years ago so I believe I am one of the oldest motorcycle riders." One day, Charlie, racing on his motorcycle, caused a lady's team of horses to bolt. She was irate and sued Charlie. Hilma put her foot down and that was the end of the motorcycle.
Charlie also loved music. He had an orchestra that played for local dances. Hilma loved to dance so they would take Florence with them and put her to sleep behind the piano. Charlie played the violin in the dance band and the trombone in the marching band. He played very well and was an excellent sight reader. Florence often wonders where he received his instruction since nothing in his background indicated any music training.
When World War I ended, Phoenix, B.C. died. The mines closed, everything shut down and it was over. Charlie and Hilma had to abandon their comfortable home. The Dukabors, a notorious Russian religious sect that had settled near Grand Forks, B.C., moved in to salvage the lumber and windows from the dismantled homes.
Charlie left to find a new job at another Grandby Company mine on Vancouver Island, B.C. His former boss, now at the Vancouver Island mine, hired Charlie immediately. All of their furniture was crated, shipped by rail to their new location and they started over again, spending the rest of their years on Vancouver Island, B.C.
Charlie was never out of work. He worked six and seven days a week plus overtime, year after year with never more than a few days off until he was forced to retire at 70 years of age. He enjoyed his work, never complained and always loved to respond to the challenge.
FROM THE PRESENT -
Florence Olson Cooper, Charlie's Elder Daughter, Turns 90.

Florence Cooper embarking on a cruise to Alaska, July, 1999

Happily, Florence Cooper celebrated her 90th birthday on March 15, 2000 at a luncheon in Nanaimo, B.C. (where she lives) with some of her closest friends and relatives. In April, her family, including son Stephen Wallace and his wife Geraldine Kenney-Wallace of London, England and Florence's sister Mabel Olson Cliffe, enjoyed a second celebration in the West Vancouver home of her daughter Carol Tulk and her husband Bob. (At this printing, Florence is 91 year of age; we believe the most senior member of our Extended Olson Family.)

Florence is now living in a lovely apartment in Berwick House, Nanaimo, B.C. where she gets three catered meals a day and has over 120 new friends. She still drives her car around Nanaimo and down to Ladysmith to visit her old friends. Florence inherited the Olson musical talent. She had a fulfilling career teaching music in schools and today still plays the Berwick House grand piano for bi-weekly "sing alongs" with the residents. In this past year, she has revived an early interest in watercolor painting and is producing beautiful original note cards.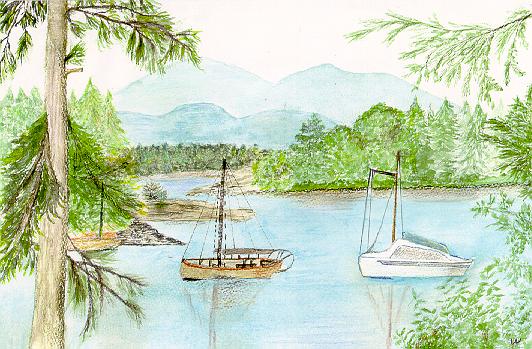 Degnen Bay, Gabriola, British Columbia, Canada by artist Florence Olson Cooper
Next Generation Reaches Retirement-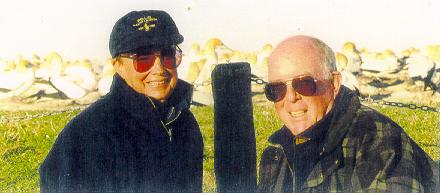 Carol and Bob Tulk pictured in front of a colony of wild Australian Gannets at Cape Kidnappers, New Zealand, October, 2000
The third generation of Charlie's family began to reach retirement age when, on August 29, 2000, Carol Tulk, Florence's daughter, marked her 60th birthday and retired from her post as President of the Mainland B.C. Better Business Bureau. Since then, Carol and husband Bob, have traveled around New Zealand for a month - lovely scenic country, friendly people, great climate and excellent value-, Honolulu for 4 days and Maui for a week. After 6 weeks back home, Carol and Bob moved to Scottsdale, AZ for the January-March period. Retirement is tough!!!
Charlie and Hilma's Talented Granddaughter-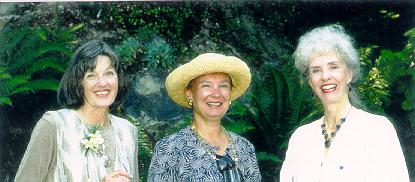 Mary Bentley (left), cousin Carol Tulk (center), sister Karen Cliffe (right) share a laugh.
Mary is wearing one of her beautiful woven creations.
Mary Bentley, daughter of Charlie and Hilma's younger daughter, Mabel Olson Cliffe, also inherited Charlie's musical talent. She has sung in many excellent choirs and currently sings in two, the Bowen Island Community Choir and "Notabene', a select group of 22 women from Bowen Island, B.C.. As well, Mary is an integral member of the 14 person Vancouver, B.C. Weavers' Guild volunteer committee planning the 2002 Handweavers' Guild of America conference to be held in Vancouver, B.C.. This 4 day conference (Aug. 1-4, 2002) and the 5 days of workshops/seminars preceding it, expects 2,200 delegates from around the world. Mary is in charge of the education component of the conference. She and her colleagues have let contracts to 118 workshop teachers and seminar leaders from the U.S., Canada, Scandinavia, Japan, New Zealand, Australia, United Kingdom, Siberia and Scotland as well as other countries.
THE FUTURE -
The Jazz Musician-
| | |
| --- | --- |
| Jonathon Bentley entertaining in his parent's garden, August, 1999 | Charlie and Hilma's great grandson (Mary and Ted's son), Jonathon (Jon) Bentley, has become engaged to marry Miranda Clingwall, a Vancouver flutist. Jon and Miranda are planning to travel to England in May where Miranda will further her flute studies. Jon, who also inherited the Olson musical talent, is an accomplished saxophonist and jazz musician. Jonathon has been awarded a Canada Council grant to study in England where both will be pursuing further study of their instruments. We wish them the best. |
4-19-01
---
ERNEST'S CABIN
by John F. Olson (Grandson of Ernest Andreas Olson)
A few years ago David Olson (son of Arthur and Ruth and grandson of Dave and Agnes) invited my son, John Jr., to join him, his wife Gail, and their youngest, Drew, on a summer excursion through Washington state and Canada. Since John and Drew had become buddies over the years, he was naturally excited to tag along.
The trip's formal beginning was in Spokane, where they spent a few days with Lee and Katherine prior to heading for points north. While there, Lee put on his guide hat and treated the whole crowd to a day in Malo, which included a tour of the Malo Store and a viewing of the site of the original family homestead. It also included a stop at an old wooden cabin on the north fork of St. Peter's Creek known to relatives around Malo as "Ernest's Cabin."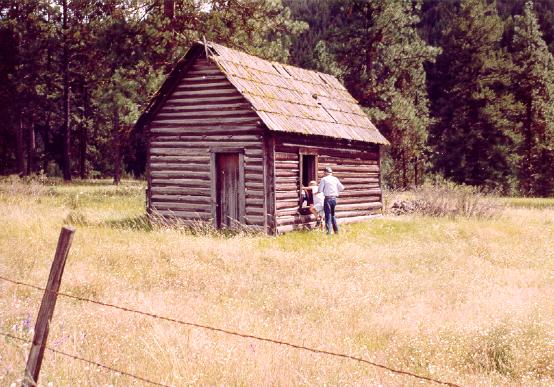 Ernest's Cabin
Having never been to Malo, I listened intently as my son described the store, the homestead, and, in particular, my grandfather's cabin. My fascination with this link to the past eventually got the best of me and the following summer Karen and I, along with our children, Jennifer and John Jr., headed for Washington state. We gratefully accepted Lee and Katherine's hospitality, developed a bond which I shall always cherish, devoured Lee's famous yeast hotcakes, and took the grand tour of Kettle Falls, Curlew and Malo. We visited the graves of Blixt and Kristina and other relatives, read through the register at the Malo store (in which many of our ascendants are still shown as having accounts), and saw an apple tree planted by Blixt almost 100 years ago. As we crossed a bridge over a small stream, with a sign that said "St. Peter's Creek," my mind went back to a story, bits and pieces of which I have heard from time to time throughout my entire life. It is the story of my grandfather and how he came to Texas.
My grandfather was born July 17, 1887, in Stockholm, Sweden, the second child of Blixt and Kristina Olson. Before he was a year old, Ernest and his older brother, Charlie, accompanied their mother on a voyage to America. Blixt had left some months earlier to secure employment and a place to live, both of which he found in Ironwood, Michigan. After residing in Ironwood for approximately eleven years, where Kristina gave birth to eight children (three of whom died in infancy), Blixt decided to move the family west to land located in northeastern Washington state. He filed a homestead claim on property near a small community later named Malo. For the first couple of years, Blixt devoted his time and energy to the development of this land. Unfortunately, in so doing he depleted much of the family's savings. To replenish their coffers, Blixt found employment for himself and Charlie in the copper mines in Phoenix, British Columbia, where they began working in the fall of 1901. After getting settled and finding housing, Blixt sent for Kristina and the children, save for Ernest, who as second oldest was to stay behind and tend the ranch.
All went according to plan until a few days before Christmas when Ernest, who was then fourteen years old, grew homesick for his family. After putting out extra feed for the animals and arranging for a neighbor to keep an eye on the ranch for a few days, Ernest saddled a horse and headed for Phoenix to spend the holidays with his family. Arriving midday on Christmas Eve, he was greeted enthusiastically and warmly by his mother and siblings; however, Blixt was infuriated, feeling that by leaving the ranch unattended, even for a few days, Ernest had committed a serious breach of parental trust. Ernest was ordered to return to the ranch immediately, without even spending the night.
Feeling hurt and humiliated, Ernest returned to the ranch, but only for a brief period. He spent a few days preparing the ranch and livestock for his absence, asked a neighbor to look in on things occasionally, packed a few belongings, and left, afoot. He would not see his parents or any of his siblings again for more than two years.
Through those two years Ernest traveled and worked in Washington, Montana, Idaho and the Dakotas. He saved a bit of money and in the spring of 1904 headed home for a long anticipated reunion. The night before he was to arrive he found lodging in the bunkhouse of a ranch, where a game of poker was in progress. When the dealing was done he had lost all of his money, his horse, and the gifts he had purchased for family members. All he had left were the clothes on his back and his new saddle. He walked the rest of the way and was greeted warmly and enthusiastically by his family, even Blixt.
For the next ten or twelve years, Ernest would work occasionally around Malo, but often would take off, as was his nomadic nature, and seek employment elsewhere. He worked a year in Alaska, helped build the dam for Shoshone Lake in Wyoming, and was at one time a deputy constable in Washington state. He also labored in the mines in Phoenix and the farms and ranches of Montana, North Dakota and Minnesota.
In 1908 Ernest purchased 80 acres on the north fork of St. Peters' Creek, a mile or so from his parent's homestead. Over a period of time, he constructed a hay barn, other minor improvements, and a wooden cabin, known to this day as "Ernest's Cabin." He lived and worked there intermittently until 1916.
While working in Minneapolis in the spring of 1916, as the clouds of World War I hovered over Europe, Ernest joined the United States Army. After receiving basic training and an extended stay at Fort Snelling in the twin cities area, he was transferred to Camp Cody in Deming, New Mexico. There his unit helped patrol the country's southern border, from El Paso, Texas westward across New Mexico and Arizona. It seems that the Mexican revolutionary, Pancho Villa, was still conducting raids across the border.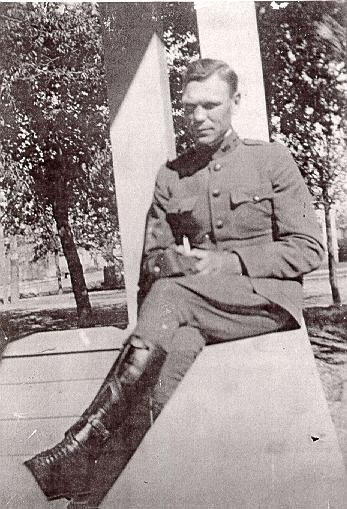 Ernest Olson
On April 16, 1917, the day that the United States declared war on Germany, Ernest was promoted to Corporal and five months later became a Sergeant. In January of 1918, he entered officers training school at a camp just northwest of San Antonio, Texas. He completed his course of study and training and was commissioned a Second Lieutenant. After a brief stint in Arkansas, he was transferred to an infantry training station at Camp MacArthur, in Waco, Texas. A week or two later, he and a buddy went to a Y.W.C.A. Hostess House, which was staffed by volunteer hostesses. The first hostess he met was one Beth Fuller who, after a three month courtship, became his wife on September 25, 1918. On November 11, 1918, Germany surrendered, and on December 11, 1918, Ernest was honorably discharged from military service.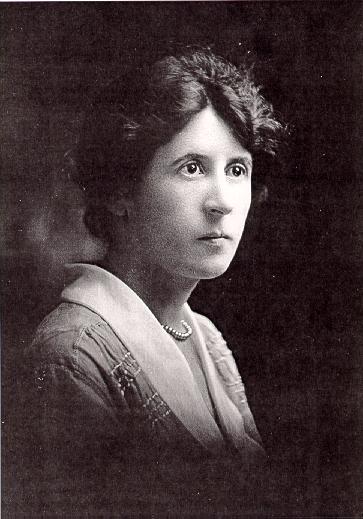 Beth Olson
Ernest and Beth decided that they would make their home on his land in Washington. Ernest left Beth in Waco to pack while he traveled by train to Malo, hoping to clean up and possibly expand the cabin and otherwise make it suitable for occupancy by a married couple. On the train ride from Waco, a terrible blizzard was encountered. The train was delayed in Kansas City for two days because of snow. Ernest caught a severe cold and arrived in Malo feverish and ill. He had forgotten the severity of the weather in Washington. After visiting with his family for a few days, he sent the following message to Beth: "Stop packing, it's too cold, I'm coming home."
Before leaving Malo for Waco, which would be his permanent residence for the remainder of his life, Ernest sold his cabin, and the eighty acres it sat on, to a neighbor. According to Lee Olson, the neighbor placed a padlock on the door of the cabin, and it was never occupied again. Although obviously affected over time by the elements and neglect, Ernest's Cabin has remained basically intact since the day my grandfather left, permanently, for Texas.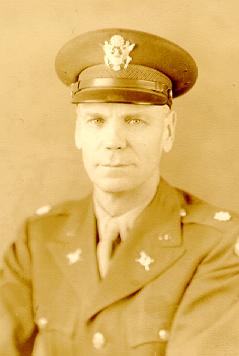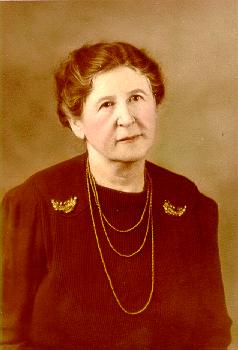 Colonel Ernest A. Olson and Beth Olson
While standing inside that cabin, I marveled at how its fate affected so many lives. It symbolizes an era gone by and represents a way of life which my grandfather chose to abandon, if he had ever embraced it at all.
---
THE CHESTER and IRMA NYLANDER FAMILY
by David Nylander
Chester (Chet) Nylander was the son of Anna (Annie) Olson and Nels Nylander. Anna married Nels Nylander who homesteaded 160 acres on land "over the hill" from Blixt and Kristina Olson's homestead. Blixt established his homestead on the south fork of St. Peters Creek while Nels staked his on the north fork of St. Peters Creek. As the crow flies, they lived about three miles apart.
"Esther's Book", for those who have had the privilege of reading it, relates an amusing story of staking their homestead claims. Blixt and Andrew Erickson (Blixt's cousin) had hired Johnny St. Peter, a French-Indian who lived in a teepee at the confluence of Curlew Creek and St. Peters Creek, to guide them in finding good land to homestead. He led them up St. Peters Creek to a beautiful location at the lower end of the North Fork. Blixt was delighted and began staking his claim. Nels rode up on his horse with rifle cocked, inquiring of Blixt what he thought he was doing. When Blixt explained, Nels suggested that it might be healthier to look elsewhere since he had already staked this land. That was the beginning of Blixt and Nels friendship!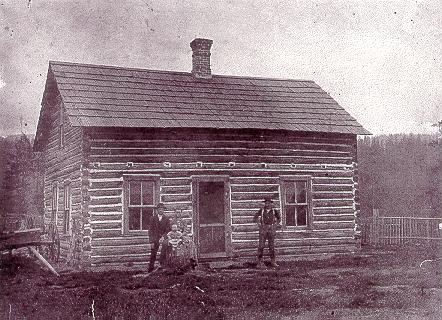 Nylander Homestead in approx. 1910 (Nels Nylander on left, Anna with Baby Ernest, center and Blixt Olson on right)
Chet, and his brother Albert, eventually took over the Nylander homestead from Anna and later Chet bought out Albert's share of the ranch. Nels had died in 1929, leaving Anna with five children to rear while trying to operate the ranch as a single mother. Chet and Albert naturally learned the work ethic at an early age, attempting to help their mother cope with the hardships and demands of a young family during the depression years.
Chet continued to work extra jobs in sawmills and later with the U.S. Forest Service to earn extra money to buy surrounding homesteads. He eventually had a ranch comprised of 1,200 acres and leased another 1,000 acres from adjoining neighbors. He raised hay and about 120 head of cattle on the ranch and "summered" them on two U.S. Forest Service grazing permits.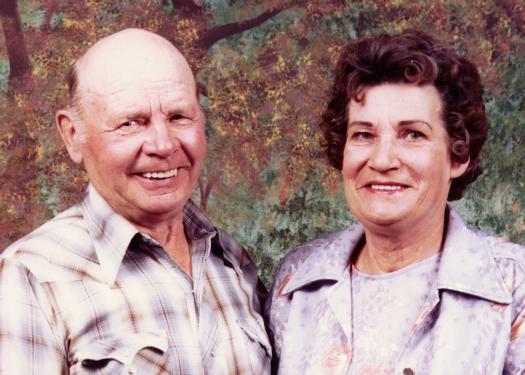 Chester and Irma Nylander
Chet married Irma (Elmes) Nylander and they had four children, Josephine (Joanne), Janice, Jacquelyn (Lyn) and David (Dave). Chet and Irma raised their children on the ranch with the youngest leaving in 1967 when Dave went into the military service. Chet and Irma continued on the ranch, living in the homestead log house Nels had built. They sold the majority of the ranch in 1969, but continued to live about a half mile from the homestead at what was referred to as the Cooper place. Chet and Irma eventually sold this property and moved to Spokane, then later to Wenatchee, Washington.
Chet, at age 82, and Irma, at age 72, both passed away at Kennewick, Washington in 1993 and now rest in the Curlew, Washington cemetery.
Chet's twin sister, Esther, and younger brother, Norman Edward (Ed), still live in the Seattle area. Irma has several brothers and a sister that live around the Pacific Northwest.
A recent visit in July, 2000 to the Nylander homestead found the barns all gone but the sturdy log home that Nels built was still standing after 100 years.
---
THE DAVID NYLANDER FAMILY
by David Nylander
(Son of Chester and Irma Nylander; grandson of Nels Nylander and Anna Olson Nylander)
David Nylander finished his Masters in Environmental Science Degree at Washington State University in May, 2000. That was an adventure for him, going back to school after 25 years in the work force. He is working at Umatilla, Oregon, with Washington Demilitarization Company where he manages the Environmental Department. They are building a 5 incinerator complex at the Army Depot to destroy 3,717 tons of GB and VX (sarin) nerve gas and mustard agent stored in military munitions. It will take 7 to 10 years to finish the project and is very challenging meeting the environmental requirements and building cutting edge technology.
David's wife, Joann, changed careers about a year ago and went back to dentistry. She is a chair side assistant to an orthodontist who is 69 years old, but a real dynamo.. David hopes he can be as active when he reaches that age.
David goes on salmon fishing trips, bear and moose hunts, deer hunts and more. He only works three days a week and keeps telling Joann he is about to retire, but he has been telling his staff that for the past 10 years, so Joann doesn't take him seriously.
Stacey, their youngest daughter, turned 20 in October. She attends Western Washington University in Bellingham, Washington where she studies linguistics (Japanese, German, Origin of Languages, etc.), and has maintained an "A" average.
Lisa, their middle daughter, turned 22 in December, 2000. She is married to Brian Jennings and has a 2 year old son, Colby. They live in Hailey, Idaho. Brian finished his degree in Architecture Design in December and started working with Power Engineers in Hailey the day after Christmas.
April, their eldest daughter, is 28 years old, married to Jeff Brown, has a 3 year old daughter, Heidi, and is in Salt Lake City, Utah where Jeff works for a computer software company.
Jeremy, their 29 year old son, is married to Janelle, has a 4 year old son, Jack, and a 9 month old daughter, Juliana. They live in Mountain Home, Idaho, where Jeremy does "nifty" stuff with computer systems for the U. S. Air Force. That's all Jeremy will reveal about his work because of security requirements.
Since David is 52 years of age, he reluctantly concedes that he will have to work a few more years before retiring. Joann and David spend their spare time pulling a "5th wheeler" around the country, camping "here and there". This year, they hope to make another trip back to Malo, Washington to visit the Nels and Annie Nylander and Blixt and Kristina Olson homesteads on St. Peters Creek. David grew up on the Nylander homestead. (A picture of Nels and Annie Nylander at their homestead is displayed under the article about Chester and Irma Nylander.)
Editor's note: If you have read "Esther's Book" about the early homesteading years of Blixt and Kristina, you will recall that when Johnny St. Peter, a native French Indian who lived in a tepee at the confluence of St. Peters Creek and Curlew Creek, guided Blixt and Andrew Erickson up St. Peters Creek to locate a homestead, they came upon a beautiful site. As Blixt began staking his claim, Nels Nylander appeared on his horse with rifle cocked and inquired about what he thought he was doing. Blixt explained, whereupon Nels suggested that it might be healthier to look elsewhere since he had already staked the site. Blixt, Andrew and Johnny then proceeded up the South Fork of St. Peters Creek to locate their homesteads. Blixt and Nels later became friendly neighbors with Blixt and Kristina's daughter, Anna, marrying Nels and founding the Nylander Branch of the Family.
---
BILL BRISSENDEN HONORED BY CANADIAN MINERS
It has been reported that William (Bill) Brissenden, has been elected to the Canadian Mining Hall of Fame. Bill ended his career as President of Noranda, Inc., a large Canadian mining company. He is the son of Esther Olson Brissenden and grandson of Blixt and Kristina Olson.
---
END OF A DAY AT ST. PETERS CREEK SCHOOL
Based on a true story as told by Lee Olson to Joe Olson
It was late afternoon on a cold January day in 1925 when Emma Dahlgren called her students to attention at the St. Peter's Creek School. "Children, it's starting to get dark so I think we'd better call it a day and head for home. I want you older students to help the younger ones get their coats, hats, mittens and boots on. The thermometer says 5 degrees so bundle up good!" Turning to 14 year old Mary Alovanick, she said, "Mary, I want you to look after Lee. You're almost grown and he is only six years old. Now, please stay with him all the way home since you go right past the Olson's on the way to your place. Don't let him out of your sight until he is indoors." "Yes'm", Mary replied. "You don't need to worry, Miss Dahlgren. You can count on me. "Then Emma turned to Anna Wilcox and issued the same instructions for her to look after James Keck.
Emma directed her students, "You children go straight home. It's starting to get dark and I want you home as soon as possible. I am going to stay for a while to stoke the fire, clean up and prepare for tomorrow's classes." Chester Nylander muttered to Raymond Swanson, "Yeah, so she can dream up some more dumb questions to ask me!" Ray tried to choke his laughter back, but with little success. Esther Nylander gave her twin brother a scorching look as Emma turned her attention to Chester. "Did you have something to say, Chester?" "No ma'am," Chester replied, concentrating on his shoes. "We were just wondering how cold it is going to get."
Emma took her responsibilities very seriously. As the sole teacher in the one room school house, she had the education and safety of twelve students of varying age, from Lee Olson in the first grade to Mary Alovanick in the eighth grade. At age 24, this was her second year of teaching after struggling for years to get her high school education at Couer d' Alene, ID, Butte, MT and Republic, WA before entering Cheney Normal (Teachers') College at Cheney, WA to complete her education.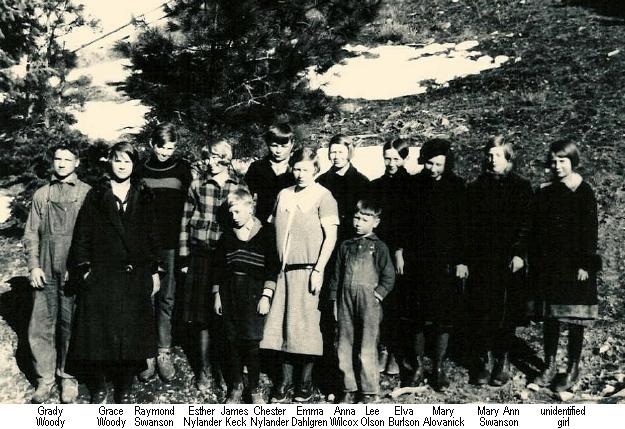 Photo of Emma Dahlgren's students at St. Peters Creek School in the spring of 1925. (Compliments of Don Olson)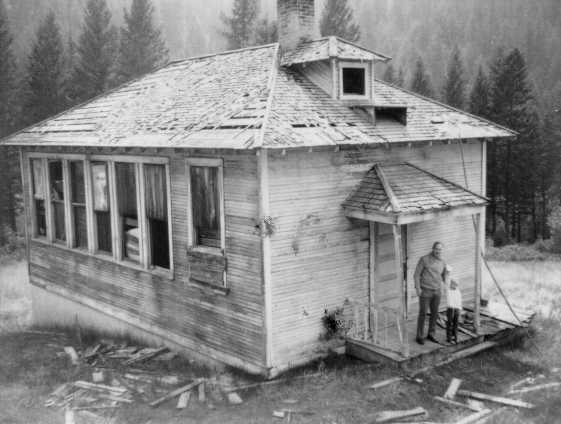 St. Peters Creek School in 1977. (Compliments of Miriam Olson Lee)
Emma lived with her brother, Henry Dahlgren, a mile east of the school on the South Fork of St. Peters Creek. Lee Olson, during that year, was living with his grandparents, Blixt and Kristina Olson, just one half mile up the South Fork of St. Peters Creek from Henry Dahlgren, while the Alovanick's homestead was a mile further up the South Fork from the Olson homestead.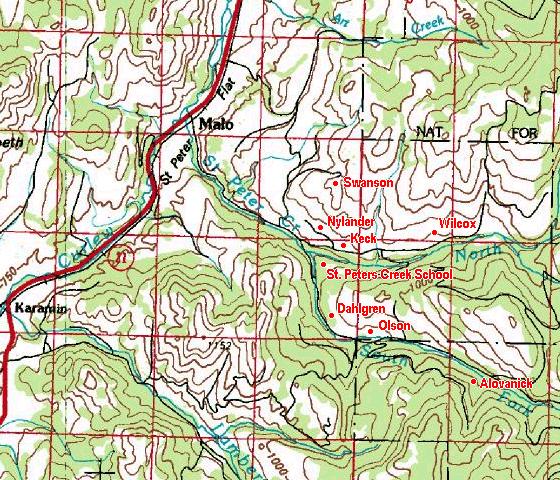 As Mary and Lee headed towards the South Fork road, Emma called, "Mary, be sure you stay with Lee until he is in his house." "Yes'm", Mary shouted back as they trudged through the snow towards the creek. All the other students lived up the North Fork and moved out in the opposite direction.
As they reached the small wooden bridge over the creek, Lee kicked a rock loose from the snow, picked it up and threw it on the frozen creek. It ricocheted off a boulder, and skidded down the creek bouncing from boulder to boulder, much to Lee's delight. He clapped his mittens in glee. Mary growled, "Stop that, Lee. It's getting dark and we have to get home as fast as we can." " OK", Lee cheerfully replied and returned to her side to take her hand.
They had gone a short distance past the bridge when Mary, out of the corner of her eye, noticed a dark shadow moving among the trees. She turned her head to get a good look and gasped in horror. Her hand tightened it's grip on Lee. He looked at Mary's face, stammering, "W..w…w…what's the matter, Mary?"
Mary quickly recovered and replied, "Nothing! I just had a twitch in my side." Lee was puzzled by her behavior. "M..m..m.. mary, are you sure? You looked awful scared to me." "It's nothing, Lee. Let's sing a song to help pass the time, and sing it loud so we can be heard!", Mary replied in a confident manner. Lee continued to be puzzled. "W..w..w..what shall we sing?" "How about 'Onward Christian Soldiers?", Mary suggested. "OK", Lee replied. "I know the words, but you start." So Mary bellowed out the tune while Lee squeaked in accompaniment. They walked rapidly up the South Fork road, singing at the top of their lungs with Mary urging Lee on. Mary kept glancing at the edges of the narrow mountain valley, watching the shadowy figure moving through the trees parallel with them, but Lee was so engrossed in his singing, he didn't notice.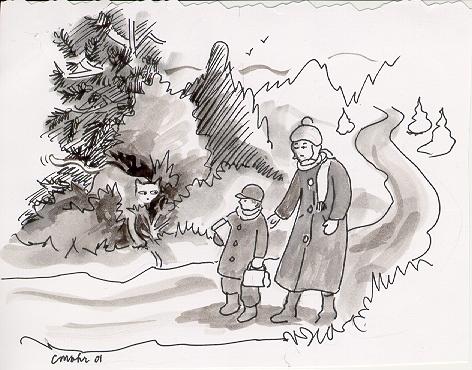 Mary and Lee walking home from school by artist Carrie Olson Mohr
After crunching through the snow for a mile, darkness had descended and a light glimmered off to the left of the road. Mary said, "Here we are at Mr. Dahlgren's place, Lee. We're going in to see him." "N..n..no Mary, we can't do that. Miss D..d..d...dahlgren told us to go straight home," Lee protested. "She won't mind. I'll explain to her. My feet are hurting from the cold and I need to warm them", Mary assured Lee. "OK", Lee agreed. "I r..r..r..really like Mr. D.d.d.dahlgren. He usually has something good for me to eat." So they trudged up to Henry Dahlgren's cabin and Mary knocked on the door.
Henry opened the door with a big smile, "Children, it's so nice to see you. Come in and warm yourselves. I have just heated some hot chocolate. I'll bet you'd like some!" Delighted, Lee responded, ' Y..y..yes, sir, M..m..m..mr. Dahlgren, we sure would, and can you put some extra sugar in mine?" "Of course", Henry responded. "There you are, just as you like it", as he handed each a steaming cup. Mary set hers on the kitchen table and pulled at Henry's suspenders. "Mr. Dahlgren, I must talk to you." "Sure", Henry responded, "go ahead." "No, not here. Come over by the stove. This is private." Henry's cabin was a one room affair with a wood burning kitchen stove, table and counter in one corner, a wood burning heating stove in another corner and a small bed in the other corner. A "lean to" was attached as a separate bedroom for his sister, Emma.
Henry was puzzled as Mary grasped his suspenders and pulled him over to the heating stove corner. Mary began a lengthy conversation, whispering in Henry's ear. Lee strained to hear what was going on, but with no success. Finally, Henry straightened up with, "Oh, I see!", then turned to Lee and said, "Drink up, Lee. We've got to get going." "Why?", Lee responded. "We just got here." " I know, Lee, but Mary said your grandparents are waiting for you and would be worried. Besides, Miss Dahlgren might be unhappy if you stay here too long!" "W..w..w..well, I told Mary that when we came in here, but she wouldn't listen to me!", Lee stammered. Then he wondered how Mary knew his Grandpa and Grandma were waiting for him. "Never mind," Henry responded. "Mary, get Lee bundled up again and we'll go", he ordered as he put on his hat and coat, and removed his Winchester rifle from the rack on the wall, checking to make certain it was loaded.
Off they hurried through the snow, with Henry following the children. Lee kept wondering what was going on and why Mr. Dahlgren brought his gun along. Shortly, they arrived at the Olson home. Lee flung open the door and rushed in to give his Grandma a big hug. Blixt, jokingly, complained, "Don't you have one for me, Lee?" Before Lee could respond, Mary exclaimed, " Mr. Olson, a huge cougar followed us all the way home from the bridge! I was scared to death, but my Papa has taught me never to show fear, even when you're scared, so we sang loud songs to keep him away!" "Ah, good girl," Blixt responded, "your Papa taught you well. Is that why Mr. Dahlgren is here with his gun? I'm proud of you and thankful you kept your head!" Lee listened in horror as he grasped what had happened. Accusingly, he stammered at Mary, "W..w..why didn't you tell me, Mary?" "I couldn't, Lee. I was afraid you might panic and then we'd have been in real trouble!", Mary responded. Kristina Olson, not understanding the conversation since she spoke only Swedish, but sensing a serious problem, asked Blixt, "What is going on, Papa?" Blixt explained as she gasped, "Oh my God!". Lee, with wide eyes, rushed over and hugged his Grandma around her ample thigh.
The scene quieted as everyone removed their coats and hats, and Henry leaned his rifle in the corner. Mrs. Olson offered him a cup of coffee, expressing her thanks for his help.
Suddenly, Henry asked, "Mary, what about Miss Dahlgren? Where is she?" "Oh", Mary responded, "she had some things to do first and said she would be right along." "My God!!" Henry shouted as he threw down his coffee cup, grabbed his hat, coat and rifle and rushed out the door. "My goodness", Kristina commented to Blixt. "Did you ever see a man move so fast?"
Kristina turned to Blixt, "Go harness up the mare, Papa, and take Mary home in the sleigh." "But Mamma, she's a big girl and she only has another mile to go," Blixt protested. Kristina gave him a scorching look and snapped, "Blixt, do as you are told and take the rifle with you!!" "Yes, Mamma" Blixt responded, as he donned his winter gear, took the gun from the wall rack and left for the barn.
Editors Note: Lee Olson related this true story from his childhood to Joe Olson. Lee is known for his colorful, interesting tales that delight his audiences. As one the most senior member of our extended family who spent his early years at Malo and St. Peters Creek, he is one of our few remaining sources of authentic information on life in those early years. We have added some "flesh" to the story to give insight to life in that region 75 years ago. Lee suffered from a stuttering problem when young.
Our thanks to Lee for the story, his sister and artist, Carrie Olson Mohr for the illustrations, Don Olson for the picture and Esther Nylander Meng for identifying the students in the St. Peters Creek school.
Since many of our senior family members are passing on, we would appreciate any tales of the early years that may lost, unless recorded. The Olson Chronicles can be an excellent vehicle for recording and preserving our family history.
Emma Dahlgren married Sam Olson August 13, 1925 which established the Sam Olson Branch of the family.
5-17-01
---
ROYAL ROUND TABLE APPOINTMENT
by Don C. Olson
Don Olson was recently appointed to the Royal Round Table of the Swedish Council of America. The Round Table is a group of American and Swedish business persons and scientists whose mission is "To bring into a cooperative relationship all groups and individuals whose purpose is to promote knowledge and understanding of the Swedish heritage in American life and strengthen the cultural ties between America and Sweden".
The Round Table meets annually, with locations alternating between the U.S. and Sweden. This years meeting will be held in Stockholm in August. The four-day meeting will include visits to the Parliament, the Royal Palace, the Bank of Sweden, the Karolinska Medical Institute, the Kista Science Park, IBM Sweden, Ericsson/Microsoft, and a reception at the U.S. Ambassador's residence.
---
CHARLIE W. LEE
by his widow, Miriam Olson Lee

Charlie W. Lee

Charlie passed away in our home in Scottsdale, AZ 2-13-2001, with his hand in mine. I was very grateful he knew I was there and in our own home. He had battled prostate cancer for over 10 years but his death certificate says "acute leukemia as a result of prostate cancer".

He was able to be at home until 1-22-2001 when I realized I would have to call 911. Our retired RN neighbor quickly told me to get dressed and she would drive me to the hospital. I assured Charlie he would be O.K. in the ambulance - that we would be right behind him.

It seems that many of our generation fear institutions of any nature. I was with him in his room for 10 days and nights, at the hospital, sleeping on old recliner I stuffed with pillows. I was a "scandal" there on the 5th floor as I refused to leave his side. They worked on Charlie for 4 hours in ER and then we had to wait for 3 more hours for a "private room"!
About 7 days later the Hospice ladies started talking to me about getting things ready for Charlie to go home the following Saturday night. They are a wonderful organization. When all was ready, I went home first and they brought Charlie, on his hospital bed, in a van.... then he was transferred into the hospital bed the Hospice people had set up plus all the provisions necessary, including his medications and nursing supplies. I slept in the same room with him and he had a buzzer on each side of his bed to press if he needed something. They gave me a phone number manned 24 hours by a person so I would call in at any time I needed something, including a RN, which happened several times.
Now, I would like to share a little of Charlie with you. He was with us at the Phoenix 1975 reunion, the 1977 one at Bailey, CO. and 1983 at Twin Lakes, ID.
Charlie was born 4-5-1917 in Cleburne, TX. When he was about 7, his parents, along with Charlie's 3 brothers and his sister; plus another family of 6, decided to go to California to make a better life. Each family had a Model T Ford and all of their belongings.
To cross the Arizona desert, planks had been laid on the sand - however, it was a one-lane road, so if a car was coming the other direction, both vehicles stopped and a determination was made as to the weight of each vehicle. Then the lightest vehicle was picked up and set in the sand - the other car moved - then, the car in the sand was placed back on the planks. (There was quite an article in the Arizona Highways about this very subject).
These were the depression years but the Lees were very determined, hard workers and resourceful. They were able to acquire a home with some acreage and since they all loved horses; they set up a "riding academy" which made additional income for the family. On weekends, groups were taken for an outing in the surrounding hills on "their" horse. Upon returning, Charlie's mother always had plenty of baked beans and "hot dogs". People also boarded their horses at the "academy". Charlie's Dad had a natural talent in training and handling horses. They had Tennessee Walking horses - Morgan Quarter horses - Appaloosa horses - they built up quite a number of thoroughbred horses that won first place ribbons at various horse shows.
There was a large productive apple tree on their property and Charlie said he ate so many apples fixed in so many different ways, he never wanted to see another apple in his life!
Charlie's schoolmates called him "Boxcar Charlie"! He had a habit of jumping a freight train and traveling to who knew where! Even Charlie didn't know! He wanted to see as much of the country as possible and it was a great adventure.
As I was going through some of his notes while putting together some things to send to his oldest son and wife who wanted to have memorial services for him, I came across a note directed to his Mother. "One thing is, I have neglected to tell you, Mom, that I am sorry for running away from home and causing you so much grief not knowing where I was, and I really am very sorry. Thank you for taking me back." I don't know if he put that on another card and mailed it to her. She lived to be 105 years old. He also told me that he went to sleep every night listening to music. His Mother played the piano and sang along with his Dad and neighbors who loved to sing. They were strict Southern Baptists so a lot of the songs were hymns. They particularly enjoyed Tennessee Ernie Ford's music and other Western Country Hymn singing.
Charlie was Grandpa to all 7 of my grandchildren and they loved him dearly. He also has 7 grandchildren, all in California. Some of the older ones (including my grandchildren) turned to him for counseling when they had a heavy problem on their minds and treasured his interest in them, often helping them to think about their problem on a larger scope, which sometimes solved the problem.
Although he didn't realize how creative he was, in his later years he joined a wood carving club and found, not only was he creative, but he became an accomplished wood carver. This became his "recreation" after working for the day in his shop. (He had built a very nice shop (19' x 26') with such detail, it could easily be finished out as a guest house.)
All of the carvings had won ribbons at wood carving shows. He had 4 adult children and he asked them to each choose one - their name was stuck to the bottom of the carving for them to take after he passed on.
He belonged to 2 wood carvers groups as he later joined a 2nd carvers club. He also did an oil painting for each of his children and 2 for me. He never had any art lessons. His Mother was also creative. She participated in many of the craft lessons where she was, and amazed many of the elderly roommates where she lived.
In addition, Charlie had a "green thumb" and he said his Mother did also. His garden of flowers and vegetables (some very unique varieties such as egg plant, artichokes, even peanuts); and we enjoyed seeing them all from the patio door along with many good meals with an entire different flavor than "store bought". One of his ideas was featured in The Phoenix Home & Garden Magazine. He built a 3 tiered "wedding cake garden box", each level with its own bubbler system, showing how a person with little yard space - such as a patio home - could raise a large garden in a small area. Charlie also belonged to a Men's Garden Club.
Charlie had many talents, and one of them was to get me to do something he wanted, and all the while I am thinking it was my idea!
Charlie was a carpenter by trade and had learned the fast pace of carpentry in California. At a later time, he established a feed store in Carmichael, CA. Later, he worked for Shopsmith with California and Arizona as part of his territory. Of course, this meant he was on the road a lot and away from home.
Charlie and I met in the Burien area of Seattle about 1963. I had 3 real estate offices within a 15-mile radius. We were just getting ready to open an acreage office when one of my salesman told me he had met a "great guy" for that office.
Although he was working at that time in construction, he had plenty of experience in sales. I told him to make an appointment to have him come in. We liked each other from the moment of meeting. He worked for me for 3 years in the acreage office when he asked for a leave of absence as he felt he should get back into construction for awhile so he could "get back in shape". Charlie was always careful about keeping his body strong, fit and trim.
Charlie knew it was my practice never to "date" anyone who worked for me. After he went back into construction, on some Saturday's, he would come over to the main office where I was and take me to lunch so we continued our friendship. A few months after he went back into construction, he said at one Saturday lunch - "Now, will you go out with me?"
We both agreed this would only be a relationship of "non-serious" dating. He said that was fine - both of us were divorced and wanted to remain single. We got married a year later at my sister's house in Seahurst (Seattle suburb)! September 23rd, 2001 would have been our 34th wedding anniversary.
One of my most treasured experiences occurred in the hospital. I was sitting on the recliner writing in a journal and glanced over at Charlie. He had his hand through the bed rail and I put my hand in his. He had so much love in his eyes, I was mesmerized. We sat that way for at least a half-hour.
I have his ashes in a lovely box he had made, 2 hearts intertwined he made out of a single block of wood sitting on the top of the box, an angel holding two candles at the side along with a bulky red candle (which was his favortie color) and the same picture you see on this article glued to a flat carving he made of a bird. So wherever I am, so is he. I do feel his presence often. I wake up in the night, finding myself on the other half of the bed which makes me think he is up since no one is lying there and I get up and walk around the apartment and finally realize he's with God...not on this earth...but his spirit still visits me.
Christine, my daughter; Anita, my sister; Joe and Don, my brothers, combined their efforts, time and expense, to get me to Spokane. Since they didn't feel I was making any headway on my own, they came down to Scottsdale the last week of May, rented a 24 foot moving van, packed up what they thought would fit in the apartment Joe had found for me - I put a For Sale by Owner sign in my front yard and sold the house within 10 days - Joe and Don left Memorial Day driving the truck. Christine had left the previous day, Anita and I spent Sunday night in a hotel and the next day, took a plane to Seattle, rested a day and drove to Spokane to meet Joe and Don when they drove into the apartment complex. (And I was in and out of the hospital 3 times.)
My new address is:
University Apartments
11009 East 3rd Ave. #73
Spokane, WA. 99206
509- 922-4512 (home)
509-922-4412 (fax)
And I will soon be back on internet with an e-mail address.
It's so nice to be near Christine and Steve; Joe and Joann; their son, Dan and family (Dan takes me to Church); Lee who is more like a brother than a cousin since he spent many summers on our farm - he was more like a son to Daddy than a nephew - Anita and Don only a few hours away.
Our cousin, Esther Nylander Meng, is only an hour away at the Cheney Assisted Living, a first class place. Her address and phone number are listed in the Nylander section of the Chronicles. Joe, Lee and I have been out to visit her. Her daughter, Marilyn, is an RN at a nearby facility. She and Esther have also been here to visit me. Esther was 89 in July and looks great.
Sundriya, Christine's daughter, still lives in The Netherlands with her husband, Clemens, and Nathan, Christine's son, lives in Seattle.
You may recall in the last Olson Chronicles the report that my son bled to death 10-4-1999, His widow, Denise, and their 2 little girls, ages 11 and 12, live in Payson, AZ; and Alex Loucks, Stan's oldest son. She is considering buying a home in Spokane after school is out. I am very hopeful she will do that - I miss those 2 little girls "something awful". And, of course, Denise, as we are very good friends. Except for Ryan Loucks, who is in Anchorage, Alaska, and Abby, who is in Hawaii, and Sundriya, in The Netherlands, all of the SAM OLSON BRANCH will then be back in Washington State.
I hope I will hear from many of you and that all goes well in your world.
---
THE FRED KACHOLD FAMILY
by Mildred Kachold
A 'HUGE' Hello! to all the Olson family descendants! We hope all is well with you!!
We want to congratulate Joe Olson, coordinator? and his two assistants, Editor: Poul Olson and Publisher: Kevin Olson for the outstanding job they did on the September 2000 issue of the Olson Chronicles. Believe they had some excellent help in reporting the family members trip to Sweden, their outings, trips, and dinners along with all the photos was most impressive.! Our family is spread all over the U.S. from Virginia to the State of Washington, so we'll travel East to West -- first to Virginia reporting on our son and family, John & Melanie Kachold.
Time goes so fast and with it many transitions for our family. They first became aware of this when they became 'empty-nesters' 3-4 years ago when their 2 sons went away to college. Now older son Brian Kachold has finished his academic requirements for a Bachelor of Arts degree in Economics at the U. of Virginia in Charlottesville, VA. and will graduate later this month. We, of course are flying to Virginia to attend the celebration. Brian is currently working in mortgage banking in Northern Virginia. His graduation/birthday present was a trip to Key West, Florida with his Mom, brother and Cleveland Uncle. Dad couldn't get away from work.
Brother Rich marked his 21st birthday in March, also celebrating in Key West and by working extra hard on his first full length film that he is directing and producing in his spare time at James Madison University. Applying the knowledge and skills that he learned last summer attending a New York Film Academy workshop at Universal Studios in Hollywood, Rich plans to enter the film in a film festival to see what others think of his work. No word on the plot, although there's some rumor that it may be a retrospective. Rich enjoyed Key West, even though he wasn't quite 21 at the time.
The family had an addition during the fall -- a young lady named Heidi, from Altoona, PA. John & Melanie went up there in November to meet her at the breeder's home in the suburbs of Altoona and brought her the same day. She's a personable, frisky, liver and white Springer Spaniel with all the right coloring and beauty marks and loads of energy, and I must say big feet -- or largish feet, to be more delicate, feet that she generously offers to even the most recent arrived stranger for a little hand-to-paw holding.
Our intrepid biker, Melanie, slowed the pace over the last year after participating the previous year in the 350-mile AIDS ride from Raleigh, NC to Washington DC. Her longest ride this year has been the Reston (VA) Century ride. She keeps looking at the travel brochures that feature bike rides in foreign and/or exotic places--such as Amsterdam, Italy, the Alaska AIDs ride (a cool one). She's trying to convince John of the advantages of 2-wheel vacations.
John is looking ahead to prospective retirement, although he can't quite decide when he wants to take that big step. He has been teaching expository writing and critical thinking and enjoys that a lot. The allure of having time for his hobbies (including modest amounts of biking -- so as not to be completely outdone by Melanie) does shine brighter after particularly hard days. All John wants to know is how Fort Collins, Colorado can be the top place in America to retire (this according to David Savageau's 5th edition of (Retirement Places Rated). All the news from this family! Bye all.
---
SHIRLEY KACHOLD IN LAS VEGAS, NV
by Shirley Kachold
Greetings from the City of Lights! No, its not Paris, France, it's Las Vegas, Nevada. Like the phoenix rising out of the ashes, Las Vegas rises out of the desert with some hotels towering above the skyline.
This reporters' name is Shirley Kachold, youngest daughter of Mildred Kukull Kachold and Fred Kachold. Since I arrived here about ten years ago, the city's population has exploded as far as tourism goes. Las Vegas is second in the country. The first being Orlando, Florida.
The hotel/casinos cater to every nationality in the world. The developers generally implode the hotels and build new massive wonders of the world. The most recent masterpiece in the past 3-4 years was the Bellaggio, with an Italian motif and a huge lake (believe it or not) in the front which includes a massive singing fountain. I could go on and on but suffice to say, some of the sights are truly breathtaking, given the fact that this is all desert. I am in the process of renovating my home and am very fortunate to have some good construction people. You know the old saying "It's hard to find good help -- especially reliable people".
Finally I am currently working as a family service counselor and love the work immensely! That is all for now from this part of the world. Until our next newsletter I shall simply say "Adieu"!
---
MATT PERRY IN OAKLAND, CA
by Mildred Kachold
Our Grandson, Matt Perry, Maryann's son, who still lives in Oakland, CA. had been working as an apprentice chef, has put his dream of being a 'sou chef ' one day--on the back burner, so to speak, while he goes back to school for more education. He attends night classes at DeVry Institute in Fremont, CA. full time student working toward a degree in Computer Information Systems. He also works a daytime job as assistant food buyer for West Coast Ship suppliers. He likes going back to school again and the job, but he still holds his desire to be a chef in the not too distant future. Cooking is his first love!
---
THE JOHN KACHOLD FAMILY
by Melanie Kachold
Our daughter and son-in-law, Maryann & Steve Davidson, send greetings to all from their home at Troon Village, north of Scottsdale, AZ, 2000 feet above sea level, overlooking the entire Valley. They only see the sunrise since they live on the back side of the mountain. It still is so gorgeous up there! They are perpetually adding and making their home and garden more beautiful! Steve has a new job with advanced PCS (a prescription care service) in Scottsdale as a Financial Analyst and Maryann is still working in Accounts Receivable with the Electronics wholesaler. Maryann also works part-time at her business "Troon Moon Designs" fabric art. She does beautiful work. She'll be doing it 'full time' one of these days.
No special vacations planned -- every night when they come home is a vacation! The highlight of their lives is when they can have their granddaughter, Drew Eleanor come spend long weekends with them and Maryann arranges it frequently. Drew is almost 3 years old now and what a beautiful, bright, happy and busy little girl she is, they have such good times together. Drew lives with parents Kristina & Jason Hales in south Tucson, very near his work, Raytheon Missles Group, about a two hour drive. They're a busy little family -- Kristina is a part-time substitute elementary school teacher in their own school district, besides being a homemaker and awaiting the birth of their second child in late July.
Daddy Jason helps care for Drew by taking her to the swimming pool, the playground, etc. so mommy can get some extra rest. We're very excited about the new baby, cause now we'll be blest with 2 great grandchildren! Fred and I travel south for part of the winter to spend the holidays with all the family in that area, try to spend a lot of quality time with our great-grandchild Drew and now we'll have another. Oh, can hardly wait till the new baby comes.
We love the winters there, enjoy that beautiful blue sky and sunshine everyday -- love to take early morning walks.
We came home early this winter, but thankfully our winter here was very mild and the fields of daffodils and tulips were a riot of color. Skagit County has a lot of Dutch farmers who raise acres 'n acres of spring flowers -- it's big business here and we have a Tulip Festival every April which is on for 3 weeks and attracts thousands of tourists from all over the State.
Fred & I took part in a 'Heart Walk' last Saturday to raise funds for the American Heart Association, had an excellent turnout and thankfully the weather cooperated, was a beautiful day. Goodbye to all for now!!
---
SWEDISH FAMILY
by Annika Lundgren
Gunilla Östhol (daughter of Erik Östhol) was married to Mats Henriksson on the 9th of September 2000. The ceremony was held in the Ulriksdal Chapell and the reception at the Confidencen Theatre nearby. Mats has two sons, one living in Florida and the couple has made several trips to the States together.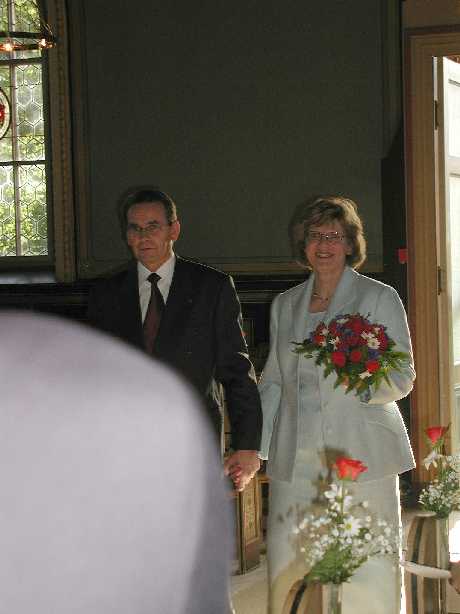 Mats and Gunilla Henriksson
March 30th Erik Östhol celebrated spring with a grand party at the Stallmästaregården in Stockholm with many family members present, including Ambassador Lyndon Olson, Jr. and Kay Olson. (The party preceeded Erik's 85:th birthday by a few days.)
Spring is all over Stockholm this early May day and Midsummer is not far away (22-23 June). The usual celebrations just might be joined by a new generation, time will tell...
---
This year Miss Sweden is from the province of Dalarna. Nineteen year old Malin Olsson was crowned in March 2001.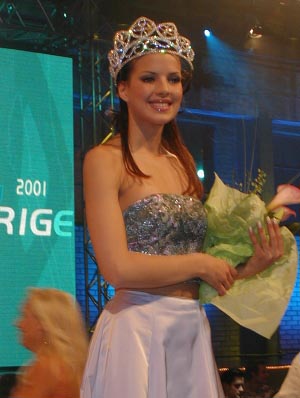 Ms. Olsson hopes to become an attorney. She has donated her Miss Sweden prize of 100,000 crowns to a local agency which offers counseling and other services to youth.
Ms. Olsson is described as one who has both feet planted solidly on the ground. In addition, to quote Malin, " I am stubborn and determined". Is she a relative of ours? We aren't sure, but she certainly sounds like blood kin.

Ms. Olsson competed for the Miss Universe title on May 11 in Puerto Rico.
---

Here is a delightful story about one of Dalarna's most successful native sons. His name was Carl Eric Wickman. Some of you may remember Eric Östhol mentioning him in the presentation he gave at our Port Ludlow reunion. Eric, who was a friend of Mr. Wickman, spoke about a trip he had made to the U.S. many years ago to visit him.
The story was reproduced from the magazine, Sweden and America, with the permission of the editor. The story was written by Everett Martin.
Twenty million bus passengers a year. More than 3,700 destinations in North America and more than 21,000 daily departures.
And it all started with the ingenuity of a Swedish immigrant who had trouble selling his car.
The founder of the Greyhound Bus empire was born in 1887 as Carl Eric Wretman in Våmhus, a town in Dalarna. At the age of 18, Wretman crossed the Atlantic and settled in Hibbing, Minnesota, taking the name Carl Eric Wickman, which was easier for Americans to pronounce.
Wickman found a job as a miner and must have done fairly well for himself, for he could afford to buy a car: a seven-passenger "Huppmobile". He tried to sell the car in 1914, but found no buyer among the workers of the Mesaba Iron Ore Range. So he started his own bus service, the Mesaba Transportation Company, ferrying passengers the two miles between the towns of Hibbing and Alice.
The bus line became so popular that Wickman bought two more Huppmobiles, installing additional seats. The vehicle's long, sleek appearance and gray hue caused someone to remark that they looked "just like greyhounds streaking by". Wickman liked the image and coined the slogan, "Ride the Greyhounds."
The rest is American entrepreneurial history. The company was renamed the Motor Transit Corporation in 1922 and Northland Transportation Company in 1926 before incorporating under the Greyhound name in 1930. By the time of the Chicago Exposition in 1933, Wickman owned 62 buses, and Greyhound stations had sprung up across the country. The name quickly became synonymous with long-distance bus travel. Millions of people have since taken buses with the familiar greyhound on the sides to destinations across the continent. The Greyhound mission statement was created, " Providing the opportunity for anyone to travel between any two cities in North America with safety, dignity and convenience".
Wickman visited his Swedish hometown several times, sharing with its residents some of his prosperity. Today, a bust there commemorates the multimillionaire, who died in 1954. He is buried in Falun in Dalarna.
---
Did you know that the American actress, Ann Margaret, was born in Sweden? And that her last name is Olsson? In August, she was presented with the Swedish-American of the Year award in Stockholm, Sweden. When she was offered the award, she said she would accept only if the King himself presented it. Gutsy lady!
---
FAMILY NAMING PRACTICES IN OLD SWEDEN
by Lennart Mårding and Don C. Olson
Many Americans who research their ancestry in Sweden find the naming systems that existed before the 20th century confusing. For example, prior to about 3 generations ago, the surnames of the sons and daughters were different, and they changed with each new generation.
In this article, we will attempt to bring some clarity to the naming practices in old Sweden, with a focus on the province of Dalarna and our ancestors who lived there.
In ancient times, an individual had only one name. As the population grew, with so few names in use, it became more and more difficult to distinguish between persons, so a short description of the person, or his origin, was added to his name. For example Hans från Bäck (Hans from Bäck) or Jöns Skommare. Skommare is an old Swedish word for shoemaker. Jöns Skommare is the oldest known ancestor of Blixt Olof Olsson on his paternal side
Later on – probably around the 16th century in Dalarna – people started to use patronymic surnames. The surname for sons was created by adding son to the first name of their father; the surname for daughters was created by adding dotter (Swedish for daughter) to the first name of the father. For example, if a man called Hans had a son named Erik and a daughter named Britta, the childrens' full names would be Erik Hansson and Britta Hansdotter.
Only a few first names were in use in Dalarna ; for men, Erik, Olof, Anders, Hans, Lars and Per were common, and for women, Kerstin, Britta, Anna, Margreta, Karin and Lisbeth were popular. Olof is an old name from the Viking era. It means "descendant". Kerstin was Kristina Olson's Swedish name. It is a Latin name which came to Sweden around 1500.
If it was necessary to differentiate between two persons with the same name, which was often the case since there were so few names in use, people attached to their names the names of the farms they came from. If Erik Hansson lived at Pellasgården (the Pellas Farm), he was called Pellas Erik Hansson. The farm name was always put ahead of the given name. This practice was common in Dalarna.
When a man married a woman who inherited her parents' farm, and they moved to that farm, he took on the name of the farm. If someone wanted to make fun of him, they would refer to him as the man with the "petticoat name". An example was Blixt Olof Olsson's father. Originally, his name was Pellas Olof Hansson. Then he married Blixt Anna Larsdotter, who inherited her parents' Blixt farm. As a result, he became Blixt Olof Hansson.
Since farm names played a central role in the naming of people, let's take a closer look at the origin of farm names. One of the most common sources of farm names were the so-called soldier-names. These were names a Captain in the army assigned to his soldiers during a certain period of Swedish history. The soldiers had to have unique, short, preferably monosyllabic names. Many names had a military touch, for example Blixt (Lightning), Sköld (Shield), Modig (Courageous). Other names characterized the soldier: Lång (Tall), Tapper (Brave), Flink (Quick). Names could also be adopted from nature: Hjärp (a type of hen), Mört (Roach), Sand (Sand). Often, these soldier names were used to name the farms the soldier lived on. Then they were passed down through the generations of descendents.
Another common source of farm names was a derivation of the name of an ancestor. Examples: Pellas (dialectal genitive form of Per), Jöns (from Jon or Jonas), Jakobs (genitive of Jakob).
The most peculiar farm names were derived from contractions of an ancestor's given name and patronymic surname. For example, Erik Ersson was contracted into Kers, Anders Larsson into Slars, Erik Nilsson into Knis .
The farm name could also have its origin in the location or some characteristic of the farm. For example, the farm name, Bäck, came from a brook flowing through the grounds (bäck is the Swedish word for brook).
A farm name could also be derived from the name of the owner's birthplace. Kristina's father was named Östhols (the farm name) Anders Andersson. It is likely that one of his early ancestors was born in the village, Östanhol.
Finally, the profession of an ancestor was sometimes the source of a farm name. Snickar (carpenter), Skommar (shoemaker), Klockar (parish clerk) and Werkmäster are common farm names in Dalarna.
For those of you interested in details, at the end of our article is a table of farm names from 3 generations of our Swedish Dalarna ancestors.
At the end of the 19th century the naming systems we have described were abolished and replaced with the family name system we are all familiar with. Most people simply chose to use their father's patronymic name as family name. Some people chose to adopt a completely new name as family name. These new names often were a combination of two names from nature or topographical localities. For example, some people living in the village Söderås chose the names Söderberg (south – mountain), Söderlund (south – grove), Söderkvist (south – twig) and Söderström (south – stream).
Some people began to use their farm names as family names. An example is Östhols Anders Andersson - born 1889 and a grandson of Kristina's father - who changed his name to Anders Östhol. He is also the ancestor of the Swedish Östhol branch of our family.
The complicating effect of the changes in the naming systems over the years on people's names can be illustrated using Kristina as an example. During her lifetime, her name changed 5 times, as described in the following table.
| | | |
| --- | --- | --- |
| 1856 | Knåp Kerstin Andersdotter | When she lived as a young girl at the Knåp farm in Utanåker. |
| 1862 | Werkmäster Kerstin Andersdotter | When her mother married Werkmäster Anders Hansson. |
| 1884 | Kerstin Andersson | When she moved to Stockholm |
| 1885 | Kerstin Andersson | She kept her maiden name when she married Blixt Olof Olsson and when Karl (Charlie) and Ernst (Ernest) were born. |
| 1889 | Kerstin Olsson | In the passenger list when she emigrated. Now she has changed her maiden name to her husband's surname. |
| 1890 | Kristina Olson | Her name in America. The first "s" in Olsson, which in Sweden is a genitive ending, has disappeared. |
Farm Names Used by Blixt's and Kristina's Ancestors
Farm name

Ancestors to
Blixt Olof = B
Kristina = K

Origin

Meaning

Blixt
B
Soldier's name
Lightning. From Lars Andersson Blixt, who was grandfather to Blixt Olof
Funk
B, K
Soldier's name
From the German word "funke" which means spark
Hjärp
B
Soldier's name
Hjärp from järpe = hazel hen
Jöns
B
Personal name
Genitive of the name Jon or Jonas
Knåp
B, K
Probably a soldier's name
Unknown
Lisselängs
B
Characteristic of the farm
Lissel = dialectal word for "liten", which means little or small. "Äng" = mead.
Pellas
B
Personal name
Genitive of a dialectal form of the name Per
Sand
B
Soldier's name
"Sand" = sand
Slars
B, K
Contraction of personal names
Contraction of a given name ending with "s" (ex: Lars, Mats, Nils) and the patronymic Larsson.
Slång
B
Contraction of personal names
Unknown

Östhols

K

Place of birth

From Östanhol, which is a village in Leksand
---
Karl "Charles" Olaf Olson Branch - None reported
Ernest Andreas Olson Branch - None reported
Anna Elvira Olson Branch -
Esther Nylander Meng's husband, Al Meng, passed away Tuesday April 2, 2001. Al was born Feb 4, 1919 in Swift Current, Saskatchewan, Canada. He came to the US as a young child, and settled with his family on Whidbey Island. He was a Master Craftsman & Woodcarver and a Cabinet Maker. He was a member of the Free Methodist Church. Esther and Al married in 1992.
Esther Suzanna Olson Branch - None reported
David Leonard Olson Branch - None reported
Samuel Erick Olson Branch -
Charlie Wayne Lee, age 83.
Born April 5, 1917 in Cleburne, Texas.
Died February 13, 2001 in Scottsdale, Arizona.
Charlie is survived by his wife Miriam Olson Lee and numerous children, grandchildren and great grandchildren.
Christina Elizabeth Olson Branch - None reported
Relatives in Sweden -
The latest news from the Östhol family is the arrival of my nephew. Eric Nils Bromming is the son of my sister Malin Thomsson and Patrick Bromming, he was born on the 15th of June. He is the great grandchild of my grandfather Erik Östhol. -Annika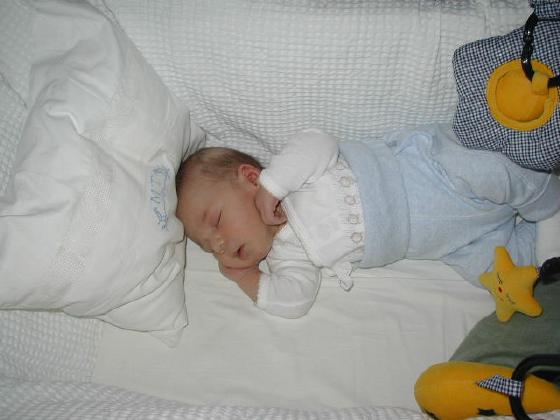 Eric Nils Bromming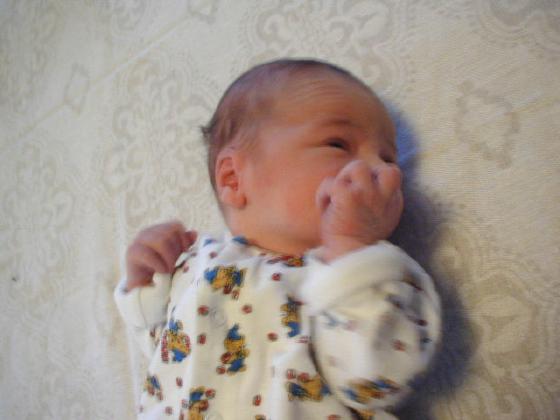 Eric Nils Bromming
***************************
We ask that all branches report births and deaths by sending an e-mail to Joe B. Olson.
---