Crest of Dalarna, home province of the Olson Clan

May 2003, No. 12

A Periodic Publication of the Blixt and Kristina Olson Family Branches
MESSAGE FROM THE EDITOR
Don C. Olson
Following the last issue of the Olson Chronicles, my brother, Joe, retired as Editor of the Olson Chronicles and asked me to take on the task of putting together the next issue of our newsletter. That was a tall order for a scientist; nevertheless, I decided give it my best in order to keep the Chronicles alive, and to continue my sister Miriam's mission to bring our extended family closer together.
| | |
| --- | --- |
| With these goals in mind, I have tried to give the Chronicles a new look and feel. We have some great stories from a number of family authors. We start with a feature story about Blixt and Kristina's Voyage to America. We have researched their trips from Stockholm to Ironwood, and have recorded the details in this story. Next, we have two sections, Family Heroes and Meet Your Kin which will help family members to get to know one another. As you read the stories, I'm sure you will be struck, as I was, by the wealth and diversity of talent and accomplishments in our family. And, that is only the tip of the iceberg. We have much to be proud of in our family. Following these stories come two sections with some history stories: family history at Malo in Stories From the Past and some Swedish, Swedish-American, and Viking history in Our Scandinavian Heritage. We also have some Special Topics stories and Announcements which we hope will be of interest, and finally Obituaries of three of our dear family members, Miriam Lee, Esther Howe-Meng, and Styrbjörn Backman who, sadly, have passed away since the last Chronicles. | |
Finally, I'd like to thank very much all of the family authors who have devoted time to write the many wonderful stories that make up this issue of the Chronicles.
FEATURE STORY
Voyage to America by Don C. Olson & Lennart Mårding
FAMILY HEROES
Florence Cooper - Oldest Living Olson
Brothers Lyndon and Bill Olson - They argued a case before the Supreme Court that changed American democracy
Lyndon Olson Jr. - Swedish American of the Year 2002
James Roscoe - Ironman
Bill Brissenden - Patton of Noranda
Brissendens - 1) On Forefront in Battle Against SARS in Toronto. 2) Friends of America Rally in Support of U.S. Troops in Iraq.
MEET YOUR KIN
Miriam Olson Lee - Sam Olson Branch, 3rd Generation. Currently residing in Heaven, probably serving the Lord as the Olson Family Rep
Constance Brissenden - Esther Olson Branch, 4th Generation
Charlie Olson - Ernest Olson Branch, 4th Generation
Jennifer Litke - Annie Olson Branch, 4th Generation
Poul Olson - Sam Olson Branch, 4th Generation
Kathie Teslaw - Christina Olson Branch, 4th Generation
Rob Grumbach - Annie Olson Branch, 5th Generation
Stephen Grumbach - Annie Olson Branch, 5th Generation
Robert Mohr Jr. - David Olson Branch, 4th Generation
Norman Edward (Eddy) Nylander - Annie Olson Branch, 3rd Generation
TALES FROM THE PAST
Childbirth on St. Peters Creek by Joe Olson
The Malo Store by Carrie Olson
Dentistry at Malo Park
OUR SCANDINAVIAN HERITAGE
Emigration From Dalarna, Sweden to America by Lennart Mårding
A Swedish Poem From Dalarna by Don C. Olson
Origin of the Jury System by Don C. Olson
New Sweden by Don C. Olson
Outstanding Swedes & Swedish Americans
The Icelandic Sagas by Collin Starkweather
SPECIAL TOPICS
Water, the Lagom Liquid by Don C. Olson
Olson Develops Anthrax Detector by Don C. Olson
ANNOUNCEMENTS
An Author Among Us
Would You Like To Learn Swedish?
Family Tree Wall Chart
OBITUARIES
Miriam M. Lee
Styrbjörn Backman
Esther Howe-Meng
---
VOYAGE TO AMERICA
by Don C. Olson & Lennart Mårding
| | | |
| --- | --- | --- |
| The time is the fall of 1887, and the place is Stockholm, Sweden. Blixt Olof and Kerstin Olsson have been married for 3 years. Both had grown up in the Rättvik area in the province of Dalarna about 100 miles to the northwest, but it was not until they moved to Stockholm that they met. Olof (this is his given name; Blixt is a family farm name) had moved to Stockholm on September 25, 1883, while Kerstin made the move on August 26, 1884. | | |
Olof and Kerstin had met at a Stockholm church. We know that on October 9, 1884, Olof moved from another parish to the one where he met Kerstin, so this must have been about the time they met. It must have been love at first sight, as their first wedding band was announced in church on October 19. They were married on November 28, 1884.
| | |
| --- | --- |
| Salvation Army Temple | Olof and Kerstin now have two sons, 2-year-old Karl Olaf, and 3 month old Ernst Andreas. They have moved twice since getting married, from 63 Sybyllegatan where Karl was born, to 61 Sybyllegatan where Ernst was born, and finally to a larger apartment at 10 Tullgatan so that Olof's two sisters, Anna and Kerstin, could move in with them. |
Olof and Kerstin have begun to discuss leaving Sweden and immigrating to America. Although they both have jobs, times are not good in Sweden. Olof is a brickmason, and is laying brick in the construction of the Salvation Army Temple. This is the third church he has helped to build since he moved to Stockholm. Kerstin is working in a bottle factory. Their pay is poor, barely enough to make ends meet. As Esther, their third child later wrote in her autobiography, "My parents were happy, but discontented as they longed to build a new life in America". Emigration was such a strong force in Sweden at this time that it was called the "America Fever".
| | |
| --- | --- |
| So they made their decision to make the move. Olof would go first in order to prepare the way for the rest of the family and earn enough money to purchase their tickets. Olof and Kerstin followed the same, multi-leg route to America. The first leg was by train from Stockholm on the east coast of Sweden to Gothenberg on the west coast. From there, they boarded a ship which took them to the port of Hull on the east coast of England. On this leg, Olof sailed on the SS Marsden of the Wilson line, while Kerstin sailed on the SS Malmo of the same line. After arriving at Hull, they boarded a train to cross England to the west coast port of Liverpool. There they embarked on a transatlantic ship which made a stop at the port of Queensland in Ireland to pick up a load of Irish and then crossed the ocean with New York as the final destination. Olof sailed on the SS City of Richmond of the Inman Line, and Kerstin sailed on the RMS Aurania of the Cunard Line. | SS Malmo |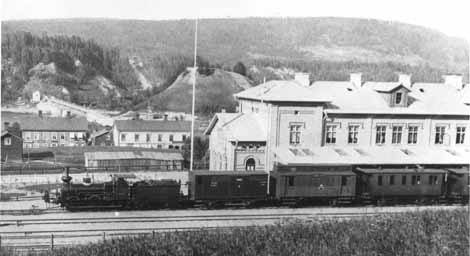 | | |
| --- | --- |
| | RMS Aurania |
Before leaving Sweden, it was necessary to receive official approval to emigrate. Olof received his emigration certificate on March 27, 1888. He left Sweden on April 6, 1888, and arrived in New York on April 23. This trip took 17 days. His ticket listed St. Paul, MN as a destination, which is a bit of a mystery since Ironwood, MI. was his final destination. Why did he go to St. Paul?
Kerstin received her emigration certificate on April 17, 1889, and left Sweden on May 7, 1889. She arrived in New York on May 26, so her trip took 19 days. Karl and Ernst are listed on the passenger list as her children.
What was the trip like? We have no records from Olof or Kerstin on the trip, but we were able to find descriptions by other people who made the trip during the same time period. We will start with the leg from Gothenberg, Sweden to Hull, England.
The Wilson line was of British register, and at the time of Olof and Kerstins' emigration carried most of the passengers from Sweden to England. The ships were called the "America boats". Passengers began to arrive at the dock at Gothenberg at 2-3 PM, and agents from the Atlantic line that later would take them from England to America were present to greet them and help with arrangements onboard. Accommodations were typically open double-decker bunk beds about 5½ ft. wide, built in long rows on both sides of a room, 50 - 60 ft. long and 25 - 30 feet wide; the bunks were separated only by 8" boards. The rooms held 150 -200 people, and were well ventilated and well illuminated.
At 4 P.M., the ship sailed. A half-hour after the ship sailed, the emigrants received their first meal consisting of coffee, bread, crusts, and butter, and when it got dark, they went below and settled in for the night.
One passenger who made the trip in the 1880s gave the following description of the sleeping and sanitary accommodations. "The emigrants felt crowded together too much, and no one wanted to get undressed; there was, in fact, no one who would take off even their boots, and I noticed several who slept with their hats, caps, and other headgear on. I noticed that the Swedish emigrants had much more bedding with them than the Norwegians, and that they did not tuck themselves into their beds"
"I regard the toilets on this ship the weakest point onboard. They are small, cramped, dark places, without water, and those for women and for men are next to one another. The entrances were in no way protected from the weather. All in all, they were more foul smelling, unsatisfactory places than one can imagine."
"The meals were well prepared and of good quality. I ate several meals and think that they were of the same quality as offered to emigrants on the Atlantic lines. There was a plentiful supply of water and the emigrants could take what they wanted."
| | |
| --- | --- |
| Paragon Station Waiting Room | The journey to the port of Hull, England generally took about 35 hr. The emigrants were then taken a short distance to the waiting room at the Paragon Railway Station. Here, there were facilities for meeting with the ticket agents, wash, use the toilet and take shelter from the weather. Food was provided, and if necessary lodging at nearby boarding houses. |
The next leg of the journey was by train to Liverpool, and it generally departed Hull within 24 hrs. of the emigrants' arrival. The train usually left Hull around 11 AM and arrived in Liverpool between 2 and 3 PM.
| | |
| --- | --- |
| The time that Olof and Kerstin emigrated were peak years for sailings of emigrant ships to America, so the Waterloo dock in Liverpool where the transatlantic ships departed was teeming with emigrants. Liverpool was known as the "Port of a Thousand Ships". The hold-up there for processing and boarding the ship would take from 1-10 days. The first step was to meet with the ticket agent for instructions, and assignment of lodging if necessary. Second, not only was a medical exam required, but also a medicine chest with sufficient medicines for the journey. The shipping lines were diligent about this because if the U.S. inspectors refused entry of a passenger because of medical problems, the shipping line was not only fined but also had to bear the cost of returning the person to the port of departure. Once the passenger's ticket was stamped by the medical examiner, he/she had nothing further to do until it was time to board the ship. | |
| | |
| --- | --- |
| | Most immigrants traveled "steerage class" since it was the least expensive. The cost was about $25, equivalent to about 2 or 3 weeks of a miner's wages. The steerage accommodations, similar to those described for the Gothenberg-Hull ships, were in the lowest decks, where the steering controls and engines were located. Each steerage compartment held 100- 400 passengers. Rows of metal bunks were stacked two high and two side by side. Each passenger was assigned a bunk, a burlap mattress, and a life preserver which doubled as a pillow, and a tin pail with utensils for meals. Meals were generally served from a large tank. |
Once the ships left Liverpool, they generally, as mentioned, made a stop at Queensland, Ireland to pick up a load of Irish. Swedes and Irish were often housed in different compartments, or even on different decks, as they tended not to get along well. From Queensland, the Atlantic crossing usually took 6 - 12 days. During the voyage, each passenger was interrogated with a list of 19 questions, including his nationality, age, health, trade, resources, and prospects in America. All answers had to be sworn to. The passenger was then instructed on how to properly conduct him/herself before the examining officer in New York, and a tag was provided to be worn at the interview.
At the time that Olof and Kerstin arrived in America, the immigrant landing depot in New York was Castle Garden. Castle Garden was a round building with walls of 6-foot thick red granite. A castle or a garden it was not. Built by the British in 1812, it had a checkered history. Over the years it had served as a fort, concert hall (Jenny Lind, the Swedish Nightingale, performed there), theater, church, meeting hall, restaurant, saloon, and finally in 1855 an immigrant depot run by the State of New York. Due to poor operating conditions and hoards of swindlers, thieves, and peddlers that preyed on immigrants at Castle Garden, the Federal Government took over, closed down the site, and opened Ellis Island in 1892.
| | |
| --- | --- |
| What did Olof and Kerstin face during processing at Castle Garden? It was probably a stressful and unpleasant experience due in large part to the aforementioned conditions, facing the unknown, and a lack of knowledge of the English language. From information gleaned from the Internet, we have pieced together the steps of the process. The process will be presented with pictures and captions depicting the steps. | |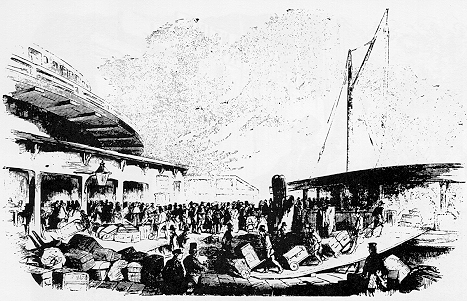 After quarantine in the harbor with a quick shipboard survey of the passengers by a health inspector for contagious diseases, the immigrants and baggage are barged from the ship and descend the gangplank to the Castle Garden pier.
| | |
| --- | --- |
| On the pier, immigrants file by two officers who record their name, birthplace, and destination. | Immigrants are ushered into the rotunda, where thousands of people are congregated. |
| | |
| --- | --- |
| Immigrants await their turn to be called for processing. | Each immigrant is interrogated by a board which includes an inspector, medical examiner, and interpreter. The same 19 questions asked onboard the ship are repeated, and answers must match to pass. |



Records of Blixt Olof, Kerstin, and children. Blixt Olof was recorded as 26 yrs. of age, Kerstin 33 yrs., Karl 3 yrs. and Ernst 8 months.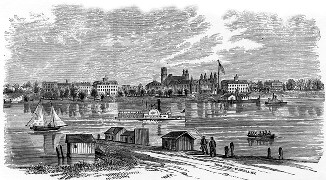 Sick immigrants are transferred to a hospital on Ward's Island
| | |
| --- | --- |
| Railway counter where tickets are issued to immigrants who will travel further. | Money counter where foreign currency is exchanged for dollars. |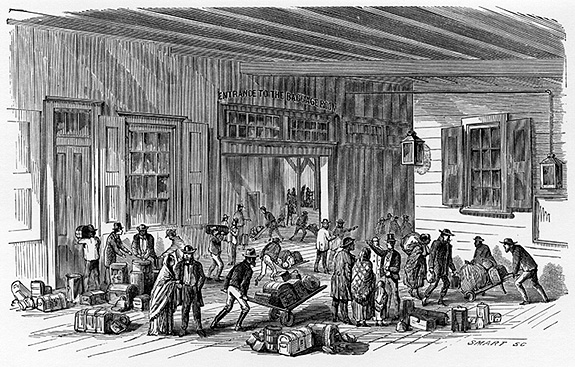 Immigrants collect baggage in Castle Garden
Interestingly, the Swedish immigrants had a reputation at Castle Garden. According to a report on the Internet from the Castle Garden era, "the most troublesome and patience-exhausting people are undoubtedly the Swedes. They are an excellent class of people, and form excellent and most desirable citizens, but cause a great deal of trouble on their arrival. They are, by nature, rather suspecting and doubting. Therefore, they are difficult to deal with. They shun questions, and often refuse to give explanations. But, after some time, when they learn to know the country and the character of its inhabitants better, they assimilate with us, and become hardy laborers and honest citizens."
Often, immigrants' names were changed by the agents at the processing depot, so it probably was here that Kerstin's name was changed to Kristina. In addition, Olsson probably was changed to Olson.
Once the immigrants had collected their baggage, they went on their way as new settlers in America. In the case of Olof and Kerstin, they were transported to the train station for the last leg of their trip. As mentioned earlier, Olof's ticket destination was St. Paul, MN. Why he went there is unknown, but it may have been, as pointed out in another Chronicles article by Lennart Mårding, a favorite destination for immigrants from Dalarna was an area just north of St. Paul. This area was sometimes called the Dalarna of America. Olof may have gone there, looked for work in St. Paul. The mining company in Ironwood, MI may have been recruiting in St. Paul, and that is how Olof found his job and moved on to Ironwood.
Another mystery is the story in Esther's book about Kerstin's encounter with the health inspectors when she and her boys arrived in New York. According to the story, the inspectors noticed that Ernest had a rash, and fearing a contagious disease, would not allow them to leave the ship. They were sent back to England, where it was discovered that Ernest's malady was only a heat rash, so they returned on the next ship. I (Don Olson) searched passenger records on ships from Liverpool up to 4 months following May 26, 1889, as well as some prior to the date, and did not find Kerstin and sons on any of them. However, the story must have an element of truth, so we are continuing to research the story.
FOOTNOTE: We found a map of Stockholm from the 1880s, the period when Blixt Olof and Kirsten lived there. At the time, Stockholm was a small city of 200,000 inhabitants. The two streets where they lived, Tullgatan and Sibyllegatan, are labeled in blue. At that time, the streets were located on the edge of the city, with farms and fields in their backyard. Today, the streets are located in the inner-city of Stockholm.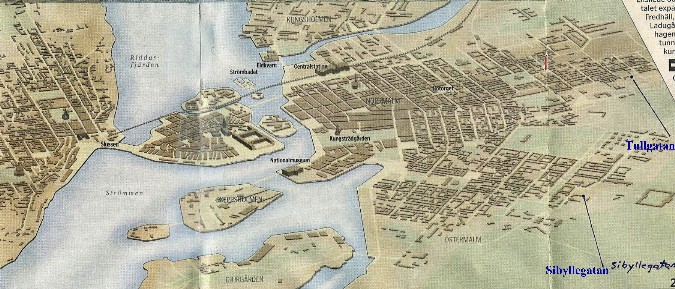 ---
FLORENCE CHRISTINA OLSON (WALLACE) COOPER
Oldest Living Descendent of Blixt and Kristina Olson
Florence Christina Olson (Wallace) Cooper celebrated 92 years on March 15, 2002. She was the first grand-daughter of Blixt and Kristina Olson, and was born to their eldest son, Karl (Charlie), and his wife Hilma Sophia Brusk in Phoenix, B.C., Canada.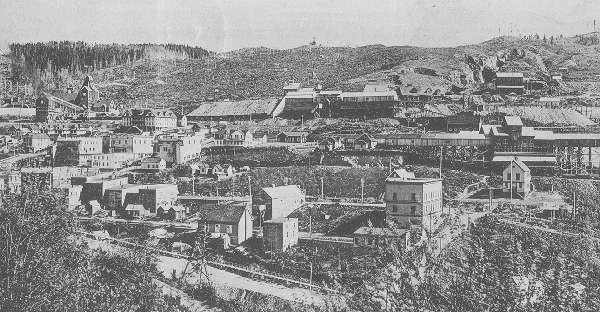 In 1910, the year Florence was born, Phoenix was a thriving copper mining town with a population of over 5,000. Located high atop a mountain - elevation 4,600 ft. - it was serviced by two railways, one from Greenwood and one from Grand Forks. The town was easily accessible from Malo, WA, so the Olson family members visited back and forth frequently. Florence remembers well Uncle Ernest, Uncle David, Uncle Sam and Aunt Agnes. Agnes was her mother's niece who married her Uncle David, so Agnes was both Florence's cousin and her aunt.
The Charlie Olson family was completed on April 3, 1916 when a sister, Mabel, was born.
It was wartime and, with the mines operating at full capacity, there was a lot of activity in the bustling mining town. The family lived in a very comfortable home. Charlie had an orchestra which he loved and which played for dances. However, when the war ended, so did Phoenix - there really was no choice as the railways discontinued operations, and it was before the days of trucking. The family had to leave their cute little house as the town became deserted. Today, Phoenix, B.C. doesn't exist at all - it lies under a tailings pond created during a revival of mining in the area in the 1970s.
On Oct. 13, 1919 the family moved into a primitive home at Cassidy, B.C. on Vancouver Is. where Charlie had obtained a job with the same company (Granby Consolidated) he had worked for in Phoenix, doing the same job as an electrician, with the same men with whom he had previously worked.
Florence attended a small one-room school but her education must have been more than adequate because in her Government Entrance Exams she earned the Governor General's medal for the highest marks on Vancouver Is. (Editors note: Florence presently lives in an assisted living complex in Namaimo, north of Cassidy, where a small number of her classmates also live - to this day, they still refer to her as the "smart girl"!) Florence also won a silver medal for top marks in her music exams. In 1926, she repeated her achievement with top marks, and received a Government scholarship and her Associate Degree in the London School of Music (A.L.C.M.)
Next came studies at the University of B.C. Normal School and receipt of her teacher's certificate. Many encouraged Florence to go on to further studies at the University in music, but these were depression years so her family's only ambition was for her to get a job which, with her qualifications, proved to be no problem. Her first job was in Rutland in the Okanagon where she thoroughly enjoyed teaching 47 pupils in three grades, plus music for the school.
By this time, Charlie and Hilma had moved up Island to a town near Courtenay. Florence taught there the next year and then moved to Courtenay where she was able to participate in musical activities and teach in a graded school.
| | |
| --- | --- |
| | In 1935, Florence married Harvey Wallace, a banker, and her teaching career came to an abrupt halt. Married women did not teach in those days. Although they didn't have much money, those were happy days. Harvey was a devoted husband with a host of friends. Also, Charlie and Hilma were living close by in Comox. |
| | |
| --- | --- |
| In 1938, the Canadian Bank of Commerce moved the Wallaces to Nelson , which the family also enjoyed. Their daughter, Carolyn, was born there on August 29, 1940. But, once again it was wartime and life became more complex. | |
1941 brought the new family to Vanderhoof and another way of life entirely. Vanderhoof is a small town in northern B.C. with long, cold winters and hordes of summer mosquitoes. There were not many women employed in banks at this time and, as the young men were in the armed forces, Harvey had to work long hours. Florence says of Vandrhoof, "It was an experience I would not have missed, but whenever I have a nightmare I dream we have moved to Vanderhoof". Her son, Stephen Charles was born there on January 22, 1946.
Happily, in December 1946, the Wallaces were posted to Ladysmith, a small town on Vancouver Is. Mabel was living in Ladysmith then and it was a half-day drive to Hilma and Charlie in Comox. Said Florence, " We were home".
Florence returned to teaching in 1954 and served many satisfying years on the staff at Ladysmith schools. She remembers the students as co-operative and the principals as good so there were not any behavioral problems. Florence said, " I came to school prepared to work and the students did likewise". Carol and Stephen both graduated from high school in Ladysmith and went on to the University of B.C.
Stephen graduated from high school in 1963 and headed to the University. Unfortunately, Harvey died of heart failure on June 7, 1963. Suddenly, Florence was alone. Luckily she was working and, teaching being such a demanding profession, she was able to continue her life. Also, Hilma and Charlie moved to Ladysmith, so she had family nearby.
In 1970, after Charlie's death, Hilma took Mabel, Florence and Hilma's niece, Edith Franke, on a trip to Sweden. The young ones found Sweden to be a beautiful country. They met many gracious, friendly relatives. Florence said, "For the first time in my life, I was proud to be Swedish. It was quite a revelation for me".
| | |
| --- | --- |
| At the end of 1971, Florence retired from teaching and on Feb. 3, 1972, married Gordon Cooper. Gordon was a retired Federal Govt. Agent, originally from Emo, Ontario. He was a widower with no children. After Hilma died, they spent their winters in Hemet, CA. which they loved, until Gordon became too old to travel. Gordon passed away in April, 1998. | |
Three years ago, Florence decided it was time to leave her comfortable house in Ladysmith, which had a gorgeous view, but lots of homeowner responsibilities, and move into an assisted-living residence. As she had done with every decision in her life, Florence shopped around and carefully considered her options. On April 26, 1999, with her family assisting her, she broke up her home of 27 years and moved to an apartment at Berwick-on-the-Lake in Nanaimo where she continues to reside.
At Berwick, Florence has become an avid bridge player and has revived her painting skills. She has more friends now than she's ever had and is a vital contributor to the Berwick 'community'. Most Tues. evenings find her playing familiar tunes on the Berwick Grand piano for 30-50 resident who regularly 'sing along'.
In 2001, Florence was diagnosed with a cancerous tumor. In spite of her advanced years, Florence was able to undergo radiation treatment and major surgery. Her recovery was slow but steady and today she again enjoys good health.
On May 24 this year, Florence's grandson, Philip Tulk, was married to Joanne Lee-Young. Florence traveled to Vancouver to welcome the new bride to the family and to attend the wedding, a 'Charlie Olson branch' reunion of sorts. In attendance were sister Mabel Cliffe with her daughters, Karen Cliffe and Mary Bentley with busband Ted and daughter Kristi; son Stephen Wallace with his wife Geraldine, daughter Carol and her husband Bob, parents of the groom, and their daughter Sarah Swanson, her husband Walt and their children, Cameron (7) who looks like an Olson and Christina (3½) who is named after many Olson women. The only family member unable to attend was Jonathan, son of the Bentleys.

In fact, Florence was so delighted with the trip that she came back the following weekend to attend a gala Chinese banquet celebrating the marriage.
| | |
| --- | --- |
| | Florence is still keenly interested in her family, the financial markets, politics, healthcare and the sagas of her friends and neighbors. She plays the piano dynamically with the same special 'touch' as she had in her youth and is honing her bridge and painting skills. She has a lot of trouble hearing conversations but she makes sure she doesn't miss much. Florence is truly a remarkable woman and definitely a credit to the Olson clan. |
Written June 2002 by Carol Tulk from text provided by Florence Cooper
---
BROTHERS LYNDON AND BILL OLSON
They argued a case before the Supreme Court that changed American democracy
Olson's Case Stays On Map
From Waco Tribune Herald, Waco, TX, May 28,2001
By Jason Embry
Tribune-Herald staff writer
Brothers Lyndon and Bill Olson have tried just one case together in their 50 years as lawyers. It was all they needed to change American democracy.
The brothers carried Avery vs. Midland County to the U.S. Supreme Court in 1968. The ruling in their favor established for local governments the principle of "one man-one vote", which effectively says each member of an elected governing body must represent roughly the same number of constituents.
As policymakers everywhere draw districts based on new census data this year, the Avery decision remains one they cannot ignore.
It followed two other Supreme Court rulings that established one man-one vote. The court previously had laid down the principle for congressional and state legislative districts.
"That trilogy of cases must be considered among the top 25 cases of the past 100 years because they literally changed the face of representation in America", said David Guinn, a Baylor University law professor and redistricting expert.
Lyndon L. Olson Sr. was a Waco municipal lawyer in private practice, and his brother practiced in Austin when they began working on the case in 1962. Midland Mayor Hank Avery had come to know the Olsons through the Texas Municipal League, where he served as president and where Bill Olson was general counsel.

At the time, the city of Midland contained 97 percent of the residents of Midland County. Yet one of the four county commissioners represented the entire city, leaving the other three to speak for the handful of ranchers and oilmen in the county's rural areas.

"The citizens of Midland were paying for the county government for the benefit of the rural population ", said Avery.

The brothers originally took the case to a Midland County district court, where a visiting judge ruled that the districts must be redrawn to give each about the same number of people. But the Texas Court of Civil Appeals in El Paso reversed that decision, saying that neither federal nor state law required parity among the district's populations.
That 1965 decision was reversed the next year by the Texas Supreme Court, which said the commissioners must redraw the lines. But the court also said they could consider factors such as miles of county roads and taxable values, along with population.
Not satisfied with a ruling he believed was ambiguous, Avery petitioned the nation's highest court. The Olsons decided that Lyndon would argue the case in Washington, in part because his brother had become city attorney of Houston and was not sure how council members would react to his involvement.
"We felt confident that our cause was right, and we felt like we had the ability to present it in the proper fashion", said Lyndon Olson, now 76. "And that's what we did."
He spent time before the case studying pictures of the justices, making sure he knew which name went with which face when he spoke before them. "They asked a lot of piercing questions", Olson recalled about his brief time before the court.
On April 1, 1968, the court ruled in Avery's favor.
After the Avery decision, more than 80,000 local governments in the U.S. had to hold their districting maps to the scrutiny of the one man-one vote. But they did not do so immediately. As local entities have come into compliance with the Avery decision over the past couple of decades, urban voices have strengthened in county governments.
Olson spent some time on the Texas speaking circuit after the case and returned to his Waco practice. He continues to specialize in municipal law, practicing in the same Waco firm as his son, Charles.
Officials from a range of cities sometimes ask Lyndon Olson Sr. if redrawing district lines is worth the hassle it can cause. The answer is a simple one.
"I say, sure it is", he said. "If you believe in constitutional government like I do, you believe it's a small price to pay for making sure everybody, regardless of race, creed or color, gets one vote. No more, no less."
---
LYNDON OLSON JR.
Swedish-American of the Year 2002
Still Another Texas Swede
The Bridge, Published by the Kinship Center, Karlstad, Sweden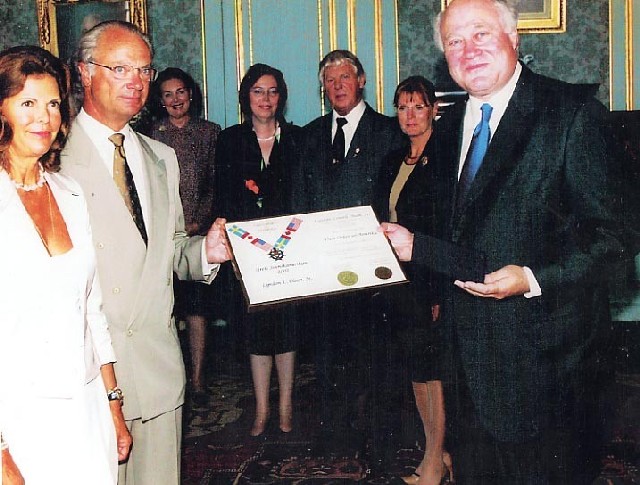 Lyndon Olson of Waco, Texas, has been chosen as the Swedish-American of the Year, 2002. He has roots in the Rättvik area of Dalarna, and he was the U.S. Ambassador to Sweden from 1997 to 2001.
During his years as the official representative of the USA, he placed great worth in tending the historical-cultural ties between our two countries, and he visited a number of Swedish-American events, such as the Sweden-America Days in Värmland in 1999, when another Texas Swede, Rod Johnson, was the Swedish-American of the year. King of Sweden Presenting Award to Lyndon
Both Lyndon Olson and Rod Johnson are members of the steering committee working to raise funds for a Swedish program at the USA's largest univeristy, the University of Texas at Austin. The committee also has an advisory function toward the university where the program's content and development are concerned.
In connection with his visit to the Sweden-America Days in Filiipstad, Olson expressed the idea that a cultural and commercial exchange between Sweden and the USA, based on mutual, historical ties, is very valuable.
During his embassy service, Olson worked to a high degree on the development of official contacts, and the years in Sweden gave him rich, personal opportunities to strengthen the family bonds with relatives in Dalarna.
Olson will participate in the official programs formed by the committee for the Swedish-American of the Year, and an invitation to visit Värmland in conjuction with the traditional celebration of the Sweden-America Days and John Ericsson Day in Filipstad will naturally be sent to the former ambassador. Lyndon Olson has now returned to Texas, but he also has a solid connection to Stockholm.
---
JAMES ROSCOE, IRONMAN
Great Grandson of Esther Olson Brissenden
Sunday morning, September 15th, in Madison, Wisconsin arrived with a chill in the air. The night sky still betrayed no hint of a rising sun as James Roscoe (age 29) made his way with supporter and girlfriend Catherine Liepins to the athletes' meeting place by the lake. By six forty-five, 1826 competitors from the 2000 original registrants were already in wetsuits and standing or treading water in the chilly lake waiting for the starting gun. By this time parents Janet and Bill Roscoe and aunt Jane Brissenden were also in place on the balcony of the convention center looking over the lake at a mass of nearly 2000 heads clad in green or purple bathing caps and poised to start a gruelling 3.8 kilometre swim as the first leg in the 2002 inaugural Wisconsin Ironman, one of four US Ironman competitions yearly or 17 worldwide. Twenty minutes after the gun the competitors were already separating out into faster and slower athletes and a few were already having difficulty with the cold and current. A large crowd had gathered to watch. Estimates of 50 - 75,000 spectators made this one of the biggest crowds ever attending an Ironman, many including ourselves carrying signs encouraging individual athletes in their goal. It was a very friendly and supportive crowd with many of our neighbours seeing the signs and Canadian flag and offering to cheer for our athlete as well.
| | |
| --- | --- |
| It was impossible to distinguish each individual swimmer from the balcony but Catherine who was watching down at the lakefront was able to see James come out of the water. Helped by his competitive swimming experience he was out 34th with a time of 53:48 minutes. Competitors then ran up a spiral ramp to a transition area where part of the large crew of volunteers helped strip off wetsuits so athletes could jump into their cycling clothes. Barefoot competitors then raced to a compound where almost 2000 bicycles were racked by number. Competitors were required to have helmets buckled and run their bikes out of the compound where they jumped onto their saddles and began a challenging 180 kilometer ride through the nearby villages. Spectators who had parked at a large parking lot at an exhibition centre on the outskirts of Madison could then catch a shuttle bus to the village of Verona and catch a glimpse of their athlete cycling by on one or both of two circuits round the course. The village of Verona had gotten enthusiastically involved in the day setting up a festival with food tents and greeting all the spectators with Hawaiian lei as they got off the buses. Again neighbours cheered on James as heartily as we did when he passed by, looking awesome. Madison volunteers stood along the bike route (and later the running course) holding out water, power gel ("gu") and pieces of banana which the cyclists grabbed as they rode by. Medical teams also lined the route to help in emergencies such as with the competitor who fell from his bike shortly after passing us. Fortunately he was not seriously hurt but obviously in pain with bruises and scrapes from hitting the pavement from a speed of at least 30 km per hour. | |
| | |
| --- | --- |
| | We then shuttled back to the Madison convention centre in time to see James again climb the spiral ramp in the parking garage, a challenging climb on a bicycle after riding 180 km in 5:45:23 hours, now in 264th place. Cyclists then jumped off their bicycles and again ran to the transition area to redress for the run. James' transition times were approximately nine and a half minutes each. The 40kilometer run was located throughout the city of Madison and spectators could watch their athletes at several points during the run, moving from point to point throughout the course. The run was James' least favourite as he is still a "beginning runner" and he was visibly encouraged by sightings of Catherine and family at various vantage points not to mention the absolutely great support of the people of Madison. After watching him run by on the last leg of the marathon we raced back to take up vantage points at the finish line. There volunteers wearing gloves worked at the finishing line with a doctor in teams of two or three catching each of the competitors, talking with them and checking pupils because of the concern of serious hyponatremia or heatstroke after such a gruelling performance. I watched several finishers collapse into the arms of the volunteers, some being carried off to a shuttle to the medical tent and some becoming nauseated after the severe exertion, and became very concerned for James. Happily he was fine and able to walk around with his helpers, whose broad grins showed they were as happy and impressed with his accomplishment as he was and we were. James finished an awesome 369 from 1826 in his first ironman only two months after he qualified for and decided to participate in the event. His run time was 4:33:51 hours (778th) and overall time 11:32:30 hours. The first finishing time by American Chris Lieto was 8:46:30. Canadian Jamie Cleveland was fourth with 9:11:45. There were 20 professionals participating. |
| | |
| --- | --- |
| How did it start? James started in competitive sports as an Optimist Sailor going to the world championships in Finland, Spain, and Holland when he was 12, 13 and 14. His interest then changed to competitive swimming and he put in years of training, competing at Youth Nationals and Nationals. His swimming tapered off after his University years but he continued to train with the East York Swim Club until it closed last year. He and his girlfriend Catherine became interested in Triathlons and have been competing in this venue for the last year. He ranked twenty-eighth in his age group in the Muskoka triathlon in July and became eligible for the Madison Ironman. Since making the decision to compete he engaged the assistance of a cycling and swimming coach who have advised him on training strategy. Nutrition is a big part of fitness training and he has done a lot of reading on calorie consumption and fluid requirements. All this paid off in the Ironman. His goal was to come in at 11 hours excluding transition times and he was an incredibly close 11 hours 32 minutes 30 seconds. Next goal - Hawaii Ironman in 2004. | |
| | |
| --- | --- |
| | When he is not training and competing James works with Questek Systems Inc. (website: www.questekinc.com) with whom he is a partner. He graduated from University of Toronto in 1998 with a Bachelor of Applied Science in Computer Engineering as did his girlfriend Catherine. Both are now living in Montreal while Catherine studies for a Masters in Business Administration at McGill and James works from a distance with Questek. James was the principal developer of the Humanis "back office" module described on their website. He also does a lot of data conversion work when clients are switched over to the Humanis product. |
From the vantage point of parent and spectator this was almost as awesome as competing. It was amazing to feel the energy and enthusiasm of spectators and athletes who came from all over the world and all walks of life - from Australia, France, Brazil and Kenya, from the Wisconsin mother of three who finished first of the women, to spray painter, computer software CEO, air force pilot, doctor, dentist and the (male) belly dancer who finished just before James.. This was an awesome example of what can be done with one's body with enthusiasm and hard work and an impressive example of friendliness and volunteer spirit. Athletes finishing in this Bible belt area of Wisconsin made numerous references to God's spirit and it was felt throughout this pure community athletic event.
More information on this event can be found on the web at www.ironmanwisconsin.com. James can be contacted at semaj@interlog.com .
---
BILL BRISSENDEN - PATTON OF NORANDA
by Annemarie Brissenden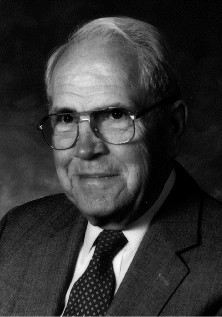 As I was preparing to write this article about my grandfather, my father told me a great story. He and my grandfather had gone out for lunch, and as they sat down, a nearby patron hailed my grandfather. "Are you Bill Brissenden?" he asked, explaining he had worked in Murdochville, Quebec, when a certain Bill Brissenden had been his employer, as the manager of that town's Copper Mine. "Yes," my grandfather replied. "Why," the patron exclaimed, "you were the Patton of Noranda!" He then went on to "be very complimentary about me," as my ever modest grandfather put it, and they spoke for a little while.
It happens a lot.
In Canada, the mining industry, having played a significant role in the development of our country, remains a close-knit one. And, in that community, there are very few people who haven't heard of my grandfather, Bill Brissenden. So, when a group of my grandfather's colleagues got together to nominate him to the Canadian Mining Hall of Fame, the letters came pouring in.
In order to be selected, they all observed, a successful candidate must fulfill at least one of the following criteria: Exploration (discovery of one or more significant deposits, successful introduction of a exploration technique, overcoming exceptional obstacles or difficulties in the discovery of a mine); Technical Contribution (development of a technology that had a profound impact on a firm, or the mining industry generally); Supporting Contribution (contribution to education, public policies or government programs); Building the Corporation (assembling properties which formed the basis of a major Canadian mining company); and/or, Mining in Society (outstanding achievement in reconciling the business goals of the industry to those of Canadian society in general).
As his nominator Yvan Jacques, the managing director of the Canadian Institute of Mining Metallurgy and Petroleum can attest, along with many sponsors, (a who's who of mining in Canada including one Senator), my grandfather fulfills many of these contributions. It was while serving with distinction in the Royal Canadian Navy Volunteer Reserve during the Second World War that my grandfather first gained notice in naval circles as technical innovator. His approach to secret technical problems helped to win the Battle of the Atlantic in 1940 to 1945. And, it will come as no surprise that he chose to remain on a reserve list for a return to active duty with 24-hour notice for the remainder of his career; something his Noranda bosses did not learn until the night he was inducted into the Hall of Fame.
My grandfather achieved one of his early technical successes in the mining industry when he resigned from active duty, managing the Gaspe Copper Mine in Murdochville, Quebec. "The structure of the Gaspe Copper ore bodies presented a major challenge," explains Ron Ford, a mining engineer who worked at Noranda and Patino for numerous years, starting as an employee, but eventually becoming a colleague, of my grandfather. He continues, "Bill was the chief architect" of the solution, a successful method that saw "mining engineers from around the world visited Gaspe Copper [come] to observe and study the operation."
Colleague and friend Alex Balogh, deputy chairman of Noranda Inc., writes about another technical contribution my grandfather made to the industry, this time in the early 1970s at the Horne Smelter. "Researchers and smelter operators in Noranda were convinced that they had a unique but viable concept for continuously smelting copper concentrate. Faced with the considerable technical and economic risk, they turned to Bill Brissenden for support. It was his visionary zeal and fundamental trust in people that helped Bill convince the Noranda Board to invest millions in a full scale prototype at the Horne Smelter," something that was eventually installed at smelters in the U.S.A., China and Australia.
To those familiar with the industry's jargon, then, my grandfather is credited with three technical innovations: the trackless room-and-pillar mining method, the mechanized cut-and-fill systems, and new technologies that extended the life of the Horne Smelter in Quebec.
On such criteria alone, my grandfather would be eligible for induction. There is, however, more. One of the legacies that he instituted at Gaspe Copper was of safety. That operation won the Ryan Trophy for five consecutive years. It was because of this commitment to safety that the Quebec Mining Association hired him to conduct an investigation into that province's increasing mine fatality rate. The result, which included a study on a tragic mining accident, is now recognized as a landmark document in the field.
Such considerations extended to environmental safety as well. The president emeritus of the Atlantic Salmon Federation, Wilfred M. Carter, believes "the fact that the York remains one of Quebec's outstanding salmon rivers today attests to the early environmental standards implemented by Bill Brissenden at Murdochville."
My grandfather's leadership, be it on technical innovation or safety concerns, also served to develop the careers of many young people in the field. Many of today's industry leaders came up through the ranks under his tutelage. "His legacy at Noranda was many fold," says colleague Gerald Hatch, "but most important was the caliber of men he developed."
Jaime Ortiz Patino shares a similar view with respect to my grandfather's contribution at Patino, which "was considerable. His formidable leadership was instrumental in the development of an outstanding management team which took the company through a period of tremendous corporate growth and expansion throughout the world."
One supporter, Florent Gauthier, shared an immediate recollection of my grandfather's influence: "Bill's advice, in a quiet, unassuming manner, deep knowledge and exceptional leadership skills has enticed many young engineers like myself to pursue ideas, new techniques, with the full liberty to go ahead and obtain results."
This manner, illustrates John Walton, extended to his international work as well. He writes, "[Bill] attracted support wherever he went. I remember one occasion in the heart of the Amazon, [where] he casually began talking to a foreman who spoke a little English. The foreman explained a challenge he had at the moment. Bill made a quiet suggestion, and great smiles broke out all around-the visitors from the far North were welcome."
It's from such stories that we get a sense of my grandfather and his quiet, modest influence. And, it's because of that influence, so important to the technical, corporate, and civic sides of mining, that we all gathered to applaud him when he was inducted into the Canadian Mining Hall of Fame on Jan. 18, 2001. Joining us were the many friends that my grandfather has made along the way.
It is perhaps best to leave the last word to my grandfather, the "Patton" of mining. In his remarks at the induction ceremony, he remained true to the role he has played throughout his career. Thankful to his late wife, my grandmother Jean Brissenden, his family, his colleagues, and his fellow "Hall of Famers," he saved his most important remarks for last, to those who would follow in his footsteps. "We are not educated to be specialists," he spoke, "but never forget you have been given the 'know-how' to help solve diverse technological problems." He encouraged them to "establish good working practices," "worker-training routines," and "safety-conscious habits among your personnel." Having done so, he added, you would find "nothing in life more satisfying." And with that, my grandfather wished us all " a career as stimulating and as fulfilling as mine has been."
---
On The Forefront In Battle Against SARS in Toronto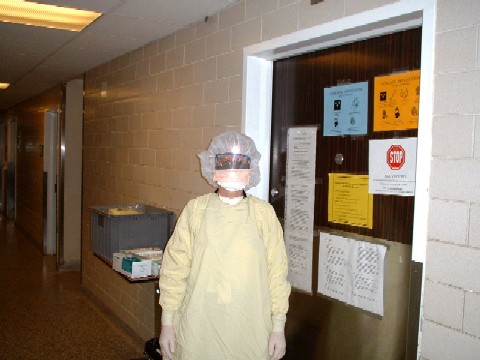 Toronto Rally In Support of American Troops In Iraq
Dr. Janet (Brissenden) Roscoe, Dr. Jane Brissenden, Annemarie Brissenden, Bill Brissenden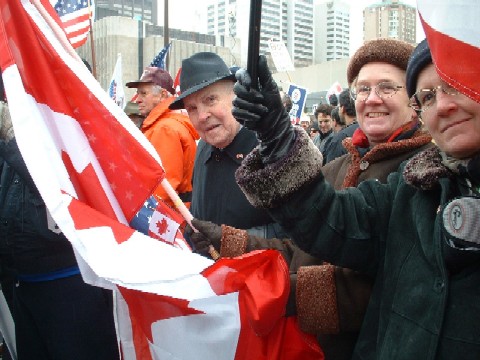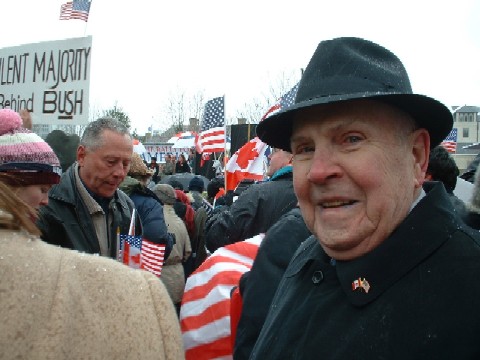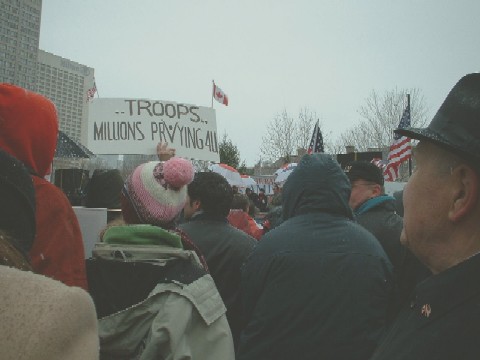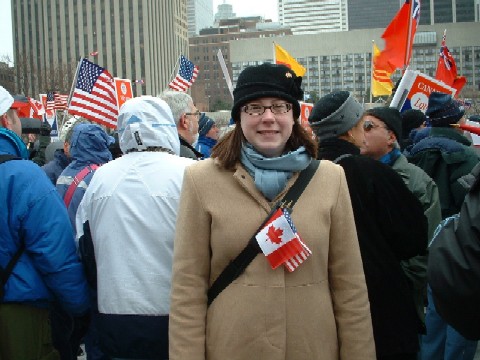 ---
Miriam Olson Lee - Sam Olson Branch, 3rd Generation
MIRIAM MILLICENT OLSON LEE
Miriam Millicent Olson was born July 2, 1926 at Chelan, WA to Samuel E. Olson and Emma M. (Dahlgren) Olson.
Shortly after Sam and Emma married on Friday, August 13, 1925, they moved to a small cabin on the shores of Lake Chelan. Most of their commuting to the town of Chelan was by small boat with an outboard motor. Sam had a dream of acquiring some acreage and going into the business of raising chickens, but nothing had materialized to advance his goals.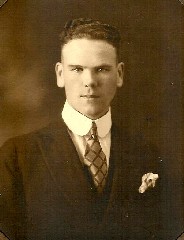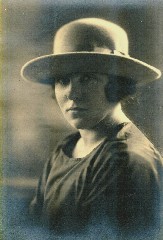 A few weeks before Miriam's birth, Sam and Emma were caught in a violent windstorm on Lake Chelan while returning from town in their small wooden boat. Huge waves almost capsized the boat and left a fear of the water in Emma that she never forgot, but they eventually reached home safely. Emma was determined that as soon as possible after the baby arrived, they were leaving that "hell hole", as she described it to us years later.
| | |
| --- | --- |
| | Sam was reluctant , but Emma prevailed. Shortly after Miriam's birth, Sam and Emma packed their belongings and Miriam, and moved back to Malo to live temporarily with Blixt and Kristina on the Olson family homestead. |
| | |
| --- | --- |
| Within a few weeks, Emma realized this was a mistake. Kristina took charge of Miriam, instructing Emma on every move in caring for her baby. Emma resented Kristina's interference with her child so she began agitating Sam for a place of their own. Sam soon found that the Anderson Brothers homestead at the head of the North Fork of St. Peters Creek was for sale. After a period of negotiating, Sam and Emma bought the Anderson's ranch in February, 1927. | |
| | |
| --- | --- |
| | Miriam's early experiences and years of character formation centered around this "stump" ranch and backwoods environment. The nearest neighbor was one quarter of a mile away so social contact was limited. Her early childhood girlfriend, Bernice Wilcox, was one mile away. Miriam's main playmate was her brother, Joe, who arrived in September, 1927. He idolized Miriam and followed her around like a "puppy dog", Miriam being the leader. Almost all the neighbors were of Scandinavian decent. Their culture and mores were a major factor in forming Miriam's character, which was by nature strong and commanding. Much like her father Sam, Miriam's mindset was that the world ran her way. |
| | |
| --- | --- |
| This inevitably led to conflict between Miriam and Sam. She was an exceptionally bright, energetic child. Emma soon realized that the St. Peters Creek and Malo schools were inadequate to develop Miriam's native abilities so when she reached the seventh grade, she was sent to live with Emma's sister, Esther Dahlgren, in Coeur d' Alene, Idaho to attend school there. Miriam spent very little time after that in the family home. | |
| | |
| --- | --- |
| | After two years of schooling in Coeur d' Alene, Miriam returned home only to find that she and her Dad could not coexist under the same roof. She quickly found an alternative. Her cousin, Esther (Nylander) Grumbach, needed domestic help with her three small children and husband, Frank. Esther hired Miriam to help while completing her education at Curlew High School. The Grumbach ranch was approximately three miles north of Curlew on the Kettle River so commuting to school on the bus was convenient. |
| | |
| --- | --- |
| Miriam completed high school in two and one half years, graduating as valedictorian in 1942 at the age of 16. Our country was at war. Miriam, consistent with her nature, rose to the occasion and moved to Portland, OR. with three of her best high school girlfriends to work in the Kaiser shipyards building the famous "Liberty" ships. Within a short time, she became the youngest shipyard foreman in the nation. | |
Hard work, dedication and success was the story of Miriam's life.
On Miriam's 68th birthday, she rediscovered three small autograph books from her childhood years at eight to ten years of age. She shared these quotations from her friends and elders in a letter to her family members on July 2, 1994. They define Miriam, her philosophy and purpose in life. We rediscovered her letter while reviewing her papers following her death on June 15, 2002 and present them here as a tribute to our loving sister.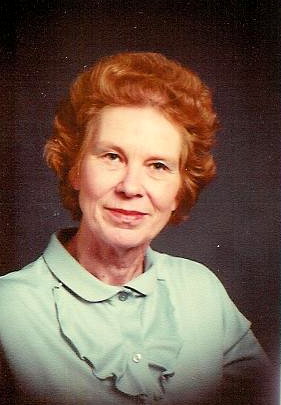 Quoting Miriam's letter, she made the following comments:
"It seemed to me that what Mother and Daddy wrote was the "code" by which they raised their children, so I will begin there first:
"Dear Miriam: Oct-1935
All that you do Do with all your might, Things done by halves Are never done right.
Mother"
***********************
"My dear Miriam: 12-23-1934
Look up - not down, Look out - not in, And lend a hand.
Always strive for the best, And let truthfulness and honesty Come before the rest. Your Mother"
"(Anyone wonder why I was for years a perfectionist and, over the years, have tried to break myself of that") - Miriam
******************
"Oct. 23, 1935
Count that day lost When the low descending sun Views from thy hand No worthy action done. Daddy"
"(Ever wonder why I'm always working? And, if not, feel rather guilty?) - Miriam
Miriam- "Every night, though, I thank God for giving me to such good parents. They gave us wonderful principles and a good foundation to grow on."
*******************
"Erick Soderberg (one of my teachers) 1934
"Thanks for the honor of the first page: Best wishes to a good student, Keep going and strive for the best always."
****************
"H. J. Noble 1934
"May friendship and truth Be with you in youth; And catnip and sage Cheer your old age."
Mr. Noble was a man who came to us during the Big Depression. He was a local prospector who cared for our garden during his spare time in exchange for a share of the produce. He lived in a small log cabin in the woods about one mile from the Sam Olson ranch.
****************
"Dear Miriam: 12-20-34
When you are old and cannot see, Sit on the wood box and think of me.
Your friend, Lela Cooper"
****************
"Dear Miriam: 12-20-34
When you are in some far and distant land, Read the writing of my hand, And if my face you see no more, Please wait for me at heaven's door.
Your friend, Mildred Metcalf"
Mildred and her father, Wiley Metcalf, were "tar heels" from the Carolinas. They lived in a little cabin in the hills. There was no mother.
***************
"St. Peters Creek School 12-21-1934
Dear Little Girl:
Always be good and be true, Smile at the world And smiles will surely Come back to you.
Grace Heuett" (Mrs. Heuett was my piano teacher.)" **************
"Dear Miriam: 12-22-1934
Always be happy and wear a smile, And you will have friends that are good and true.
Morris Wilcox"
"Morris had a brother, Roy, who used to wait under a bridge when I walked to school. Then he would leap out and beat me up. Eventually, I told Mother. Our neighbor, John Miles (a bachelor), happened to overhear my conversation and told Mrs. Wilcox. The next day she came out to the road as I was walking by and gave me a lecture about lying. However, Roy stopped beating me up." St. Peters Creek School was a 2 ½ mile walk from the Sam Olson farm.
***************
"This signature is not worth much in your autograph book- But don't worry - it's worth less on a check.
Cecil Cooper - Malo, Wash."
"Dear Miriam: 12-23-1934
Smile and the world smiles with you; Mug and you mug alone.
John Miles"
"John was a bachelor who lived about a half mile beyond us. He was truly at the end of the road from Malo."
"Dear Miriam: 2-26-1935
The higher the mountain The cooler the breeze, The younger the couple The tighter they squeeze.
A cousin, David Lee Olson
P.S. Two sat on a porch at midnite, Their lips were tightly pressed, Your Daddy gave the signal The bull dog did the rest."
***************
"Dear Miriam: 10-5-1935
There is so much bad in the best of us, And so much good in the worst of us That it hardly behooves any of us To talk about the rest of us.
John Miles" ***************
"Dear Miriam: 1-20-1937
Whoever you are be noble, Whatever you do, do well, Whenever you speak, speak kindly, Bring joy wherever you dwell.
Yours sincerely, Bill Koehler"
Bill Koehler was one of Sam Olson's hired men.
***************
"Dear Miriam: 1938
When you get married And your husband gets cross, Get your rolling pin And show him who's boss. Carrie Olson" ********************
"Sugar is sweet, Coal is black, Do me a favor, And sit on a tack.
Love from your kid, Christine"
Christine, Miriam's daughter, found the book when she was young and made her humorous contribution.
Miriam had a deep love and commitment to the extended Olson family. She was the driving force in all our family reunions from Scottsdale, AZ in 1975 through Bailey, CO, Twin Lakes Village, ID and finally Port Ludlow, WA.
We feel these verses define her character and hope they help us all remember Miriam as she was.
By: Joe, Anita and Don Olson .
---
Constance Brissenden - Esther Olson Branch, 4th Generation
CONSTANCE BRISSENDEN, BA, MA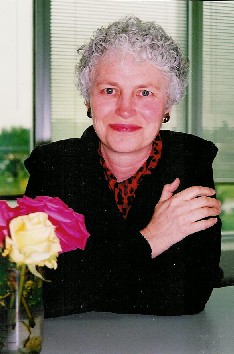 Constance Brissenden is a writer, editor and corporate communicator living in Vancouver, British Columbia. Her career is now entering a new phase with the publication of a children's book, As Long as the Rivers Flow, written with her partner Cree writer Larry Loyie. This groundbreaking book tells the story of a First Nations boy's adventurous summer in a traditional setting in the bush. The story ends with the children being taken away against their parents' wills to a residential boarding school. This historical fact, which affected tens of thousands of native children across North America, is explained in an epilogue to the story. The book includes 34 full-color illustrations by artist Heather D. Holmlund. It will be available in August 2002 and is published by Groundwood Books, Canada's leading publisher of children's books. For more on Constance and Larry's work together, check out www.firstnationswriter.com.
Together with Larry Loyie, Constance teaches creative writing in many diverse communities across Canada. She also teaches writing courses at Simon Fraser University in Vancouver.
In the communications field, Constance won both a Gold Quill and Silver awards from The International Association of Business Communicators for her work as senior writer and managing editor for Expo 86, Vancouver's world fair. She recently won a 2001 Dalton Pen award for creating the Transit History Wall at Coast Mountain Bus Company (CMBC) where she worked from July 1999 to September 2001 as Acting Manager, Corporate Communications.
Constance is the author of nine non-fiction books related to British Columbia travel and Vancouver history. She researched and wrote more than 450 biographies of Vancouver historical figures published in The Greater Vancouver Book (1997). Her latest project is writing the B.C. section of Eyewitness Travel Guide's Pacific Northwest edition. She has also written dozens of articles for magazines and newspapers. Her email address is livingtradition@telus.net.
---
Charlie Olson - Ernest Olson Branch, 4th Generation
CHARLIE OLSON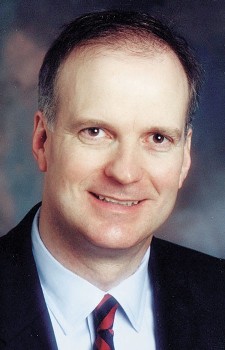 In 1979, I received my law degree from Baylor University here in Waco. For the last 23 years, I have been privileged to practice law with my father, Lyndon Olson, Sr. My practice generally involves the representation of businesses and cities, primarily in the area of litigation. I have been fortunate to represent many interesting people involved in many interesting situations. There are not too many dull moments in my law practice.
For the last 15 years or so, much of my free time has been devoted to the improvement of public education. From 1995 through 1997, I was privileged to serve as the president of a national organization called Parents for Public Schools. PPS works to reform and improve public school systems by engaging parents more directly in the decision-making processes of their children's schools. It also works to train parents to step forward as leaders in public school systems. PPS is headquartered in Jackson, Mississippi and has chapters throughout the country. It has been my good fortune to help parents across the country make their public school systems better. My work with PPS has taken me to New York City to meet with the trustees of the Ford Foundation and to cities throughout the country to work with educational leaders and parents.
Locally, I spent six years as a member of the Board of Regents of the Texas State Technical College System. Texas is very fortunate to have a cutting edge college system which focuses its efforts on advanced and emerging technologies such as computer chip manufacture, robotics and aerodynamics. There are campuses throughout the State of Texas and the main campus is here in Waco.
In 1999, I was elected to serve as an at large member of the School Board in Waco. Both of our daughters, Beth and Anne, have grown up in Waco public schools. It is a classically urban public school system with a very, very diverse population. It is also a place that has seen tremendous improvements in the last six or eight years. In fact, the accountability piece of President Bush's education program has taken much of its direction from policies that were first created in Waco. Before any other school district in the State of Texas, the Waco school district adopted some very strict policies aimed at doing away with social promotion in all of its forms. Then-Governor Bush visited Waco and had members of his staff come to Waco to learn more about our policy. After that, the State of Texas adopted an anti- social promotion policy which was similar to Waco's. This same concept is also present in the President's new education package.
Waco is sandwiched midway between Dallas and Austin along one of the largest and fastest growing high-tech corridors in the United States. Our location affords many opportunities for business and education. It is a good time to live in Waco.
---
Jennifer Litke - Annie Olson Branch, 4th Generation
JENNIFER LITKE
Don asked me to do a "Bio" for the Chronicles. Since an earlier issue already did a story on my life experiences and family, I will just concentrate on my career in the seafood industry for this Bio.
I kind of got into the seafood industry through the back door. My educational background is a B. S. with Biology major & Chemistry minor from WWU. Having taught Science & Biology for 4 years in Malaysia as a Peace Corps Volunteer and returned to The States, I was planning to resume teaching. But the 1976 school year had already started and teachers were getting rifted. So, while waiting for a teaching job, I took a "temporary" position in the R&D lab of a seafood company doing chemical and microbiological testing on seafood products. That was Jan 1977 and I have been in the industry ever since. Moving from R&D into Quality Assurance and changing companies, through the years I have worked with many types of fresh, frozen, canned and value-added fish and shellfish products including halibut, salmon, shrimp, crab, clams & oysters.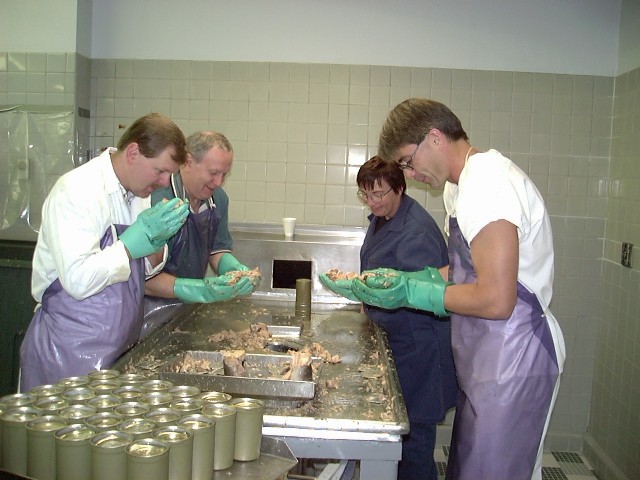 Jennifer & Crew Examining Canned Salmon
I have worked with Bumble Bee Seafoods since 1979. I'm the QA Manager for canned salmon but also work with other products. Here's the Bumble Bee website: www.bumblebee.com
Since 1979 Bumble Bee has had several owners. Presently we're a division of ConAgra. Jennifer & Crew Examining Canned Salmon Here's the ConAgra website: www.conagra.com
Bumble Bee used to own and operate several salmon canneries, but in 1983 they became a distributor only of canned salmon. Besides the Bumble Bee label, we have many other labels in the Canada and export market including Clover Leaf & Paramount. Bumble Bee salmon is canned in 28 canneries in Alaska and 5 in Canada. It's my job to oversee inspection of the canneries, approve their QA programs, grade their product, and monitor the labeling & shipping of the finished product. I'm the liaison between the company main office in San Diego and the seafood processors who are all in Washington state and Alaska.
Each summer I visit different canneries - e.g., today I'm leaving on a 2-week trip to audit eight S.E. Alaskan canneries - in Juneau, Petersburg, Wrangell and Ketchikan. The rest of the summer through Nov. I'll be at the National Food Processors Laboratory in Seattle grading all the salmon produced by our supplier canneries.
Lots of changes in the salmon canning industry have occurred since I first started traveling to Alaska during the summers to inspect the canneries. When I first went up there in 1985, there were two canneries that could only be reached by float plane - both are closed now. The canneries still operated huge can lofts where they reformed the flattened cans before filling with salmon - Larsen Bay Cannery on Kodiak Island now all cans are received at the canneries fully formed. In the old, old days the cans used to be cut out of metal sheets and hand-soldered at the canneries, and the processed salmon in cans were shipped down in wooden boxes, also constructed at the canneries. Now, of course, that's all changed, but remnants of the metal can sheets and the old salmon can boxes can still be seen at the canneries. One cannery still had some machines that were steam powered - now all canneries have converted to electrical power. One cannery still had a huge wooden fish ladder and one cannery had a wooden fish holding tank - all long since replaced by stainless steel.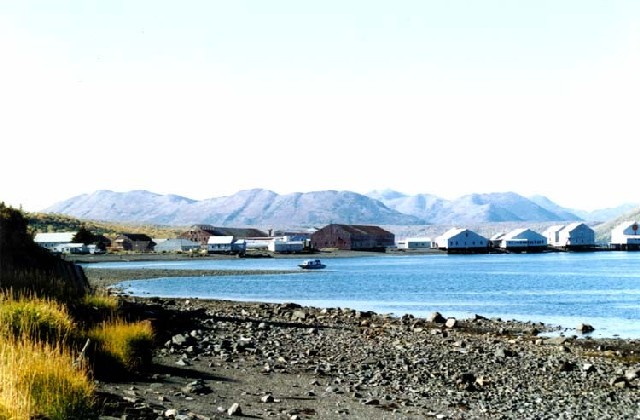 Larsen Bay Cannery on Kodiak Island
There used to be a lot more canneries in Alaska than there are now. Slowly many closed due to changes in fish supply, modernization, consolidation - but the old abandoned canneries still dot the Alaskan landscape. More canneries have closed the last few years due to over-supply of salmon creating lower prices. So the modernization, consolidation continues - but I feel lucky to have been there to see the salmon cannery industry history in the making.
Here are some links to salmon cannery history in Alaska and Canada:
http://www.fs.fed.us/r10/tongass/forest_facts/resources/heritage/silver.html
http://www.tbc.gov.bc.ca/culture/schoolnet/pacific/techno/can.html
So when you go by the canned seafood section of your local market…..think of me!….Jennifer
---
Poul Olson - Sam Olson Branch, 4th Generation
(son of Dean & Annelise Olson)
ON THE FRONTLINES OF A PUBLIC RELATIONS WAR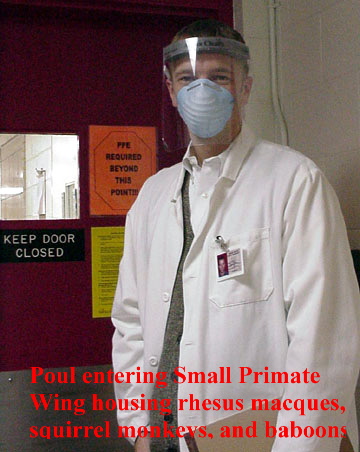 Look inside your medicine cabinet and you will see why animal research is necessary. Most every drug that you use for managing pain or disease, including Tylenol, blood pressure medication, insulin, was developed from tests conducted on animals. In fact, nearly every modern medical breakthrough of the twentieth century was made possible because of what we learned through animals.
For more than two years as the assistant director of public relations at the Yerkes Regional Primate Research Center at Emory University in Atlanta, Ga, I have been working on the frontlines of a public relations war against those who would stop animal research and basically end the progress of science and medicine. Yerkes is one of eight such centers across the country established in the 1960s by the National Institutes of Health to provide scientists in both the public and private sectors access to non-human primates, including monkeys and apes, for biomedical and behavioral research. Yerkes maintains a colony of more than 3,000 primates across seven species. Since Yerkes' inception in 1965, it has become one of the nation's leading research centers for the study of AIDS, drug addiction, Parkinson's disease, and human and ape evolution.
Without doubt, our biggest achievement has been the development of an AIDS vaccine that we will begin testing in humans later this year. While it does not prevent infection, our vaccine successfully controls HIV at a very low level in the body and prevents progression to AIDS. Although it may take as long as ten years for clinical testing to be completed, the NIH believes that our vaccine will be one of several that will eventually be approved.
As a federally funded animal research facility, we must maintain and nurture open lines of communication to the public. For one, the public has the right to know how their tax money is being spent. One of my primary responsibilities is to communicate complex scientific research to our employees and the public. In addition to regularly reviewing articles published in scientific journals on research conducted by our scientists, I meet with them to discuss their findings. Translating their work into understandable prose for the layman can be challenging if the science is particularly complex or the researchers resist having their work too simplified.
By promoting our achievements, we seek to counter the constant barrage of disinformation about Yerkes that animal rights organizations spread. These groups, including People for the Ethical Treatment of Animals and the more militant In Defense of Animals, have waged a sophisticated campaign for years to close down Yerkes. Through the media, they have worked to distort our achievements. In recent years, they also have appropriated terroristic tactics of intimidation. IDA has leafleted the neighborhoods of our scientists with appalling flyers describing entirely fabricated studies. Similarly, the group has posted the home addresses of Yerkes researchers on its web site along with pictures of their families. Death threats have even been called into our office.
While we follow guidelines for the care and treatment of our animals that are stricter than those governing human experimentation, IDA and PETA charge that we inflict callous suffering and that animal research is unnecessary. At the same time, they claim that we have little to show for the millions of dollars in taxpayer money spent and the thousands of animals sacrificed. This misplaced criticism stems from gross ignorance of the scientific process. Eureka moments are rare in the world of science. Instead, basic research on a particular topic or problem often takes decades to lead to a meaningful, practically applied outcome.
Our office regularly works with members of the broadcast media, such as the Discovery Channel, the BBC, and National Geographic, to showcase how our primates have yielded insight into human psychology, behavior, neuroscience, and evolution. For my part, I give tours of our facilities to visiting scientists and school groups. We are particularly interested in reaching students in elementary and secondary schools where PETA has been increasingly active in spreading their views on animal rights. In addition to a monthly in-house speakers series, I also administer a newly formed speakers bureau consisting of animal researchers from Yerkes and Emory who speak to civic organizations and school age children about their own research and the importance of animal models to advancing science.
I first discovered my interest in and penchant for science writing while working for six years as editor of the faculty/staff newspaper at the College of William and Mary in Virginia. Eventually tiring of the increasingly political nature of this position, I mounted an exhaustive two-year job search that included interviews with Microsoft, a Richmond, Va., law firm, and Circuit City. I came across my position at Yerkes entirely by chance after being passed over for a position as Emory's web editor. To my surprise, my resume had been circulated to other public relations offices around campus. Within three weeks of the first call from Yerkes, I was hired and making plans to relocate to Atlanta.
I am honored to have the opportunity to be a part, even in a small way, of such a renowned scientific community. The knowledge that our research saves lives and alleviates human suffering sustains my faith that what we are doing here at Yerkes matters and is right.
---
Kathie Teslaw - Christina Olson Branch, 4th Generation
KATHIE TESLAW
Granddaughter of Kristine Olson
I have had many "careers"... sold clothing, gifts and china, worked in an insurance office, and for the last seventeen years, have modeled for full-figured women. I also assisted John, my husband, run our four retail liquor stores, as a bookkeeper, manager and general all-around "gopher". We've sold those businesses six years ago, having owned those for 17 years. I now work for NWA Federal Credit Union as a receptionist.
However, my most important career was one not chosen, but one that came naturally - being a mother. My favorite instructor, my own mother, was at my side for most of twenty-six years, and after was only a phone call away.
John and I have been blessed with two wonderful children. Aimee is now 28, married, living in Louisville, Ky. with her husband Brent. Paul is 24, a student at the University of North Dakota, graduating this coming June.

To begin with, both John and I wanted a family...I just didn't know that it would be a decision that I truly would revel in, and, in fact, did "professionally " for two and a half years as a day-care provider.

Aimee was a healthy 10-pounder, born while we lived in Blair, Wisconsin. She was the delight of our small community. John was the high school principal and I was the wife that volunteered for everything, as there were many tasks at hand throughout the school district and not too many willing participants. Aimee was the light of daddy's eyes; Mom was overwhelmed at first.... we dealt with colic for the first six months. Aah, the information one wished for in the "Training Manuals", e.g. Dr. Spock, just weren't there. My Mom, one phone call away! The Stroller and the wind-up swing got a real workout! A few childhood illnesses, and Aimee was well on her way to being a real sweetheart.
Paul arrived four years later. We made a career change and ended up living in the city of Apple Valley, Minnesota, known for the Minnesota Zoo, and just a short seven miles south of the Mall of America! When Paul was born, our family was complete with one of each. What more could one ask for? Well, we were challenged three months later, when Paul was diagnosed with a severe case of spinal meningitis. Aimee was the doughting big sister. John and I were worried beyond belief and our entire network of family and friends prayed for a complete recovery. The prayers worked...I began life as a full time Mom, and took in a few extra little "faces" to help supplement our income.
It was during this time of our lives that I discovered a real knack for being involved with the everyday tasks of being a Mom, the field trips to the Zoo with my little charges, the projects for holidays, and soon, all the activities that children can be involved in at school, and after school. It was important to me to be there if needed, never being the chairperson, but raising my hand as the" cutter and paster" person.
Lessons learned from my parents were my guidelines. Sunny days deserved an "explore"; inside chores could wait..."lets jump in the car and go for a "ride'! A party for whatever function, plays, speech and dance for Aimee, sports gatherings for Paul, and, throughout these times, staying in the background and enjoying our childrens' successes to the fullest. We've been lucky enough to have two state high school champions in our home. Aimee competed in "forensics" in high school and won her gold medal in the Informational category. Paul went on to play in the Minnesota State High School Hockey championship game and the team came out on top with a gold medal in his senior year.
As young adults, both have met their respective challenges, Aimee graduated from Boston College, taught ESL in Hungary for a year, received her Masters in English and married a wonderful young man, another addition to our lives. Paul went on to play junior hockey in Fargo...yes, the same city as the movie, and is now a senior at the University in Grand Forks. It's wonderful to know they both have remained close not only to John and I but to one another.
The most difficult part of my career involved the changes one must make as the children become adults. I know I'm still the "Mom", but the role has changed! Don, my brother, put it very well..."Kathie, they still need a mother, but they don't need you like they did growing up." Guess that puts me on the "retired list " for now. But watch out ...grandchildren are in the future, and Great Gramma is still only a phone call away!
---
Rob Grumbach - Annie Olson Branch, 5th Generation
ROB GRUMBACH
by Delbert Grumbach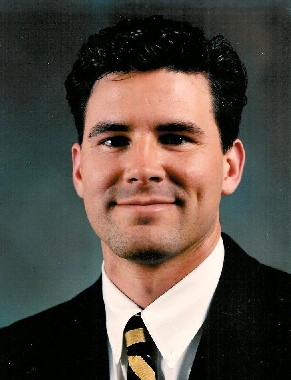 Robert is the second and youngest son of Delbert and Margaret Grumbach. He was born in Texas 1968 and attended schools in Washington State and South Carolina. He followed his brother to Clemson and mechanical engineering but not until his brother had already graduated. He graduated with a B.S. degree in engineering, but it turned out that it just wasn't what he wanted to be doing the rest of his life. He decided to go into the field of medicine. After taking several more courses following graduation and getting a job in a hospital as an "ambassador" (wheeling patients from room to room), he applied for medical school and was accepted to the University of South Carolina School of Medicine at Columbia, South Carolina. His first two years of med school were at the University, but some of his class, including Robert, got the opportunity to do their second two years at The Greenville Memorial Hospital in Greenville. There he completed his third and fourth years of medical school training. He graduated Cum Laude. His Grandmother Esther and Aunt Marilyn came to South Carolina for his graduation in 1996.
For his residence training, he selected obstetrics and gynecology because of his interest in people and "everyday life", and the opportunity for primary care and surgery. He knew he wanted to work with his hands and be involved in the operating room. He received his training at the Greenville Hospital which was his first choice since it was where he had been doing his schooling. For the next four years, he put in many long hours at the hospital, working eighty or more hours a week.
Following residence training, in August, 2000 he joined the South Carolina OB-GYN Associates, and now works at the Baptist Hospital in Columbia , SC. There he spends a lot of time on-call taking care of deliveries. When not on-call, he is seeing patients.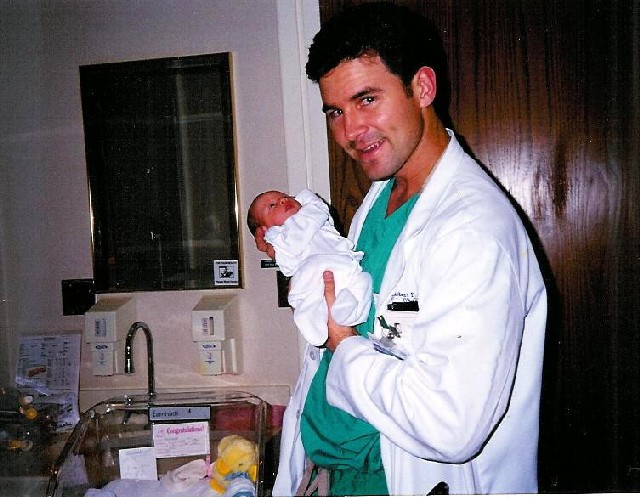 Robert is still single and his parents are hoping he finds the right one soon. He bought a big house in the better part of Columbia near the hospital. He had the Governor of SC for a neighbor for over a year while the Governor's mansion was being upgraded. His hobbies include skiing, snow boarding, snorkeling, scuba diving off the coast of Florida, deep sea fishing and also excursions with his Dad fishing and shrimping.
---
Stephen Grumbach - Annie Olson Branch, 5th Generation
STEPHEN GRUMBACH
by Delbert Grumbach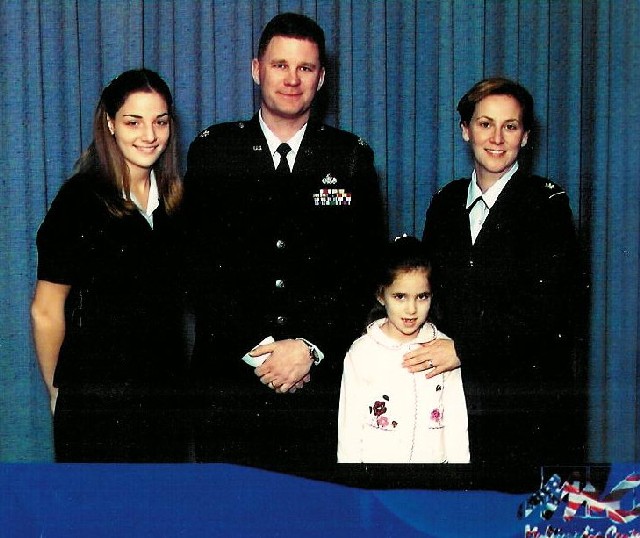 Stephen Grumbach is a fifth generation descendent of Blixt and Kristina Olson, and a great grandson of Annie Olson. The oldest son of Delbert and Margaret Grumbach, Stephen was born 1962 in Charleston SC. Being a military brat (having military parents) he attended public schools in Texas, Florida, South Carolina, Texas once again, Washington State and South Carolina once again. He went on to college, and received a B.S. degree in mechanical engineering from Clemson University. There, he was elected president of the ASME (American Society of Mechanical Engineers) for Clemson. Also at Clemson he received an officer's commission through the ROTC into the Air Force. His father being a retired officer had the privilege to give him the swearing in oath. His education didn't stop there. He was selected by the Air Force to attend AFIT (Air Force Institute of Technology) receiving a Masters degree in Engineering Management. To top that off, the Air Force selected him for more education. He went on to earn a Ph.D. in civil engineering from the University of Colorado.
| | |
| --- | --- |
| Stephen is a Lt.Col. in the Air Force. His wife is also an AF officer, an engineer and is on the promotion list to assume the rank of Lt.Col.. They have two daughters, Jasmine, who is a student at Clemson University and Laura who is in grade school. They are both straight A students. Stephen's military career has given him assignments at Nellis AFB Nevada, Wright Patterson AFB Ohio, Spangdalum AB Germany, Randolph AFB Texas, Colorado for the Ph.D. schooling, Ohio for a second time, and now Yongsan Army Post in South Korea. One of Stephen's proud moments at Nellis AFB was when he was sent alone to a planning meeting in Las Vegas. He was only a 2nd Lt. just a young officer. He was in charge of utilities for the air base. The meeting was made up of a group high- powered older men. Las Vegas was putting the screws to the Air Force, taking away their quota of electricity and water so they could expand the city. They were acting like he wasn't there. Steve had heard enough, and said "just a minute I might just be a lowly 2nd Lt. but I'm here representing the Air Force and I don't like what I'm hearing. You are pushing the Air Force around and they are not going to stand for it. You may have to answer to the Department of Defense." After that, he had their attention and they didn't take anything away from the Air Force. | |
At Spangdalum AB, Steve was in charge of the Disaster Preparedness Team. His team won the NATO tournament over all the other NATO countries and bases. He said after that the Wing Commander knew who he was and very proud of him and the win for the base. He has received a number of awards for recognition for outstanding service. Stephen's hobbies include jogging and work outs. Both he and his wife like snow skiing and camping Presently, Stephen's job is Chief of Construction for US Forces Korea. Both he and his wife work in the same headquarters building and live on the army post that is in Seoul Korea. Their tour of Korea will up June 2004. They don't know where they might go next, but everyone hopes the next move will be a lot closer to home.
---
Robert Mohr Jr. - David Olson Branch, 4th Generation
ROBERT MOHR JR.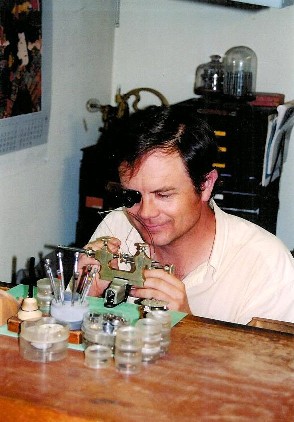 In my earlier days, if someone had told me that I was going to repair watches and clocks in my adult life, it would have seemed absurd or comical. I could barely repair my bicycle.
Perhaps my patience, dexterity with delicate things, attention to detail, and enjoyment of antiques led me to this trade.
After two years of college, I knew that wasn't for me. I wanted a skill that would involve a lifestyle of travel, art, and exploration. Ultimately, self-employment was the goal.
It began with a job at a Timex repair center. It was a very assembly line type of work, requiring little experience. It was my "foot in the door", a taste of the watchmaker's working environment.
I would wander during work breaks to where watchmakers were working on real watches. One was an elderly Pilipino who had to repair watches during WWII for the Japanese soldiers. He had to learn quickly "to fix things or else". He remarked that I would be someone who would be self-employed by my curiosity. He would give me repair tips from time to time. Often we would share a Pilipino delicacy for lunch - fermented duck eggs. No one else would eat them, but this culinary comradeship led to a lot of conversation. Before I left, he gave me a special brush for sweeping the floor in search of a lost part.
After six months of training, I was placed at one of their mall stores in Southern California. Not exactly my goal, but another step ahead. In the evening, I visited another watchmaker for more learning. He would let me do menial tasks as I looked over his shoulder.
I saw a scholarship offer to a repair school in Neuchatel, Switzerland and applied. Basically, it was an essay contest with eleven applicants. Two were accepted, and I was one of them. . The school paid for everything except room and board which, having lived in France before, was quite easy. They even paid for my roundtrip airfare. I rented a modest room in someone's house and ate food from the farmers' markets and at cafes. I had lots of money saved for tools and travel.
This was 1979 when many watchmaking schools were closing down worldwide. Lack of attendance at schools and lack of promotion by industry contributed to the situation. There was a terrible public misperception that watchmakers were no longer needed because of cheap quartz watches. With the average age of a watchmaker in the 60-65 yrs. range, a "dying trade" image prevailed. To this day, I still have people surprised to se me, a young watchmaker.
A yearly production of 7 million highgrade watches in Switzerland alone was going to eventually create a need for watch repairers. Theoretically, 30% of these watches would have to be serviced within 10 yrs. A "boomerang effect" of success without support by repairers was foreseen. The repair school I attended was addressing this problem. Today, it has expanded its program and helps to revive other schools.
My school was a 40 hr./week program with 5 other students from around the world. The making of parts and basic aspects of repair opened a bigger world for me. Somedays we would visit a factory or workshop, usually in a French speaking area. Some businesses were 200 yrs. old.
Some particular villages or valleys had their own specialties or market niches. One factory that employed 150 people made a certain obscure but vital watch part and a day's production could be carried away in the palm of your hand. There were many artisan workshops making high grade cases and complicated movements. The tools to make these items were antiques themselves. You would see a watchmaker restoring their old tools since many were no longer made - tools needed to restore old watches. I had wonderful chances to buy many of these tools because, as I said before, not many young people were entering the profession and older watchmakers were retiring.
In addition to study, I would visit art museums and , after graduation, traveled to southern France with my father who came over to attend my graduation.
Back in the States, there were numerous job offers, but out of loyalty I went back to the watchmaker who earlier had been teaching me at nights. I worked for him for a year as agreed upon. Then, I struck out on my own. I still didn't have enough confidence, and wanted to learn the repair of clocks, so I went to work for a clock repairer in Manhattan, Kansas. He was starting a business from scratch, so here was a chance for me to learn how to operate (or not) a business. During the 3 yrs there I met my wife of 21.5 yrs, Elaine.
The free spirit in me wanted change so we moved to Sandpoint, Idaho. There I had a repair shop for 4 yrs. During this time, we traveled to New Zealand where I had always dreamed of visiting. I had several job offers and we moved there with our 1 yr. old daughter, Amelia. I had a position at a high class jewelry store where I taught an apprentice 3 days a week. The rest of the time we went to the beach or traveled around the South Pacific. We went to Tonga one week, for example. During this year I got to work with an English clockmaker and elevate my repair skills.
Finally, we got homesick and returned to Kansas in 1989, the place where we first met.
Now I work out of my home full-time in a separate workshop doing contract work for jewelry stores, collectors, and other watch and clock shops. My large workshop window in front of my watch repair bench overlooks a flower garden and my beehives. In the background is a forest and the Flint Hills/Konza Prairie Reserve. I like the peaceful outdoor setting, as opposed to Auckland, New Zealand, a typical big city. I have the freedom to go off and pursue my art as well, or have a quiet cup of coffee with my wife. And earlier when Amelia was younger, I'd walk to school with her each morning, or go swimming with her in the afternoon.
I suppose this short story may leave some unanswered questions. I have had wonderful travels, but the future as I see it is no longer in my past. Now I pursue other dreams, thanks to the freedom that being a watchmaker has given me.
---
Eddie Nylander - Annie Olson Branch, 3rd Generation
NORMAN EDWARD (EDDY) NYLANDER
Son of Annie Olson
As told to daughter, Jennifer, in a taped interview
A Little Homestead History
Nels Nylander, my Pa, and Blixt Olson, my Grandpa, came over from Sweden I think at about the same time. Olson homesteaded on the S. Fork of St Peters Creek and Nels homesteaded the home place. The Johnsons homesteaded nearby also. Grandma and Grandpa Olson lived there for quite a few years then bought the store in Malo.

I was born Oct. 31, 1927 at our Malo homestead.
St Peters Creek School and Malo Flats School
I went to St Peters Creek School, a one-room school house, from 1st grade. There were 4 boys all the same age - cousin Joe, second cousin Chuck Johnson, neighbor Bill Lindsey, and me (that is me with a tie in the photo). Cousin Carrie was a year younger. After they shut that school down we were moved to the school on the Malo Flats, also a one-room school house, until 7th grade.

Several teachers room & boarded at our home - one was Mary DeJong, my 1st grade teacher.
Curlew High School
I went to Curlew High School for 3 years. Played baseball, basketball on the same team as Joe, Chuck & Bill. I left Curlew High School during my Junior year to go work with my brother Ernest at his sawmill.
Farm Life
We were in the midst of The Great Depression, but I had the kind of childhood most kids dream of - when summer came around would throw away my shirt and shoes and never put them on again till the fall - got tanned as a berry. I worked on the farm, milked cows and rode my horse to round up the cattle. Riding horses on the Malo hills was fun except when I broke my arm riding bareback - the horse was galloping down the trail - put his head down and I went flying…luckily the neighbors were there to take me to the Doctor. I shot squirrels, and played with my cousins, especially Joe since we were the same age - Big Joe and I were buddies. There were lots of kids in Malo. We did cattle 4-H projects and Uncle Sam was our 4-H leader. He would take us to the 4-H fair in Spokane where we'd enter our 4-H projects. Uncle Sam was the closest I ever had to a Dad. There was also the Country Fair - we'd always enter stuff from our garden and everyone always got ribbons. Once in awhile there was a Rodeo in Republic and sometimes the Circus would come around in Grand Forks. In the winter we had a whale of a time skiing on the Malo hills. I had a pair of home-made skis and a pair of store-bought skis that I got from my brothers. I had a lot of fun growing up on the farm.
We had lots of visitors on the farm. There were the school teachers that room & boarded. The Brissendens used to come and vacation on the farm every summer for 4 or 5 years. Mary, Pat & David Brissenden were a little older than me. Emma Nylander, Nel's sister, would come to visit. Grandpa Blixt used to walk the couple of miles over to the ranch to visit. Grandma Kristina would also come if someone gave her a ride.
Blixt and Kristina could speak both Swedish and English, but Mom would speak Swedish with them. My recollection of Blixt is a "solid old man", and of Kristina is a "Swedish Lady". They were already old when I was a boy. Grandma Kristina used to take me fishing in St Peters Creek using a safety pin for a hook and a piece of bread for bait - we caught some trout that way.
Although I only lived in Malo for about 16 years of my life - those were a full 16 years although we lived though a lot of hardships. We went though The Great Depression, WWII, draught and the grasshoppers. We scratched out a living during The Great Depression - but it wasn't so bad since we grew our own food on the farm. When the War started there was rationing - we had rationed food like butter and cream on the farm - but tires and gas to run our machines were hard to come by. One year the grasshoppers came and ate our crops. When we cut down a crop of alfalfa all we had to cut was stems - the grasshoppers ate the rest. In fact we couldn't even leave a pitchfork in the field or the grasshoppers would eat the handle. It was pretty hard to feed the cattle in the winter without any hay.
My Mom was a very dedicated woman. She raised me without a dad, and with Albert and Chet, farmed the ranch after Dad died, and I helped to.
My Brothers and Sister
My sister, Esther and cousin Miriam were older than me, but they went to the same schools. Esther helped Mom raise me. My brothers, Chet and Albert had already left home when I was in school. They were partners. When I was around 10 they bought the ranch down by the Malo store. Since Mom and I were up at the ranch by ourselves we rented it out, and Mom came down to cook for Chet & Albert's crew on their ranch. We spent a couple years at the ranch near the Malo store. Then when I was about 14, Mom married Leo Stretch and we moved back up to our ranch. Then I had a step-daddy. Chet and Albert also bought a farm in Ferry county. Later when they split up, Chet took the farm in Malo and Albert took the farm in Ferry. I worked for both of them as the years went by - driving tractors and stuff.

My brother, Ernest left home before I was born, but he came back to Malo to run a sawmill. I quit school in the middle of my Junior year to work for Ernest at his sawmill. It was the first time that I really got to know my brother, Ernest. It was cold working at the sawmill that winter - about 20 degrees below 0. We had to put hot water on the engine to start it, and the wood was frozen so didn't cut strait - it was a mess. We cut ties for the railroad.
The Malo Store
Grandpa & Grandma Olson bought the Malo store, and got David to run the store & Post Office. Uncle David was a very dedicated man - he ran the store for Grandma and Grandpa and made a nice place out of it. When we moved down to Chet & Albert's ranch I spent a lot of time at the Malo Store. Cousin Carrie and I were playmates since we were right next door. I used to like to spend time at the store so I could get a nickel candy bar. In those days they had big candy bars for a nickel and someone at the store would buy me one once in awhile.
Leaving Malo
| | |
| --- | --- |
| While I was working at my brother Ernest's sawmill, Mom and Leo bought some property in Fall City, WA. I left Malo ahead of them in the fall to enroll in Mt Si High School in Snoqualmie, WA. I lived with a family in Snoqualmie until Mom and Leo moved to Fall City. The war was still on when I enlisted in the Navy in the Spring, but by the time I was called up the war was over. After spending 2 years in the Navy I went back to work for Albert at the Ferry County ranch. That's when I met Mary Truden, my wife-to-be, who lived across the border at Midway BC. | |
A Little About The Present
Mary and I have been married 54 years. I'm 75 and Mary is 71. We've been living in the same home in Fall City WA for 53 years. I retired at 62 after working at Weyerhaeuser for 42 years. Our children are all grown up but all live nearby so we all get together at least once a month for holidays, birthdays and family barbecues. Calvin is head machinist at Broadmore Golf Course in Seattle, and our head barbecue chef! Debbie, husband Don and son Danny live in Westport where Don teaches. Debbie's son James works for UPS. Shirley, husband Craig, daughter Christina and son Eric live in Mulkiteo. Shirley works for USPS and Craig is a partner in a technology consulting firm. Jennifer and husband Willis live in Fall City. Jennifer works for Bumble Bee Seafoods and Willis is a scientist for Weyerhaeuser. Their daughters are both at college - Kimberly at WWSU at Bellingham and Heather at BCC in Bellevue.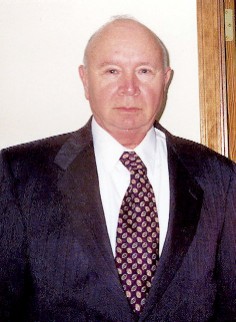 ---
CHILDBIRTH ON ST. PETERS CREEK
by Joe Olson, Son of Sam Olson
The early morning dawn was breaking over St. Peter's Mountain near Malo,WA on September 23, 1927 when Emma Olson shook Sam awake and informed him on his note pad that he had better go fetch Mrs. Sleeth. Emma was nine months pregnant and felt it.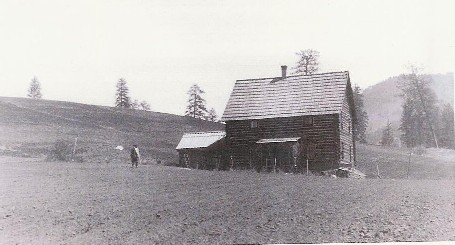 Sam's reply was "Yes, as soon as I have milked the cows and fed the horses!" This he hurriedly did, then backed the blue Nash out the garage and sped to the Lindsey ranch five miles away. Two hours later he arrived back at the ranch with Mrs. Sleeth, the local midwife.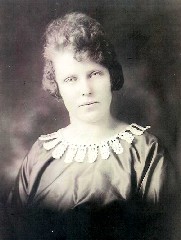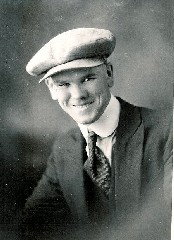 Mrs. Sleeth checked Emma who groaned, "Thank God you're here!" Mrs. Sleeth, a small, elderly lady, agreed. She informed Sam that they should call Dr. Carl May, the only Ferry County physician, who lived in Republic, twenty miles away. Sam was reluctant and replied, "That will cost money. I don't think it is necessary. Can't you handle it?" Mrs. Sleeth, normally a very gentle, kindly person, exploded. "Of course it's necessary! I wouldn't ask you otherwise. This is a very large baby. I may not be able to handle the delivery." Sam finally agreed. Mrs. Sleeth went to newly installed telephone on the kitchen wall, cranked the ringer one long ring and connected with the Malo Grange Store. She informed them of the situation, then asked Conrad, the store manager, to call Dr. May in Republic and ask him to come to the Sam Olson ranch immediately.
| | |
| --- | --- |
| Mrs. Sleeth sent Sam and his fourteen-month-old daughter to the barn. Sam seated her on a pile of hay, and proceeded to finish the morning chores. Miriam, a precocious, lively little red head, kept trying to attract her Daddy's attention to find out what was going on. Sam told her to keep quiet and sit down. Sam, thirty one years of age, had purchased the one hundred sixty acre homestead and Forest Service grazing rights from Tom Anderson the previous February. He had a dream of developing a herd of prize Shorthorn cattle. Miriam, Sam and Emma's first child, had been born the previous year on July 2nd at Chelan, Washington. Soon thereafter, they had all moved back to live with Blixt and Kristina, until Sam managed to purchase the Tom Anderson homestead, located on a large flat near the headwaters of the North Fork of St. Peter's Creek. The homestead included a large log home, barn and other outbuildings, ideal for Sam's dream. The ranch, with many acres of good hay land, also had a large flat filled with stumps left from logging. Since nearly all the local homesteads were side hill farms called colloquially, "stump ranches", the acres of flatland were unique for the area. However, the soil was somewhat gravelly, needed irrigation water to be productive and required that the "forest" of large stumps be removed for farming. | |
Three hours later, Dr. May drove into the corral by the barn. Miriam tugged at her Daddy's pant leg to attract his attention since he could not hear as a result of his spinal meningitis illness during World War I Army services. Dr. May shook hands with Sam and asked about Emma on the note pad. Sam gestured Dr. May to follow him. Dr. May and Miriam followed Sam up to the house where Emma and Mrs. Sleeth breathed a sigh of relief. After examining Emma, Dr. May announced that everything looked fine, then suggested that it was lunch time and he hadn't had anything to eat. So Mrs. Sleeth cheerfully prepared a hearty meal for all. Dr. May complimented her on her skills in the kitchen, then examined Emma again. " I think it's going to be about three hours", he informed Sam on his note pad. "Maybe we could go up the hill near John Miles' place and shoot some blue grouse." Sam heartily agreed. He knew there was a flock of blue grouse in the choke cherry thicket a quarter of a mile above the house. So they informed Emma and Mrs. Sleeth that they were going grouse hunting until it was time. They instructed Mrs. Sleeth to honk the car horn if anything happened sooner. Sam retrieved his .22 caliber Colt Woodsman pistol while Dr. May went to his car for his shotgun. As they moved up the hill, Sam teased Dr. May disapprovingly about using a shotgun to shoot a little bird.
Ninety minutes and five birds later, Dr. May heard the car horn. He motioned Sam that it was time to go. Sam signaled silence and picked off his forth grouse with the usual shot through the head.
They quickly gathered the dead grouse, complimented each other on their luck, and hurried back to the house. Mrs. Sleeth again breathed a sigh of relief and said, "I think it's coming".
Dr. May washed his hands, then rushed to the bedroom as he heard a cry of pain from Emma. He moved to her side just as the baby emerged. He skillfully assisted, lifted the baby by the feet and delivered a sharp slap to the buns.
And so, with a loud cry, Sam and Emma's first son entered the world, screaming and kicking all the way and hasn't stopped since. He had arrived just four days before Emma's twenty sixth birthday.
Mrs. Sleeth cleaned the baby, then motioned Sam to come into the bedroom. She handed him the baby while Dr. May wrote, "Big husky boy, Sam!". Sam grinned with satisfaction as he repeated, "Fine, fine, fine." Mrs. Sleeth took the baby. Sam moved to Emma's side and patted her on the cheek as he softly uttered, "Fine job, Emma. Fine job!" Emma sighed at the lack of emotion as she drifted off to a deep sleep.

Dr. May asked for a scales. Sam hurried to the granary, returning with a small grain scales that displayed the nice, fat baby weighed in at nine pounds, twelve ounces. Dr. May wrote to Sam on the note pad, "What's his name?" as he began filling out the birth certificate while Mrs. Sleeth was cleaning up. Sam said, "Ma wants a name from the bible. Ma said it was to be Joseph, if it was a boy." Dr. May inquired, "You mean Emma wants him to be named Joseph?" "No, no," Sam replied. "My Ma, Kristina told me what his name is to be." Dr. May replied, "Oh, you're sure?" Sam nodded, "Yes".
Just then Emma recovered from her dozed state. Hearing voices, she called to the living room, which was adjacent to her bedroom, "Dr. May!" Dr. May entered the bedroom, responding, "Yes?" Emma inquired, "I heard voices. Who's here?" "Oh, that was just Sam and I discussing the name of your new boy". Emma replied, "I've already decided. His name is to be Bernarr McFadden Olson. We're naming him after the famous physical fitness expert. He's an idol of mine."

Dr. May was puzzled. "Sam said his mother, Mrs. Olson had already decided his name is to be Joseph." Emma bolted upright in bed, exclaiming, "What! That domineering witch has no right to name my baby. His name is going to be Bernarr McFadden, and that is that!" "Let me talk to Sam, then", Dr. May conceded. Returning to the living room, Dr. May scribbled on Sam's pad, "Emma said the boy's name is to be Bernarr McFadden." "No", Sam shook his head. "Ma said he is to be named Joseph"! He folded his arms across his chest and adopted a pouting expression on his face, while shaking his head, "No".
A struggle of wills ensued. Finally, Dr. May, in exasperation, suggested to Sam on his scratch pad, "Sam, we have to name him something. I must turn this certificate in to the county records with a name. What about splitting the difference and naming him Joseph Bernarr? I think I can convince Emma." Sam thought for a few minutes, then nodded, "Alright, I think Ma will approve that."
Dr. May reentered the bedroom and explained his suggested compromise. Emma reluctantly agreed. Dr. May hurriedly completed the birth certificate, examined Emma and the baby, collected his $20 fee, patted Sam on the back and departed for Republic.
My mother related this story of my birth to me before her death a number of years ago. Since conditions and attitudes have changed so dramatically in subsequent years, I thought it might be interesting to hear what it was like for the "gentler sex" back in the good old days. Joseph Bernarr Olson
---
THE MALO STORE
by Carrie Olson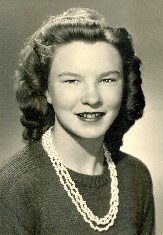 The Malo Store is a historic landmark, as it has changed little since the days the Olsons owned it. It is also a landmark of the Olson family history, so we thought that its story is one that ought to be told for the current and future generations of the descendents of Blixt and Kristina Olson.
| | |
| --- | --- |
| The Malo Store, which basically is also the town, was and still is a combination grocery store, gasoline station, post office, farm machinery store, and owner's house. It is located about halfway between Curlew and Republic. In its early days, it served the homesteaders of the region, which had opened up to homesteading in the year 1900. | |
No one seems to know the origin of the name, Malo, or when the store was founded. However, there is no lack of speculation over the naming of Malo. Some contend that it was named after St. Malo, a French saint and town. Another possibility is that it was named by a Norwegian, since Malo is a Nowegian family name, although it is an uncommon name in Norway. Finally, a Czech may have named Malo. In Czech, Malo means a small place beside a stream. This certainly describes Malo, since it sits beside Curlew Creek.
According to the earliest records we could find, the first store was built by Henry Hill in 1903. That was three years after Blixt Olson arrived in the region to homestead. Mr. Hill operated the store and post office for several years, and sold to a P.H. Prodger around 1920. Later, Prodger sold to the Grange Warehouse Co. which was run as a co-operative. Over the years, the store then had several different managers. It was at the end of this phase that Blixt and Kristina came into the picture.
The last Grange manager was named Conrad, and he was alleged to have been a very dishonest guy, causing the store to become bankrupt. During the Grange ownership, Blixt had loaned the Malo store (Grange) money, and when the store went bankrupt in the year 1932, he was forced to foreclose and became the new owner of the store. Conrad promptly set up a rival store about ¼ mile down the highway. However, this competition soon went up in smoke when Conrad's store burned down.
Now, BIG Problem. Who was going to run Blixt and Kristina's newly acquired store? They could not do it themselves because they were still on the homestead and, I think, probably felt in over their heads as well. So, they thought, let's look to the family. How about son, Ernest? He had a rising career in the Army, a refined Southern wife not likely inclined to move North among the hillbillies, and live in the raw, still undeveloped, uncivilized West with no schools beyond a one-room schoolhouse. How about son, Charlie? He was proving to be a brilliant, self-educated genius in the new field of electrical power distribution, and was a Canadian citizen. There was no opportunity for him on this side of the border. The youngest son, Sam? Spinal meningitis in the Army left him stone deaf, but certainly not in anyway handicapped with his grit and intelligence. He rose above all this to develop a ranch on St. Peter's Creek, raising blue ribbon cattle, as well as 5 children, and developing a water irrigation system that is a wonder to this day. How about the Olson daughters? They were married, involved in their families, lived far away, and women in business weren't considered much of an option in those days. So who is left? David, the next to the youngest son, was it. David and Agnes lived on "the Bench" about 90 miles away near Kettle Falls. David was in the construction business. He had just completed an independent contract with Morrison-Knutsen to remove some cofferdams in the Kettle River using his expertise in explosives. He had a good relationship with M-K and was anticipating more work either for them, or with them in the future. He had that entrepreneurial spirit which would have stood him well in the future. However, shortly before Blixt's Malo Store dilemma, David (my Dad) suffered a ruptured appendix which almost killed him. He was unable to work for a long period of time. He paid the Doctor with a check. The Doctor didn't deposit the check for over 30 days, and suddenly, the banks closed. The Doctor came whining for his money, having failed to deposit his check in a timely manner. Dad, with the stubborn nature of an honest Swede who always pays his bills, signed over his new Ford Car to the Doctor. In retrospect, it is this writer's opinion, it would have been a cold day in hell before the Doctor benefited despite his own negligence. Anyway, the banks were closed, the car was gone, and with Dad still very weak, construction work was out of the question and his family needed to be fed. Blixt's dilemma with the Malo Store became an opportunity of sorts for Dad. and he could not very well refuse. So he pulled up stakes and moved his family to Malo to take over the store.
Operating the store meant long hours. People would arrive as early as 6 a.m. Since David and Agnes knew almost everyone, people would stop by and want to pick up their mail, or buy goods, even if the store was closed, no matter what the hour. Their reasoning was, "Surely Dave won't mind opening up for me". So they'd come around to the house, and Dad or Mom would go open the store. It was impossible to lock up the store for regular hours unless you actually left the house; I don't recall an uninterrupted meal, even on Sundays.
| | |
| --- | --- |
| What did people come to buy? Hand-pumped gasoline, kerosene, white gas, motor oil sold from big old drums by the quart, horse collars, nails from a wooden keg and sold by the pound. There were canned goods, crates of oranges, and every couple of weeks, a big stalk of green bananas arrived from the tropics, to be slung up on a big hook from the ceiling. Mother was sure that it was infested by giant tarantulas, so I avoided them. A glass showcase held hair products, hair oil, pomade, Brilliantine, some sort of green gel for setting waves and curls, popularly referred to as Chinese Snot. (Malo humor) One product that Dad initially refused to sell was toilet paper. The farm ladies who would ask for it were told that their old catalogs, as well as the Saturday Evening Post magazine and Washington Farmer newspaper had always served people well as free toilet paper. Eventually, a paper salesman challenged Dad. He asked if he could leave a huge carton of toilet paper at the store. If it didn't sell, he would take it back when he came through next month. That toilet paper (about 250 rolls) disappeared within a week. So Dad ate his words in the onslaught of profit, and TP was available ever after. Ropes and twines were sold from great reels in burlap wrappings. Rope, priced on how thick it was, was measured and sold by the yard. Ammunition, including shotgun shells, deer rifle bullets, and 22 hollow-point bullets for squirrel hunting. Bacon sold by the slab. Great waxed wheels of cheese sat out to be sold in wedges. Hard Salami hung in big fat rolls. Sold by the chunk, or slice., weighed on the scales, wrapped in wax paper. Forget about refrigeration. Why it didn't mold or spoil is a mystery. These days, I can't keep cheese for an eyeblink before it gets green and gunky. Must have been some chemical feast in those days. | |
One defining trait of the Olson men was that they loved new technology. They were often early adopters of new technology when they thought it would better their family's lives, and, of course, if they thought they could afford it. Dad was no exception. For many years, we didn't have running water, but as soon as the technology and money became available, Dad water-witched (one of his skills) and dug a well. A Delco generator that ran on white gasoline, storing its D.C. current in batteries, powering a pump to bring cold running water into the kitchen, and to hang a bare light bulb from a green electrical cord from the ceiling of each room. As the batteries ran low, the lights would flicker and dim. It was my job, to run across the gravel highway, down into the scary, dark basement of the warehouse, dodging spider webs, to flip the switch on the Delco plant to fire up the batteries again.. The old Home Comfort range still heated the water until years later when rural electrification came to town, providing A.C. current with enough power to service an electric hot water tank.
Dad not only brought toilet paper to Malo, but also, wonder of wonders, installed one of the first indoor bathrooms. This was such a novelty that, especially on Saturdays, all the farm wives would come into town to sell their cream and eggs at the store and while there would whisper to Mom, "could they use her bathroom". This usually resulted in the well, good as it was, running dry and pumping sand. So, generally on Saturdays, we had to put an "Out of Order " sign on the bathroom in the house to keep our water supply adequate for the day..
Until rural electrification arrived, our refrigeration was a golden oak, lead-lined icebox that seemed to serve just fine. The ice came from Karamin at Curlew Lake, cut in the winter, hauled to the big woodshed, and stored in huge bin of sawdust. One of my chores was to run out, ice pick in hand, dig down to the ice, whack off a chunk and run it to the ice box. In time, Coca Cola delivered a huge red, lead-lined, trough shaped ice box. We would fill it with great blocks of lake ice, toss in all sorts of soda pop. Orange Crush, Lime, Nehi Root Beer, Strawberry, Crème Soda, Coca Cola.
Digging around in the sawdust as a kid, I would sometimes find interesting things…like a fifth of Green River whiskey. Since Grampa was a teetotaler, woe unto him who sneaked out to the ice house for a quick one. I always thought the cats must have loved that huge pile of sawdust.

Late every night Dad and Mom would "close the Post Office" and "Do the books". They had almost a religious awe of the Post Office. I was not allowed ever to go behind the counter in the corner where the Post Office was kept. It was Federal Property. The mail was sacred. Later, when I became much older, around 12 or 13, I could sneak in to hand someone's' mail to them if they begged my folks when they were busy at the grocery area and couldn't leave their current customer.

Before World War II, and during the depression, once in awhile dustbowl families would find their way into our remote corner of the world. They were so gaunt and starved looking, dusty, and by their accents we knew they came from the dustbowls of Oklahoma. They bought cheese, bread, and salami. We had a milk cow, and sometimes Mom would bring out glasses of cold milk for the kids. These people were looking for work, wanting to pick apples, anything. Sometimes, an orange or a banana would find its way into the grocery sack if there were children. Mom had an especially soft heart.
| | |
| --- | --- |
| | About every three or four years, Gypsies came through. First time I remember, they came in sort of little wooden painted houses on wheels drawn by horses.. They swarmed the store. Mom was sure they would kidnap me, so made me hide in the little connecting office to peek out at them. They wanted to tell everyone's fortune. That meant they patted all your pockets, wishing you," Good fortune," at each pocket. They managed to lift the wallet from Mr. Clark, one of the farmers. It was believed when they left the store, they took away far more than they had actually paid for. The next few years when they showed up, they were driving big automobiles. They wanted gas, etc. Dad locked the store, stayed at the gas pump, sold them gas as they paid for it. Then he allowed them to come into the store only two at a time. The customers who were there knew what was going on, so this time, there was no loss. However, everyone locked up their chicken houses that night. |
Dad was also a self-taught barber. Before Saturday night dances at the Grange Hall, the old apron and scissors were brought in to play. Local swains got their ears lowered. More income for the store.
| | |
| --- | --- |
| Dad had an entrepreneurial spirit, and I am sure he not only generated income for the store, but must have helped improve the basic economy of Ferry County. For example, in another move to increase revenue at the store, David began bidding on timber rights on various tracts of forests around the area. He would negotiate a contract from McGoldrick Lumber in Spokane, to deliver to them so many board feet of logs, or milled timber. Then he would set up a logging camp in the woods with a sawmill onsite. Assorted lumberjacks felled the timber. Sometimes it was milled in the woods by sawmill, some times hauled to mills in town, or further away. | |
The benefit to the store of all this logging activity? The camps bought all supplies and groceries at the store, even logger boots, sox, overalls. Everything was charged, of course. When payment came for the lumber, the money came through the store, so that the huge grocery, gas, coal oil, dry goods bills were settled first. Always a good business practice. There were a lot of people working in those lumber camps. Dad's nickname was "King David" for good reason, I believe.
As for the timber and logging camps, all those logs had to be hauled to the railroad, to the saw mills, or to Spokane and that meant trucks. Lee, our oldest brother, with a loan from Grampa, bought his first logging truck at an early age of 18 or 19, and was a busy, happy guy, full of ideas. He finished high school about this time, after big fights with his parents who wouldn't let him quit early. Lee and his big truck were a big deal. Lee used to barrel through Republic, with his fully-loaded logger truck, blasting his siren (not standard truck equipment, I'm sure). Such exuberance was abruptly halted by the local Highway Patrol. I guess he tippied-toed his truck through town after that. Lee may have a different version of this. Lee is always enthusiastic about life. At the store, there was a contest over who could sell the most Levi Straus overalls. This contest, by Levi Straus, probably covered all the stores in nearby Republic, Curlew, etc. Lee sold Levi's like there was no tomorrow, won the contest, and forever has been known as Levi , or Straus. We call him that to this day.
What sustained the economy in the Malo region? Farming, timber, mining, fur trapping, and probably moonshine up in the backhills and woods. One of Malo's unique characters who over his lifetime was involved in most if not all of this economic activity was Bert Edwards. Strong as an ox, he was a tie loader, fur trapper with trap lines all over the mountains, horse racer, horse trader, professional hunter, who knows what else, a sniper/sharp shooter in World War II, and as fate would have it, eventually the owner of the Malo Store. Bert was a very interesting person. He first appeared at the Malo Store at the age of 14, riding out of the night on his horse in a snowstorm on a Christmas eve, half-frozen and covered with snow. He had come over Sherman Creek pass on his way to Canada. Mom and Dad took him in, fed him, put his horse in our barn, and he was bedded down for the night in the hayloft in our barn. He never continued his journey. The story was that he came from Oregon, running away from a mean stepmother. My Mom and Dad had respect, trust and always a good opinion of Bert Edwards. I think he knew that. He always called Mom, Mrs. Olson, even when he grew up into an adult. Everyone, even little kids, called her Agnes, but not Bert.
There aren't many like Bert anymore, I'm sure. He kept his own counsel, even at his young age, which in a small community where everybody knew everyone's business, he always seemed a little unique and mysterious. He probably had interesting ancestry whatever that could have been.. He told me, a little kid at the time, that he came from Alaska. I thought he was an Eskimo
While Grandma and Grandpa (Blixt and Kristina) continued to live on their homestead while Mom and Dad ran the store, eventually they retired, sold their homestead, and moved in with us in the house attached to the store. That was not a happy arrangement. I think it was particularly tough on Mom, who not only worked long hours in the store, cooked, kept house, helped Grampa take care of Gramma who had a stroke which pretty much disabled her. She lost most of her speech, except the power to yell if something didn't please her. Imagine losing the ability to communicate. She had had a tough life. All those years first in Ironwood, MI and later on the homestead with her kids, while Grampa was away working in the mines. One didn't run to the store for a few things. She churned, milked cows, planted a huge garden, kept chickens, slopped the hogs, probably butchered them as needed, and who knows what else to maintain the family. Besides raising her many children, she lost 3 children of 2 sets of twins, Sam being the only survivor twin.
What a struggle, with no doctors. Life was harsh for her especially after the stroke following their move to the house at Malo Store. Gramma was a very heavy woman confined to the upstairs bedroom in the Malo house most of the time. In the summer time, it was hotter than Hell up there. To bring her down the narrow stairs required at least 3 men. Doing the laundry in a hand-cranked wash machine and clothes wringer, hanging all that wash out to dry, keeping the Home Comfort cook stove fired up even during hot weather to cook the meals and heat water for the laundry was not picnic time for Mom. All of the nursing care required by Gramma fell to Mom and Grampa Blixt.
Gramma passed away in 1938, and Grampa followed in 1941. In 1945, David and Agnes Olson sold the Malo Store to Mr. And Mrs. Hugh Lindsay. In 1968, Hugh died and a year later his wife died. The Lindsay's daughter, Margie, now married to Bert Edwards, took over the store. Many years later, the store was sold to an Australian who married a local Malo girl. One can now purchase Australian beer in the store. The owner is also the County Sheriff, which probably gives the Malo Store the distinction of likely being the only country store where you can buy beer from the Sheriff.
The Malo store is worth a visit for those who have not seen it, and those who have seem to keep coming back every few years for another visit.
---
The following story was found in "Reflections of the Kettle River Region", published by the Kettle River History Club. It was written by Delbert Rumsey.
"I well remember the blacksmith shop my Grandpa, Daniel Howard Rumsey, operated on the Rumsey Ranch at Malo in the early 1900s. If you needed a wagon tire reset, plow shears sharpened, your sleigh re-shod, saddle horse shod, a 3/8" bolt 6 inches long, the latest news or someone to listen to your troubles, relief from a toothache, or even a nip from a bottle that was kept hidden behind a certain board where Grandma couldn't see it, the country blacksmith was the place to go.
Grandpa did not claim to be a dentist, but he had a pair of forceps that he kept handy, and at the last resort he would pull a tooth. One time, Blixt Ole Olson came into the shop in agony from a severe toothache. Grandpa looked at it and it was just a shell, so he was afraid to try to pull it, so he put a piece of haywire in the forge and got it red hot. Then he asked Ole to let him look at the tooth again. He stuck that hot wire in the tooth cavity and the smoke just rolled out of his mouth. Ole thanked him and went on his way."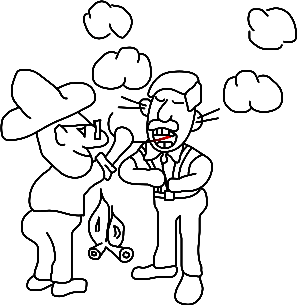 ---
EMIGRATION FROM DALARNA, SWEDEN TO AMERICA
by Lennart Mårding
Mass emigration from Sweden to the United States began in the 1850's. Although some people left Dalarna at that time, the movement did not become very important until a decade later. In Upper Dalarna substantial numbers began to emigrate in 1862. This emigration was especially strong among non-conformist sects established there. The first emigration from Rättvik took place in 1864.
The emigrants from Dalarna went preferably/chiefly to Isanti Co in Minnesota. Isanti County is sometimes called the Dalarna of America, but its first Swedish settlers were from the province of Hälsingland. They arrived as a group in 1860 and claimed land just south of Cambridge. They had come to America a few years earlier, settling first in the Chisago Lakes area.
For Swedes this district has been well known through Vilhelm Moberg's books and movies, which is about how Karl-Oskar and Kristina emigrated from Duvemåla in Småland to North America. They disembarked in Manhattan and went by train and river-boat to Taylor's Fall in Minnesota. From there they walked to the Chisago Lake Area, where they settled. The events in the book took place in the eighteen fifties.
From the parish of Rättvik alone, more than 85 families settled in the Isanti County, most around Cambridge. Their settlement patterns have been well documented in a book by Robert Ostergren , who terms the Rättvik/Isanti connection "a community transplanted". The settlements of the people from Rättvik in Isanti and Chisago will be seen from the map, which is taken from Ostergren's book. . Who are the persons that emigrated from Blixt Olof Olsson's and Knåp Kerstin Andersdotter's home district in southern Rättvik (below I use their American first names - Blixt and Kristina)? Blixt was born in the village Mårtanberg and moved later on to the village Bäck. Kristina was born in the village Utanåker. I have by means of the parish registers tried to trace persons, who emigrated from those villages and the neighboring villages in southern Rättvik - Söderås, Östergrav and Västgärde.
From 1860 to 1900 a total of 70 persons - 10 families 20 single persons. For some reason half of those persons came from the small villageVästgärde (this village borders on Utanåker). Almost everyone settled in Isanti County and became members of the Cambridge Swedish Evangelical Lutheran Church.
We can take for granted that Blixt and Kristina was acquainted with the people who lived in these villages and consequently also with those who emigrated. I have tried to find out which of them were relatives to Blixt and Kristina. More than half of them were distant relatives. A few were cousins or second cousins, namely
Elias Bengt Olsson, who emigrated from Mårtanberg to Cambridge, Isanti Co in 1869, was second cousin to Blixt. So was also Jöns Anders Eriksson, who emigrated from Mårtanberg to Ironwood in 1893. He is most likely the same person, who in Esther's Book is named Andrew Erickson. Jöns Anders is also related to Kristina. They were third cousins.
Among the emigrants are one cousin to Kristina, namely Knåp Kerstin Hansdotter, Västgärde (place of destination unknown) and two second cousins, namely Fix Olof Andersson, who emigrated from Västgärde to Stanchfield, Isanti in 1870 and Perjons Hans Andersson who left Söderås for Cambridge, Isanti in 1880. Olanders Anders Gudmunsson, who emigrated from Västgärde to Isanti in 1882 was cousin to Kristina's father Östhols Anders Andersson.
When I was looking for information on the emigrants I found the following nice story, which reveals the attitude of the emigrants from Rättvik towards black people. In 1868 Blecko Bengt Andersson emigrated from Östergrav to Isanti. It so happened that one of his daughters gave birth to a black boy. This remarkable occurrence didn't cause a scandal, as will bee seen from the following lines from a letter to a relative in Söderås, Rättvik
"… Then we can please you with another piece of information. Among the other great and prominent relatives here in America are you closely related to a Negro of eleven summers, who we call Neger Valter (neger = Negro). The mother to this young, beautiful, enchanting, girl-charming little Negro lad is cousin to your mother. The father is unknown but of black race. This Negro lad is certainly the only black man on the earth who can speak Rättvik-dialect. Now you mustn't be too distant and stuck-up of this fine relationship…".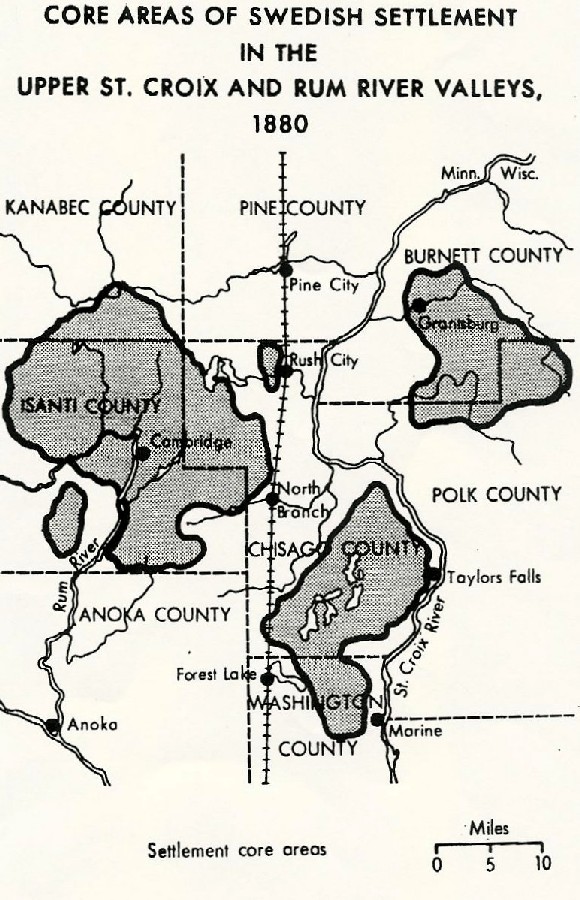 ---
A SWEDISH POEM FROM DALARNA
by Don C. Olson
The Swedes love their poets. I believe one reason for this is that, in general, Swedish poems are easy to understand, in contrast to many English poems. In addition, according to a friend who is a literary expert, the Swedish language, like French, lends itself well to poetry. There are many beautiful Swedish poems.
I selected one poem by a 19th century poet named Gustaf Fröding and took a shot at translating it and putting it to rhyme in English. Fröding is known as a landscape poet, and is a favorite of the Swedes. The poem was inspired by a time Fröding spent in Dalarna. It is about a fiddler. The fiddle is a popular musical instrument in Dalarna (Blixt played the fiddle in his younger days). There is a well-known joke that if you find two men together in Dalarna, three of them will be fiddlers.
THE FIDDLER & HIS SONGS


I am the young fiddler who wanders the forest corridors
and skips over the moss between the junipers in the moors.
From rosewood I fashioned my fiddle like a master,
and the strings I twined from a blonde maiden's hair.
And I arrived one evening at the edge of a lakeshore town,
where the neighborhood youth gathered for a party a birch tree around,
then with the spirit of nature fresh in my heart aplent,
I played songs on my happy instrument.
Then eyes glimmered, then cheeks glowed,
and young bosoms taut against the dewy twilight wind that flowed.
I am the young fiddler who dances the night long,
and over river and meadow is born for a moment my song.
On a bank, under a spruce, I tune my fiddle anew,
while in the meadow's light from its strings whirls out the dew.
Come scent of clover in the sun, come fragrance of darkness in the wilderness,
follow my song and flow forth among the town's gray houses.
In the chilly, gray houses so many beings are cold
who never come to understand the beauty nature holds;
in the joy of free spirit, when radiant summers shine,
for them I gladly will play the most beautiful that is mine.
But pale women listen from grand domicile,
and smirk with scornful lips just as I pass by,
"With your hayseed songs ---"; I buzz them with my bow
and drown their mumbles in intoxicating melodies aglow.
---
ORIGIN OF THE JURY SYSTEM
by Don C. Olson
Trial by jury. Who should we thank for our treasured system of justice? The answer may be surprising. Many would probably credit the English. However, when the British Isles were still under an absolute monarchy, the Vikings, in spite of their reputation as lawless marauders, had an advanced judicial system based on trial by jury. In fact, the word, law, is a Viking word.
The Vikings lived in communities which were more-or-less democratic societies. Each year, or more often if necessary, the community gathered at a common meeting called The Thing to make law, hold trials, elect a Chieftain, party, trade goods, exchange news, and whatever else that opportunity might present. Every free man had a duty to attend The Thing, which generally lasted several days. Women could also attend. The Thing, which had legislative and judicial powers, dates as far back as 600 A.D.
Those accused of crimes, as well as disputes that could not be settled between families, were tried in The Thing court. A panel of witnesses from both sides presented the "facts" of the case. A "law-sayer" (from which the word lawyer is derived) instructed the jury on what the law said about the crime committed A jury of twelve, two times twelve, or three times twelve, depending on the importance of the case, determined guilt.
Making war against and killing the enemy was legal (that hasn't changed), but murder within the community was illegal. For murderers, there were generally two possible punishments – banishment, or compensation to the victim's family. If banished, the criminal became an "out-law", and if the person did not leave the community, he was free game for his enemies. They could legally hunt him down and kill him.
Compensation, rather than banishment, could be accepted by the victim's family. The amount would be negotiated between the criminal's family and the victim's family. Justice was a family liability. The entire family of the criminal was held accountable and were expected to pay compensation to the victim's family.
One famous string of jury cases eventually led to the discovery of America by Vikings. It started with Eric the Red, a Norwegian Viking with a fiery temper. A quarrel with a neighbor escalated into a fight which ended with Eric beheading his neighbor with his battle-axe. The victim's family brought the case before The Thing, and Eric was convicted and banished from the land. Eric gathered up his family and possessions into his ship, and sailed west to Iceland.

There, he built a farm and lived well for a number of years. However, history repeated itself when he again clashed with a neighbor. His slaves had caused a landslide which crashed onto the farm of the neighbor. In retribution, the neighbor killed his slaves. Eric then slew his neighbor, along with several of his family. He was tried, convicted of manslaughter, and out-lawed. As before, he sailed west and settled on an island off the coast of Iceland, where once again he got into a dispute with a neighbor, this time over the failure of the neighbor to return some boards he had loaned him. Eric did battle with his neighbor, his two sons, and guests of the neighbor, and killed them all. He was tried and sentenced to outlawry, and again sailed west, this time into uncharted waters. Many days later, he discovered a new land. Although it was mostly covered with ice, he called it Greenland to entice other settlers to come there from Iceland and Norway. His sales tactic worked, the community grew and thrived, and Eric the Red became its Chieftain.
| | |
| --- | --- |
| | One of Eric's sons was named Leif Ericcson. When Leif grew up, he wanted to discover a new land as his father had. So he sailed west, landed in North America and built a settlement there. This voyage is described in the Sagas of the Greenlanders, and the land he discovered was called Vinland. The Sagas mention the birth of a child there named Snorri Karlsefni, probably the first European born in North America. A Viking settlement discovered in L'Anse aux Meadows, Newfoundland was excavated in the 1960s and dated to the year 1000. This settlement was probably founded and later abandoned by Leif and his crew. According to the Sagas, the Indians were hostile and they so vastly outnumbered the small band of Vikings that the decision was made to return to Greenland. Leif Ericsson died in Greenland and his grave has been found in a Church graveyard. |
Final question - how did the jury system come to America from the Vikings? Probably through the English. The Vikings conquered and ruled much of England over a period of a couple of hundred years, culminating with the Norman Conquest of England in 1066 AD. The Normans were descendents of "Norsemen" Vikings. In all likelihood, the jury system passed from the Vikings to the English, who in turn brought it to America, no doubt with substantial improvements.
---
When did the first Swedes emigrate to America? A common answer to that question is 1846, when a Swedish group founded Bishop Hill in Illinois. This was the first group of Swedes to emigrate to the U.S., but not the first to emigrate to America.
Over 200 years earlier, in 1638, Sweden founded a colony on Delaware Bay, which was the first permanent European settlement in the Delaware Valley. At the time, Sweden was a major power in Europe, and decided to extend its reach to the New World. The colony was a business venture of the New Sweden Company whose stockholders hoped to enrich themselves from fur and tobacco trade in North America.

The first settlers came on two ships, and built a fort named Fort Christina in honor of Sweden's 12 year old queen. Over the next several years, eleven more ships brought 600 additional emigrants who formed settlements along the banks of the Delaware River in what is today parts of Delaware, New Jersey, Pennsylvania, and Maryland. The colony grew and thrived under the governorship of Johan Prinz, but in spite of this, the settlers thought he was too bossy and managed to get him recalled to Sweden. His replacement, Johan Rising was a disaster. Probably with visions of expanding the colony, he seized an undefended settlement from the neighboring Dutch. Picking a fight with the Dutch was bad judgement since they had a far superior force. The Dutch governor, Peter Stuyvesant, was furious, and sent 7 armed ships and over 300 soldiers into New Sweden, which, being vastly outnumbered and outgunned, promptly surrendered. This spelled the end of New Sweden, just 17 years after it was founded, and it then came under Dutch rule. Nevertheless, with Stuyvesant's blessing, the colonists were allowed a high degree of autonomy, free to govern themselves, practice their religion, retain their landholdings, and carry on trade.
The colony continued to thrive under Dutch rule, and maintained its Swedish culture, customs, and influence. Descendents still exist in the region today, and have formed an organization called the Swedish Colonial Society. The most famous descendent was John Morton, a great grandson of a New Sweden colonist, and a signer of the U.S. Declaration of Independence.
The Swedes built solid buildings in New Sweden, and some are still standing. They are thought to be the oldest non-Spanish structures in North America built by Europeans. Historically accurate replicas of a number of buildings, including a blacksmith shop, storehouse, threshing barn, stable, residence, outhouse, sauna and smokehouse have been erected at a New Sweden museum. In Wilmington, Delaware, there is also an exact replica of the 139 ft. frigate, Kalmar Nyckel, which was the ship that brought the first group of settlers to New Sweden.
---
OUTSTANDING SWEDES & SWEDISH AMERICANS
Did you know that:
A Swede, Gideon Sundbäck, invented the zipper.
Swedish-American, John Ericsson, invented the screw propeller, and designed the Monitor, the first ironclad warship.
Swedish-American, Glenn Seaborg, was awarded the Nobel Prize in chemistry.
Sweden's first astronaut, Christer Fuglesang, is in training for the next launch of the shuttle Atlantis.
Swedish-American, Andrew Lanquist, built Chicago's first skyscraper, and later Chicago's famous Wrigley Building.
Swedes, John and Charles Ericsson, invented the dial telephone.
Swedish-American, Oscar Lindquist, revolutionized the system for elevator transport in tall buildings.
A Swede, John Gullborg, invented the grease gun and the four-wheel brake.
Swedish-American, Erik Jonsson, founded the now giant firm, Texas Instruments.
Swedish-American, Charles Lindbergh, made the first solo flight across the Atlantic.
Swedish-American, Edwin "Buzz" Aldrin, was the second man to set foot on the moon.
Swedish-American, Alexander Samuelsson, designed the Coke bottle.
Swedish-American, Chester Carlson, founded Xerox Corp.
Swedish-American, Carl Eric Wickman, founded Greyhound Bus Lines
Famous actress, Ann-Margaret, is a Swedish-American.
Famous 1930 Chinese detective movie character Charlie Chan was really Swedish actor Warner Oland.
Swedish-American, Gustaf Tenggren, was a Walt Disney animator for Snow White and the Seven Dwarfs and Pinocchio.
Legendary Greta Garbo was a Swede.
The Bronx in New York was named for a Swede named Jonas Bronck.
---
THE ICELANDIC SAGAS
by Collin Starkweather
Date: December 4, 2002
In 1996, I was fortunate to be able to travel to Iceland. I camped for 18 days through howling winds and driving rain, sunny skies and lazy summer days, on farms, on the heath, at the base of waterfalls, at the foot of glaciers, and beside recently cooled flows of lava. As I came to appreciated the beauty of the land, I also came to appreciate the beauty of the people. They were of particular interest to me because their heritage is also our own. They are born of the viking outcasts of Denmark, Sweden and Norway, aggressive and independent enough to be excluded even from the company of their already aggressive and independent brethren.
The Icelanders of today are still strong and independent people, but, fortunately, mostly farmers and fishermen without the bloodlust of their ancestors. There are approximately 350,000 of them, and their genetic makeup is among the most homogeneous of any nation on earth. They are almost exclusively the decendants of the original viking settlers and thier Irish slaves and still speak with a tongue almost identical to the speech of Scandinavia of the viking era.

Iceland was home to the world's first parlaiment, the Thing Vallir. It is also the first country on earth to elect a female head of state. And due to the ubiquitous geothermal activity, an abundant and renewable source of energy, it is the cleanest industrialized nation on earth.
Perhaps the thing that most Icelanders would claim as the primary symbol of their nationhood, however, is not any particular accomplishment or physical item. It is the Icelandic Sagas, which serve a dual purpose as the national contribution to world literature and as historical documents describing the founding of a unique remote island civilization.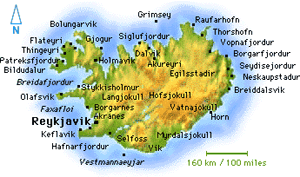 During my stay, I became interested in the Sagas. After having mentioned the interest to my father, Don Olson, I was presented with a book containing the full text of Icelandic Sagas. It turned out to be one of the best reads I've had in years.
| | |
| --- | --- |
| | The Saga Age, or the age of the vikings, was the late Middle Ages of Europe. For more than 200 years (roughly the age of the United States) the vikings grew wealthy from the plunder of the coastal provinces of France and the British Isles, with forays as far south as Italy and as far west as the Canadian coast. |
They were great sailors, traders, poets, settlers, and explorers. They were also great storytellers and lived lives worth telling. The Sagas explore the lives of several such characters. They range from the heroic to the tragic, but they are mostly rebels and they are all larger than life, yet at the same time, because the Sagas are primarily factual, unembellished accounts, entirely real.
Their tone is not dramatic. The concept of a novel, in which characters' thoughts and emotions are given the reader, was unknown at the time. Rather, it is more a simple, factual account of the events of the day. Even in bloody battle, the emotions of the combatants do not even merit mention:
Then Egil took his sword and set on Hadd, and they exchanged a few blows before Hadd was killed.

The boys came over, and Egil said to them, "Stand guard over your master Onund and his companions and make sure that the animals or birds to not eat their carcasses."
A trip across icy northern seas to a remote island in a small, open boat before the advent of the sextent at a time when seafaring cultures were afraid to lose sight of land was described as a matter-of-fact summer outing:
Egil prepared his ship that summer and put to sea when he was ready. He headed for Iceland and had a smooth crossing, sailing in to Borgarfjord and landing his ship close to the farm.
And, through all the heroics and bravado, they were never averse to saying the important things in the form of a verse:
Arinbjorn held a great Yule feast to which he invited his friends and neighbours from the district. It was a splendid feast and well attended. He gave Egil a customary Yuletide gift, a silk gown with ornate gold embroidery and gold buttons all the way down the front, which was cut especially to fit Egil's frame. He also gave him a complete set of clothes, cut from English cloth in many colors. Arinbjorn gave all manner of tokens of friendship at Yuletide to the people who visited him, since he was exceptionally generous and firm of character.

Then Egil made a verse:

From kindness alone

that noble man gave the poet

a silk gown with gold buttons;

I will never have a better friend,

Selfless Arinbjorn has earned

the stature of a king

- or more. A long time will pass

before his like is born again.
Even the factual statement of events, however, cannot disguise the power and drama of the story. The subjects of the Sagas fought with abandon, held honor and facility with verse as the highest marks of a man, and undertook immense risks in search of fortune.
For those who are interested in the Sagas, I recommend picking up a copy of Egil's Saga, perhaps the foremost of the Sagas. Although the writing is not what you would expect to find from a modern novel, the stories are rich and varied, and, despite being nonfiction, weave an ornate tapestry of violence, deception, courage, and honor.

For those who are a bit more intrepid, any trip to Europe can be turned into an Icelandic adventure. Most of the population speaks English; however, prior to any excursion to Iceland, the trip should be planned with the assistance of someone who has made the trip before. The scenery is spectacular (at times like Ireland, at others the Moon), but the weather, accomodations, and driving conditions require some planning. Iceland Air offers 3-day layovers for those who are going to Europe and who have a little extra time and are looking for a bargain on their airline tickets. The experience is well worth the price of admission.
---
WATER, THE LAGOM LIQUID
by Don C. Olson
There is a unique word in Swedish called lagom. It means just right. For example, not too much, not too little; not too hot, not too cold -just right. We could call it the Goldilocks word.
| | |
| --- | --- |
| Now, what does this have to do with water? Such a common, ubiquitous substance as water, which nearly covers the earth, would not seem to be unique. Nothing could be further from the truth. Water is a unique liquid unlike any other known liquid in the universe. It has a set of properties which are just right, in other words lagom, for the support of life on earth. | |
Let's take a look at some of these properties, starting with water's thermal properties. Like other liquids, water contracts (gets more dense, heavier) as its temperature drops. However, when it reaches a temperature close to freezing (4 0 C. to be exact), something odd happens; at that point, a reversal occurs and water begins to expand (becoming less dense) with dropping temperature. Furthermore, it undergoes an even greater expansion when it reaches 0 0 C and freezes into ice. No other known liquid does this. It turns out that these properties are just right to cause the coldest water in a body of water to rise to the surface, and for ice to float on the surface. Without this behavior, the coldest water would collect and freeze at the bottom of bodies of water, such as lakes. Ice on the bottom would not melt efficiently during the warm seasons, so eventually these bodies of water would freeze from the bottom up until they were solid ice. This would happen in our lakes and seas and some rivers over vast regions of the earth which have a winter season, and in these regions life in these bodies of water would be extremely difficult if not impossible. Imagine the Great Lakes frozen into a solid block of ice.
Another important property is solvent power. Solvent power is the ability of a liquid to dissolve chemicals. The life-supporting chemistry in our cells occurs in a water medium. It is vital, therefore, that the solvent power of water to be high enough to dissolve the chemicals used in life processes. However, the solvent power must not be too high or the water would dissolve the cells themselves. You guessed it, the solvent power of water is lagom for meeting these requirements.
Water, itself, is involved in some of the chemistry. Therefore, it must be reactive, but not too reactive or it will destroy some of the vital components of the cells. Water's reactivity, it turns out, is just right.
Another property of critical importance is viscosity. The viscosity of a liquid determines how easy it flows, and how much pressure it takes to pump it around. Furthermore, the smaller the diameter of a tube that the liquid is pumped through, the greater the resistance to flow. Getting nutrients to our cells depends on the flow of the blood through billions of extremely small tubes called capillaries. These capillaries are so small that one could run 10,000 in parallel down a pencil lead. Because of their extremely small diameters, they cause a very high resistance to flow, and therefore to pump a liquid through them with a low pressure pump such as the heart requires that the liquid have a very low viscosity. Water has a low viscosity which is perfectly fit for this application. If it were much higher, it would not be possible to easily pump blood through the capillaries. If it were much lower, shearing forces would damage the delicate structures of the cell. Viscosity also affects the rate of diffusion of nutrients between and within cells. The viscosity of water is also perfectly fit for this function. In a word, the viscosity of water is lagom for the support of life.
| | |
| --- | --- |
| | Solids, including ice, also have a viscosity. Because ice has a low enough viscosity, our glaciers slowly flow down slopes to the sea. There, icebergs calve and melt as they float into warmer waters. This recycling process helps to moderate the climate of the earth in a range that is fit for life. If ice had a much higher viscosity, flow of the glaciers would be much slower, and most of the water of the earth would accumulate and be immobilized in vast ice caps around the poles and on high mountains. Most of the earth would become a Sahara. If the viscosity of ice were much lower, glaciers would flow to the sea and melt much faster, which would also have a severe effect on the climate. |
These are some of the properties of water that are lagom for the support of life. Because they are lagom, the earth teems with life. If they were not, the earth would be sterile. If this lagom liquid didn't exist, it would have to be invented for life to exist. If you want to thank God for something really important, thank him for water.
Reference - Michael Denton, "Nature's Destiny"
---
OLSON DEVELOPS ANTHRAX DETECTOR
Reprinted from Shell AlumniNews July 17, 2002
Olson builds on his Shell experience to develop a detector that could help mitigate damage from biological weapons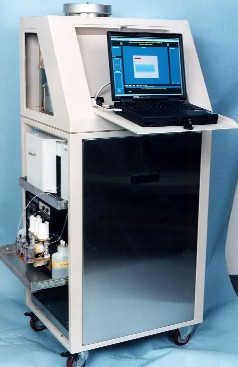 Using knowledge he introduced to Shell refineries and chemical plants in the 1980s, Don Olson's company, Global FIA, is working with Lawrence Livermore National Laboratory to develop an analyzer which incorporates sequential injection analysis that rapidly detects and identifies airborne biological pathogens such as anthrax, smallpox and plague. The Autonomous Pathogen Detection System (APDS) is targeted for use in areas where large numbers of people gather. In addition to monitoring individual sites such as office buildings, airports, or convention centers, APDS units can also be networked together for widespread air sampling in urban areas or major outdoor events like the Olympics. Work on the APDS began several years ago, but has taken on a new urgency since 9/11. "For several years Lawrence Livermore has received government funding to develop automatic monitors for biological warfare agents," Olson ('92 Westhollow Research Center) says. "Nothing existed at the time that could continuously and automatically monitor pathogens in the air. Right now, air samples collected in the field have to be analyzed in a lab. APDS uses instrumentation and methods that provide on-the-spot results." The system uses sequential injection analysis in which reagents, mixed with a sample from an aerosol collector produce a product the detector can analyze and identify. It will be capable of monitoring several pathogens simultaneously. Olson introduced flow injection analysis, a predecessor of sequential injection analysis, for process control and environmental monitoring at Shell plants and refineries. "While working at Shell I was frustrated by the lack of commercially available resources for automated process analysis using flow-based technologies," he says. "So when the opportunity came my way, I decided to establish a company that would meet this need." Olson founded Global FIA in 1993 after retiring from Shell, and was later joined by DOW Chemical retiree Duane Wolcott and former Mintek mining industry researcher Graham Marshall, a co-inventor of sequential injection analysis. Their offices are located on Fox Island, Wash. Lawrence Livermore contacted Global FIA because of the company's expertise in flow injection and sequential analysis technology. Global FIA invented the " fluidics engine" in APDS that moves samples and reagents through the analyzer. The detector is close to completion. Laboratory tests with simulated pathogens have been successful and a test using real anthrax and a pathogen called pestus was recently completed at a U.S. military base. "Lawrence Livermore is evaluating candidates now and will pick the manufacturer, but we will play a role," Olson says. Next on the agenda is reducing the size of the APDS, which Olson says right now is comparable to a refrigerator. "This is the kind of project we love to work on," Olson says. "It's very exciting technology and we're helping to produce a product that can be used to save lives."
---
AS LONG AS THE RIVERS FLOW
Groundwood Books
By Larry Loyie with Constance Brissenden
Illustrated by Heather D. Holmlund
The First Nations People of North America traditionally educated their children within the extended family, through observation, practice, stories and ceremonies. In the 1880s, various churches, in government-sponsored residential/boarding schools, took on the education of First Nations/Native American children in Canada and the United States. Children were forcibly taken from their families in order to erase their traditional languages and cultures.
As Long as the Rivers Flow is the story of Cree writer Larry Loyie's last summer before entering residential school. It is a time of learning and adventure. He cares for an abandoned baby owl. He watches his grandmother make winter moccasins. He helps the family prepare for a hunting and gathering trip. Confronted by a grizzly bear while picking medicine plants, Lawrence's grandmother Bella Twin kills the biggest grizzly in North America with a single-bullet rabbit gun, a true story that made the Guinness Book of Records. When the family gathers for a feast, Grandfather gives Lawrence his new name: Oskiniko, or Young Man. Not long after, a truck comes to take Lawrence and his siblings away to the residential school where he will stay for five years.
Expressive illustrations by Heather D. Holmlund beautifully capture the joy and drama of a family's last summer together. There are 34 full-color illustrations in the 44-page book, as well as a section devoted to explaining the history and impact of residential schools. Larry and co-author Constance Brissenden wrote this book after four years of research. Photographs of Larry's family and the school he attended are included. More photographs on the website www.firstnationswriter.com.
The book is suitable for ages 8 and up. It is a wonderful, touching story that parents and grandparents will want to share with their children. The book takes its readers into the traditional lifestyle that native people once enjoyed, to learn about animals, nature, self-worth, bravery, traditions, and cultural pride. It opens a door to dialogue and understanding.
As Long as the Rivers Flow is now available in Canadian bookstores. U.S. distribution will begin in 2003. CDN $18.95/U.S. $16.95.
Size: 7 ¼ x 10, 44 pp, Ages 8 and up. Cloth. ISBN 0-88899-473-7.
To order a book: Distributed in Canada by UTP, 1-800-565-9523. Distributed in the U.S. by PGW, 1-800-788-3123.
For more information, contact the authors, or go to www.groundwoodbooks.com.
---
WOULD YOU LIKE TO LEARN SWEDISH?
Now you can learn Swedish on the Internet. The address is:
http://www.people.fas.harvard.edu/~arubin/swedish.html
You can't learn to speak Swedish with this course, but you can learn to read and write it.
---
I have found a website shop that specializes in printing wall chart size family trees. I had them print a test chart for me, and it looks superb. It is about105" long and 40" high, and is printed on a high quality parchment paper. The price is about $70. If you are interested in purchasing one, let me know and I will send the contact information where you can get a quote and place your order.
Don C. Olson
E-mail: olson@globalfia.com
---
Miriam Millicent (Olson) Lee passed away June 15, 2002 in Spokane, WA. Miriam was born at Lake Chelan on July 2, 1926, daughter of Samuel and Ambjorg (Emma) Dahlgren Olson. She grew up on the Olson cattle ranch near Malo, WA, and graduated from Curlew High School as valedictorian at the age of 16. America was in the middle of World War II, and Miriam went to work at the Swan Island Shipyards in Portland, OR. Within a few months, she was the nation's youngest forewoman. Still 16 years of age, she was forewoman of two men's crews and several crews of women.
Following Swan Island, she entered the University of WA in 1944 to study journalism. Her education was interrupted by marriage to Dale Loucks, a high school sweetheart who returned from the war. Over the next few years, they lived in Great Falls, MT, Electric City, Winthrop, and finally Burien, WA. Two children were born, Stanley in 1946 and Christine in 1947. In Burien, a suburb of Seattle, Miriam founded Southgate Realty and grew it into a company with offices in 3 locations marketing both residential and commercial real estate. She retired from real estate in 1968. She married Charles Lee in 1967, and the couple lived on Camano Island for two years before moving to Scottsdale, AZ. Miriam then came out of retirement, going to work in the Trust Dept. of a Phoenix bank. Charlie passed away in 2001, and Miriam then moved to Spokane to be near her family.
Throughout her life, Miriam touched many people, but none so greatly as her family. Her immediate family was one of her greatest joys in life. She was very devoted to and proud of her daughter, Christine Dahlstrom of Liberty Lake WA, her son Stanley Loucks ( who preceded her in death in the year 2000), her grandchildren Sundriya, Nathan, Alex, Ryan, Abby, Ninette, and Chelsee, and her great grandchildren Caleb, and Naomi. Another great joy was her extended family of over 300 descendents of her grandparents Blixt and Kristina Olson who were immigrants from Sweden. Miriam was very proud of her Swedish heritage, doing extensive research as family historian on the Olson Family Tree, which dates back to 1521 in Dalarna, Sweden. She was the promoter of 3 family reunions attended by both Swedish-American and Swedish relatives.
Miriam is survived by, in addition to her daughter, grandchildren, and great grandchildren, her sister Anita Cook of Normandy Park, WA, and her brothers Joe Olson of Spokane, WA and Don Olson of Gig Harbor, WA.
Miriam was loved dearly and will be greatly missed by all who knew her.

TRIBUTES TO MIRIAM OLSON LEE
Michelle Heller - I enjoyed the wonderful pleasure of knowing Miriam my whole life, and I always felt so loved by her. She could light up a room with her warmth, her enthusiasm and her sparkle. How I remember, she would entertain me with her wit and humor; when I was a child, inventing stories solely for my delight and amusement; and when I was older, ensuring that I knew of my special Swedish heritage by telling or writing the tales of my immediate and extended family.
Because of Miriam I have always known with pride that I, along with my kin, have issued forth from the "Valley of the Stubborn People." This knowledge has served me well many a time when one of lesser mettle might have caved in under the weight of a difficult situation. While perhaps lacking somewhat in grace and gentility, the gritty determination of that stubbornness has seemed at times as a life raft in a turbulent sea.
In the spirit of Miriam's tradition, I hope to pass on the strength of that Swedish will to my son, Sam, my Grandfather's namesake. And in her memory, I hope to be a force to help keep alive the special knowledge of a heritage that no money can buy: a family with roots as deep as a tree hundreds of years old; a history of endurance and the ability to face life's challenges; and a steadfast and devoted love of family that never dies.
Lyndon Olson Jr. - MOTHER, DAD, KATY AND I , HAVE JUST RETURNED FROM SWEDEN WHERE WE SAW OUR COUSINS ON SEVERAL OCCASIONS. WHEN WE LOOK BACK OVER OUR NEARLY FOUR YEARS IN SWEDEN ONE OF THE GIFTS WE HAVE BEEN THANKFUL FOR WAS THE OPPORTUNITY TO GET TO KNOW AND BE WITH OUR FAMILY IN SWEDEN. THEY ARE SUCH WONDERFUL PEOPLE. I CREDIT MIRIAM, ALMOST EXCLUSIVELY, FOR HAVING HAD THE PERSISTENCE AND THE COMMITMENT OVER THE YEARS TO GET US TOGETHER AS A FAMILY AND TO INTRODUCE US TO ONE ANOTHER. WHAT A GIFT. SHE PUSHED ALL OF US. SHE DROVE US CRAZY. SHE WAS DETERMINED THAT OUR REUNIONS WOULD COME ABOUT. EVERYONE OF US IN THE OLSON CLAN SHOULD BE SO VERY GRATEFUL THAT WE HAD A MIRIAM TO BEGIN THE WONDERFUL TRADITION OF FAMILY REUNIONS AND STAY SO COMMITTED TO THAT PURPOSE, ENRICHING OUR LIVES AND GIVING US ALL SUCH A GREAT SENSE OF BELONGING AND STRONG FAMILY IDENTITY. FEW FAMILIES HAVE THIS PRIVILEGE. MIRIAM CERTAINLY MADE A DIFFERENCE IN MY LIFE AND I KNOW WE, AS A FAMILY, ARE GOING TO MISS HER VERY MUCH. WE ARE ALL BETTER OFF BECAUSE OF MIRIAM.
Joanne Nylander - Miriam did so much work on the family history. If it wasn't for her we would not have such a great family history book or knowledge about our history.
Jan Jones - She treated me wonderfully. She was a great lady.
Mildred Kachold - She was so vibrant and full of life, what a loss to us all. Yes, she was a special lady and we'll all miss her terribly.
Carol Tulk - Miriam really held the family together in many ways.
Lynn Walls - She was a wonderful person and did a lot so we all knew where we came come. Yes, she will be missed.
Constance Brissenden - She was such a kind and remarkable person who did so much for the family. I will miss her very much and am grateful to have known her.
Charlie Olson - This is a great loss to the entire Olson family. We loved and admired Miriam. I believe that she did more than any of us over the years to bring our extended family together. We will always owe her a debt of gratitude.
Hanne Olson - "It's very hard to catch the essence of my beloved sister-in-law, Miriam, in a paragraph or two. From my first American party dress in 1963 (thanks to Miriam) to her last, long letter to me in in April of year 2002, she was a caring, colorful and compassionate part of my life for 39 years.
When I think back on those many years of having known Miriam, the quality, which stands out, and about which there cannot be any doubt whatsoever, was her love for family. That love, I'm thankful to say, also extended to me. What she did for her family was done out of pure, unselfish and unconditional love. Her loving intent was obvious.
When a loved one dies, what is missed the most is the warm cloak of her love. I'll miss the comfort of Miriam's love today, tomorrow and forever."
---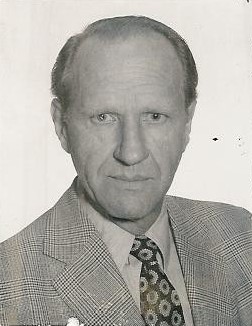 Civil engineer Styrbjörn Backman, Rättvik, passed away at 84 years of age. He is survived by wife Ellen, born Östhol, and children Lennart, Clas, Kristina and Birgitta with families.
Styrbjörn Backman was born in Lidingö. His father was the well known theologian and teacher, Lorentz Backman with wife, Edit.
After graduating in 1938, Stybjörn started his training as a naval officer, a training which led him to the profession of marine engineer through studies at the department of ship building technology at KTH.
During his employment with the marine administration, he spent some time in the U.S. on a scholarship to continue his studies.
Later, he received an appointment as inspector in the construction of torpedo boats with Kockums Shipyard in Malmö and Marineworks in Stockholm.
In 1953, he was hired as a production engineer by Swedish Metalworks at a factory in Skultuna. During this period at Metalworks, an intensive program was underway to develop uses for the company's products, not the least of which was aluminum.
In 1955, when the organization expanded, Styrbjörn was appointed to a position which had the responsibility to develop the company's materials for use in the transportation industry. With this, he began a professional career which did a great deal to strengthen the company's position as a supplier and sub-contractor to the truck, automobile, and shipbuilding industries.
With his group of design engineers, he developed in partnership with customers uses of pressed metal parts for various heavy construction designs in trucks, an effort which has made aluminum today a dominant material for truck cabs, beds, and structural parts. For personal cars, he played a part in several new developments, bumpers, fenders, body parts, and not least heat-exchangers, a large and important market for the company which today operates under the name Sapa.
In later years, a focus on environmental and resources questions engaged Styrbjörn which, through the development of a system for recycling and calculation of the products' environmental and energy impact, shed light on aluminum's contribution within the transport area.
Through the years he contributed articles for periodicals and lectured on his specialties. He also prepared , in collaboration with specialists from the technical university, KOBA, design, construction and engineering math manuals for aluminum. Within the framework of Skan Aluminum, he published manuals for aluminum construction and welding and aluminum in road transport.. In his spare time, Styrbjörn hiked in his younger days in the mountains with a camera in hand. In later years, golf became his favorite hobby.
Development work demands patience and a long range vision, traits which distinguished Styrbjörn. He was a skillful technician with a solid theoretical knowledge but also with a talent for the practical.
He was also a confident person, with an ability to share his confidence with family and colleagues.
---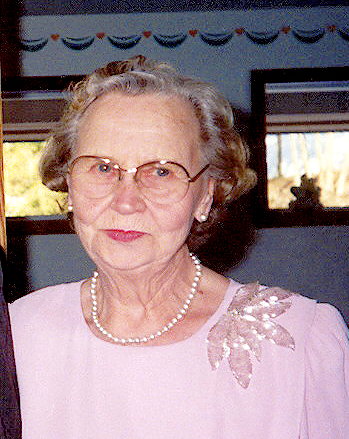 Esther Howe-Meng passed away in Spokane, Washington on Thursday, December 27, 2001.
| | |
| --- | --- |
| Mrs. Howe-Meng was born on July 25, 1912 in Malo, Washington, the daughter of Nels and Anne Nylander. She was raised in Malo where she attended school. In 1947 she moved to the Seattle area and worked for Singer Sewing Machine Company. She was a sewing machine demonstrator and appeared in many television commercials for the company. Later she worked in the meat processing industry. Prior to her retirement she worked in Real Estate first as an agent and then as a broker. Mrs. Howe-Meng moved to Fall City in 1956. Mrs. Howe-Meng owned and operated Spring Glen Real Estate in Fall City and she also owned the Spring Glen Trailer Park. In 1991 she moved to Smokey Pt in Arlington. She moved to Spokane in the spring of 2001. In her leisure time Mrs. Howe-Meng enjoyed gardening, fishing, and travel. | |
Mrs. Howe-Meng is survived by two sons, Delbert Grumbach, of Charleston, South Carolina and Kenneth Grumbach, of Curlew, Washington; her daughter Marilyn Schoonover, of Spokane; a brother Ed Nylander, of Fall City, seven grandchildren; eight great grandchildren; and several stepchildren.
---