Crest of Dalarna, home province of the Olson Clan

February 2007, No. 13

A Periodic Publication of the Blixt and Kristina Olson Family Branches
MESSAGE FROM THE EDITOR
Constance Brissenden
The Olson Chronicles are an important part of the legacy of the Olson family. You may, like myself, have grown up listening to Olson family stories. My grandmother, Esther Olson (daughter of family founders Blixt and Kristina), was a delightful storyteller who regaled us with the exploits of her childhood. Our eyes grew wide when we heard how Kristina threw the bag of garbage off the bridge enroute to Grand Forks. The police soon had the family - Kristina and her six children - at the police station. "They wanted to make sure my mother did not throw a baby off the bridge," Grandma would explain. But all was well, and soon Blixt was reunited with his brood. It's wonderful to read this story again on page 24 of Esther's Book.
We have our earlier editors Dean, Joe and Don Olson to thank for their inspiration and dedication. Once again, in this, the 13th Chronicles, we continue to share the delightful stories and photographs of "then and now" in the Olson Family.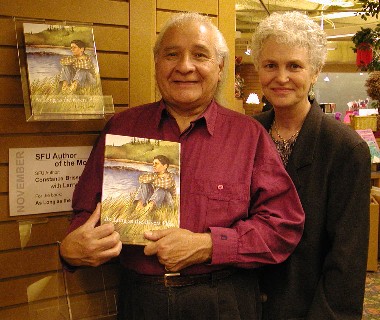 Constance Brissenden and her partner Larry Loyie. Writing is an Olson family tradition! Constance has written more than a dozen travel and history books. As well, the couple are award-winning writers of three children's books. Their website is: www.firstnationswriter.com
-- Constance Brissenden
Another key person in the Olson Chronicles saga is Kevin E. Olson. Kevin is more than webmaster and designer, he is the heart of the Chronicles. Kevin has been a delightful, creative and competent person to work with on OC13. I am really looking forward to meeting Kevin personally at the next family reunion.
Here's Kevin's photo and short bio so you can also get to know him better:
MESSAGE FROM THE PUBLISHER
Kevin E. Olson

Interest in computers started when I was exposed to a computer as a child and continues today in my career in Information Technology. Interest in family heritage strengthens whenever I visit with relatives and discuss family history. I began merging the two interests when I found a good computer program for recording and diagramming a family tree. I spent many hours and days and months entering into the family tree program all the Olson ancestor and descendant information that Miriam Olson had collected and plotted on long blueprint rolls. I presented the 11 foot long family tree chart containing every relative we knew at the 1997 Olson Family Reunion. I continue merging computers and family heritage by publishing Olson family information, stories and photos on the Internet for the entire Olson family to enjoy. Instead of an antique family photo stuffed in a photo album waiting to be opened and viewed, the photo can be published on the Internet and shared with all family members. Thank you to everyone that has shared your family heritage.
SALUTE TO OLSON CHRONICLE EDITORS
We are grateful to the three former Olson Chronicles editors. They worked diligently and with love to assure the continued publication of the Chronicles and inspired many of us to share our past and present family stories. They have added immeasurably to the Olson family story.
Olson Chronicles vol. 1-9 - Dean Olson
Olson Chronicles vol. 10 & 11 - Joe Olson
Olson Chronicles vol. 12 - Don Olson
| | | |
| --- | --- | --- |
| Dean Olson | Joe Olson | Don Olson |
---
OLSON FAMILY REUNION
by Charlie Olson
Late last year, a group of Olson family members came together to begin organizing our next reunion. We have met by phone several times and are in the process of completing a survey to send out to the family. We anticipate that the reunion would be held in the summer of 2008 at a site to be determined. Please be on the lookout for your survey and please respond after you receive it. The survey will be sent to those for whom we have email addresses or regular mail addresses. We probably do not have contact information for those who are not receiving this issue of the Olson Chronicles. If you know of someone who is not receiving this and needs to be on our contact list, please provide contact information to Kevin Olson. We look forward to hearing from you.
Charlie Olson
---
LYNDON OLSON, SR.
by News Media
Lyndon Olson, Sr.
Associated Press
December 20, 2005
Lyndon Olson Sr., who successfully argued before the U.S. Supreme Court in a 1968 ruling that extended the principle of "one man, one vote" to local elections, died Tuesday. He was 80.
His son, Lyndon Olson Jr., said his father died of heart attack at home.
Remembered for his gentility and even temper, Olson appeared before the Supreme Court in the case Avery vs. Midland County. The high court decided that local governments must roughly represent the same number of constituents, just as the court had previously ruled for congressional and state districts.
Olson and his brother, Bill, represented then-Midland Mayor Hank Avery, whose city had the majority of Midland County residents but was represented by one of four county commissioners. The other three represented rural oilmen and ranchers.
"It was very important to him that it be done the right way and the responsible way," said Lyndon Olson Jr. "He knew if it wasn't done the right way, it would have negative consequences."
Lyndon Olson Jr. said his father practiced law for 55 years and had active cases when he died. He said the heart attack surprised family members because his father was believed to be in good health.
A World War II veteran who was born in Waco, Olson served as president of the Waco Independent School District board during integration and was once president of the city's chamber of commerce.
He was the son of a Swedish immigrant and earned his law degree from Baylor University. Lyndon Olson Jr. said his father taught Sunday School for more than 50 years and enjoyed spending time on his ranch when not working.
"If every lawyer conducted themselves like him, there would be no acrimony," said Austin lawyer Broadus Spivey, former president of the State Bar of Texas. "He was a powerful lawyer. Juries and judges responded to everything he said. When he spoke, he was like the voice of God."
Along with Lyndon Olson Jr., survivors include his other son, Charles, and his wife, Mary Frances Olson.
Lyndon Olson Jr. said services will be Friday in Waco. The location has not been determined.
Lyndon Olson, Sr.
Associated Press
Obituaries in the News
December 20, 2005
WACO, Texas (AP) - Lyndon Olson Sr., a lawyer who successfully argued a case in 1968 before the Supreme Court that extended the principle of "one man, one vote" to local governments, died Tuesday. He was 80.
His son, Lyndon Olson Jr., said his father died of a heart attack at home.
Remembered for his gentility and even temper, Olson appeared before the Supreme Court in Avery vs. Midland County. The high court decided that the makeup of local governments must reflect the population within them, just as the court had previously required of congressional and state districts.
Olson and his brother, Bill, represented then-Midland Mayor Hank Avery, whose city had the majority of Midland County residents but was represented by one of four county commissioners. The other three represented rural oilmen and ranchers.
A World War II veteran born in Waco, Olson was president of the Waco Independent School District board during integration and was once president of the city's chamber of commerce.
Waco Tribune-Herald - Lyndon Olson Sr.'s impact felt in Waco and beyond (article no longer exists)
Waco Tribune-Herald - Editorial: Olson, we'll miss you (article no longer exists)
Waco Tribune-Herald - BULLETIN: Funeral services changed for Lyndon Olson Sr. (article no longer exists)
KWTX-TV Channel 10 Waco/Tempe/Killeen - Services Scheduled For Prominent Central Texas Attorney
KWTX-TV Channel 10 Waco/Tempe/Killeen - Olson Services Moved
---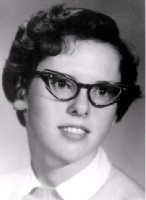 Marilyn Tregellas, our loving mother, grandmother, sister, daughter and friend, passed away Friday, May 19, 2006 at her home. Marilyn was born on July 24, 1945 in Santa Monica, Calif. to David Lee Olson and Betty Jean Moulder. Marilyn enjoyed and looked forward to going to work each day and loved everyone she worked with. She took great pride in her job and loved the customers she dealt with each day. Marilyn enjoyed watching movies, playing solitaire and spending time with her family. Her greatest joy came from spending time with her grandchildren having tea parties and backyard safaris. Marilyn was preceded in death by her first husband Patrick Mattox, her second husband Larry Tregellas, her biological mother Betty Jeanne Moulder and her mother Catherine Olson. Marilyn is survived by her father, David Lee Olson and her two sons, Richard Mattox and his wife Jeri Beavens-Mattox of California, Mark Tregellas and his fiance Jeanie Vernieu of Meridian, ID, her daughter, JanMarie Jobe and her husband James of Eagle, ID, grandchildren; Britnae, Sean, Ashleigh, and Zachary Tregellas of Meridian, Andrew and Hailee Jobe of Eagle, two sisters, Dorothy Weldon of Spokane, Wash. and Mary Olson-Boyd of Mont., niece, Tara Weldon and nephew, Ryan Weldon, both of Spokane, Wash. and nephew, Brandon Olson of N.Y. We will miss you greatly, but you will be with us in our hearts and in our memories. A Memorial Service will be held at 10 a.m. on Thursday, May 25, 2006 at Accent Funeral Home, 1303 N. Main Street, Meridian. 888-5833.
Published in the Idaho Statesman from 5/23/2006 - 5/24/2006.
Idaho Statesman - Obituaries - Marilyn Tregellas
---
FLORENCE CHRISTINA OLSON WALLACE COOPER
Charlie Olson Branch
March 15, 1910 - June 2, 2005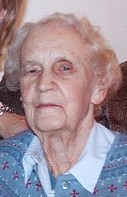 Enduring pioneer, dutiful daughter, caring sister, outstanding student, excellent musician (piano, organ and choir), conscientious school teacher, willing and able community participant, loving wife (twice: Harvey Wallace, 1935-1963) and Gordon Cooper, 1972-1999), efficient housekeeper, wonderful mother, doting grandmother, proud great-grandmother, avid reader, friendly bridge player, loyal friend, generous supporter.
Much missed and always remembered.
---
CHARLIE OLSON BRANCH UPDATE
by Carol Tulk (West Vancouver, British Columbia)
On June 2, 2005, Florence Christina (Olson) Wallace/Cooper passed away in Nanaimo at the age of 95. Charlie and Hilma Olson's eldest daughter, she had been Blixt and Kristina's eldest grandchild. We all mourn her passing.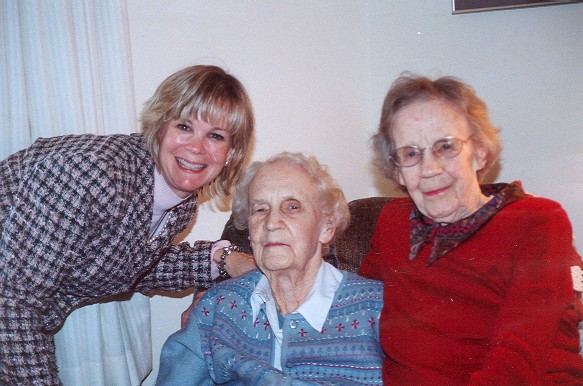 Florence (Olson) Cooper with her granddaughter Sarah Swanson (left) and her sister Mabel (Olson) Cliffe (right) on the occasion of her 95th birthday on March 15, 2005.
In spite of her loss, mid-summer 2006 has seen the Charlie (Karl Olaf) Olson branch of the family grow to 19 persons (including spouses) over four generations, from the second to the fifth.
Mabel (Olson) Cliffe, the only surviving second generation member of our branch, celebrated the age of 90 on April 3, 2006. In 2005, she sold her beautiful Gabriola Island retreat and moved into an assisted living apartment at Berwick-on-the-Lake in Nanaimo.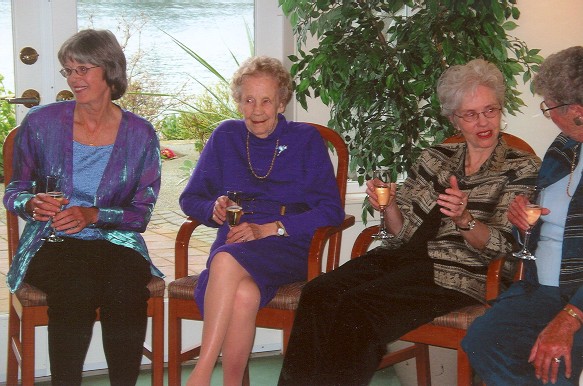 Mabel (Olson) Cliffe celebrated her 90th birthday with her daughter Mary Bentley (left) and Karen Cliffe (right) and friends.
Almost all the third generation members of the clan are now enjoying retirement. Karen Cliffe, Mabel's daughter in San Francisco, retired in January 2006. She has kept active since with a few private clients, house renovations and neighbourhood advocacy. Karen's sister Mary (Cliffe) Bentley and her husband Ted bought a property at Pender Harbour on British Columbia's Sunshine Coast when Ted retired from the Capilano College mathematics department in 2005. Ted is still teaching part-time at the college and Mary is very much involved in the weaving community worldwide. Their major avocation, however, has been the remodeling of their new home with its "million dollar view." Stephen Wallace, son of Florence, has retired and is living abroad. His wife Geraldine remains hard at work, being the director of e-learning and strategy for City and Guilds. Steve's sister Carol and her husband Bob Tulk are enjoying an active retirement splitting their time between Arizona (winter) and West Vancouver, BC, home renovations, travel, and their four wonderful grandchildren.
The fourth generation are all hard at it. Krista Bentley, Mary and Ted's daughter, is now marketing director for Fairmont Orchid Hotel on the big island of Hawaii. On July 29, 2006, she married Greg Kreger, originally from Chicago. Her brother, Jon, a jazz musician, is making a name for himself playing the saxophone and bass in multi-gigs and groups as well as giving lessons. His latest CD received excellent critical reviews. His partner, Miranda, plays the flute in ensembles and gives lessons. Sarah Swanson, Carol and Bob's daughter, is project/purchasing manager for the local operation of DW Ports. Sarah was divorced in 2005. Her brother Philip Tulk and his wife Joanne Lee-Young moved back to Vancouver after 12 years in Honk Kong in 2004. Phil is a research analyst for P I Securities in Vancouver while Joanne writes for the Vancouver Sun business section.
Cameron (11) and Christina (8) Swanson, Frances (3) and Pippa (1) Tulk make up the fifth generation. Cameron who headed to middle school (Gr. 6) in the fall of 2006, enjoys painting, playing basketball and soccer, and watching hockey. Sister Christina, who loves to read, sing, dance and play the piano, is a natural born "drama queen." Is this a family trait? Frances and Pippa keep us tuned into the ever-expanding world of toddlers and babies. What a joy these four are!
---
NYLANDER FAMILY
Anna Olson-Nylander Branch
by Janice Jones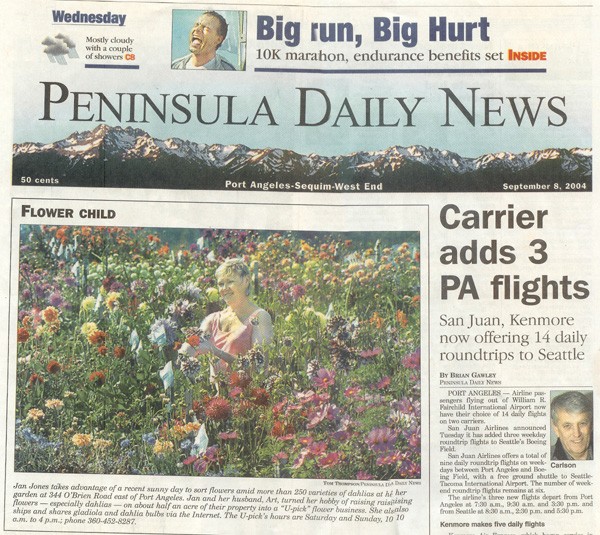 Janice Marie Nylander Jones
The kiss of the sun for pardon,
The song of the birds for mirth,
One is nearer God's heart in a garden
Than anywhere else on earth.
My grandmother was Anna Olson-Nylander. I am Janice Marie Nylander (now Jones).
My husband, Arthur Jones, and I have both lived in Port Angeles for the last 30 years. We have had the good fortune to be able to do a bit of traveling since we married 15 years ago. In February of 2006 we retraced the footsteps of his ancestor, Hiram Bingham, who in 1911 discovered the Lost City of the Incas -- Machu Picchu in Peru -- Awesome!! We also spent time in Rio de Janeiro in Brazil and Quito in Ecuador. We traveled to San Cristobal in the Galapagos Islands and traveled the steps of Darwin. We were on a small cruise boat and cruised the islands for four days and three nights walking where Darwin walked. We swam in Darwin's Bay with huge sea lions, saw the huge turtles, marine iguanas, and lots of boobies (birds). The trip was an incredible experience!
We've also spent time in New Orleans (before Katrina), traveled to Cancun, Cozumel, Mazatlan, and Cabo San Lucas, Mexico just to name a few. A few years ago we traveled to Australia for 20 days and New Zealand for 10 days. Another incredible experience.
Art continues to work for Federal Fire Safety installing and maintaining electronic fire and intercom systems. I, on the hand, have retired (a year ago) and now draw Social Security. I continue to work with my dahlia and vegetable garden. Jan's Country Garden is where I spend most of my time now. The garden has about 300 varieties of dahlias. I have a flower stand at the side of the road that I place bouquets in each day because I was asked by passersby to "please share your dahlias." I never expected to be doing this but it's fun, keeps me fit and healthy. I sell my vegetables to the Moon Palace Chinese Restaurant during the summer months. We lead a simple life.
---
My daughters, Deborah (Debbie) and Darlene, have become professionals in the scrapbooking industry in the past couple of years. Below is the Nylander-Olson Family Tree created by Debbie, and published in a "hardcopy" magazine and sold on the bookstands around the world.
Both girls are considered "digital divas" in the scrapbooking world. They have both been published more times than I know about. Darlene and Debbie have recently released through ClubScrap.com a software program for digital scrapbooking. It's very clever.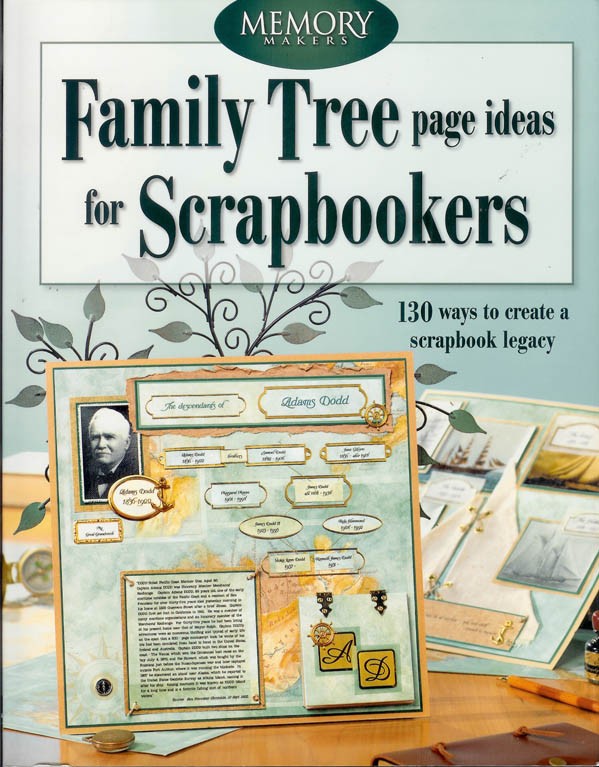 Front cover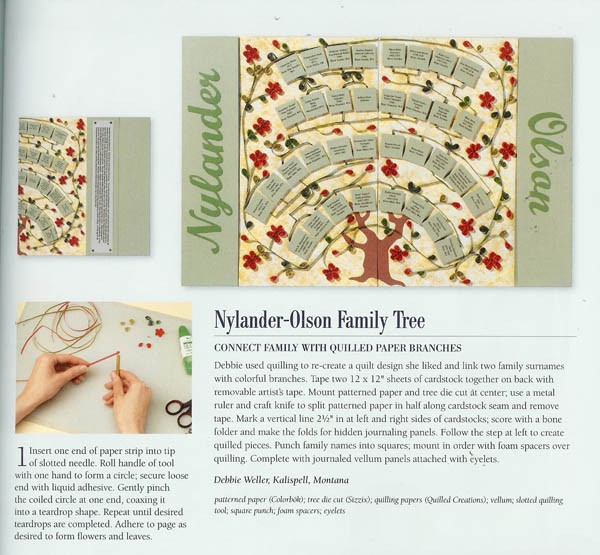 Inside contains Nylander-Olson Family Tree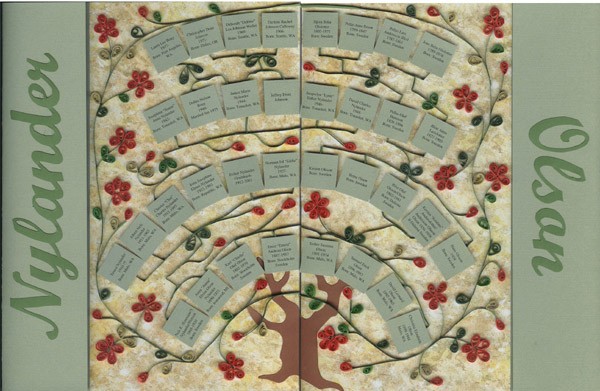 Close-up of Nylander-Olson family tree

Back cover
Memory Makers Magazines Online Store - Family Tree Page Ideas for Scrapbookers - $19.99
Amazon.com - Memory Makers: Family Tree Page Ideas for Scrapbookers - $12.99
---
SECOND GENERATION: ESTHER OLSON BRISSENDEN FAMILY PHOTOS
by Constance Brissenden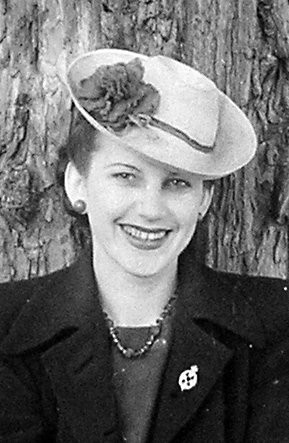 Margaret Brissenden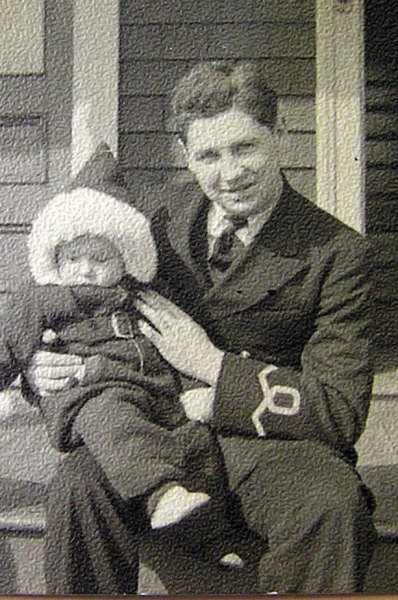 Barry Brissenden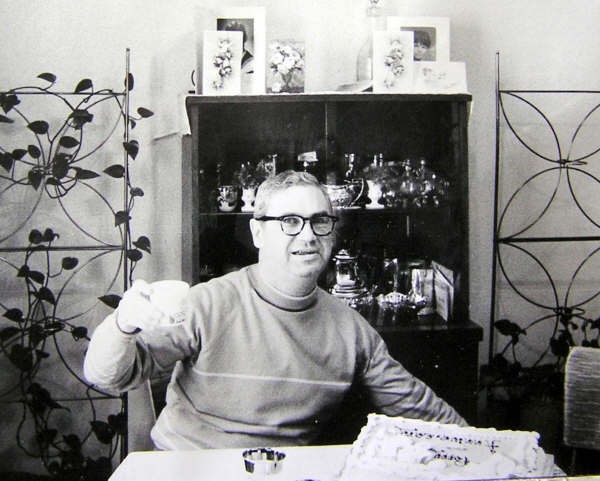 Barry Brissenden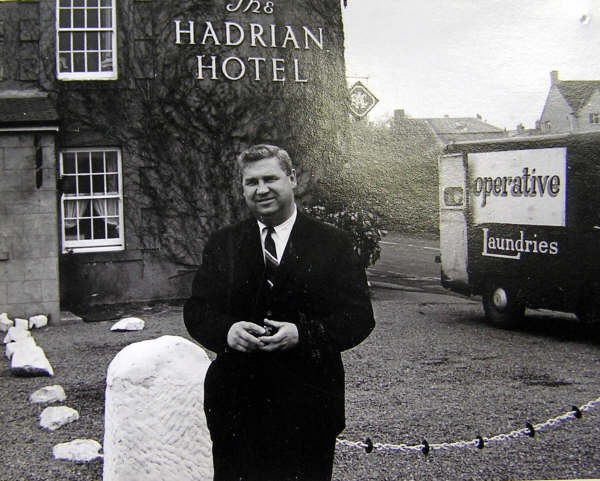 Barry Brissenden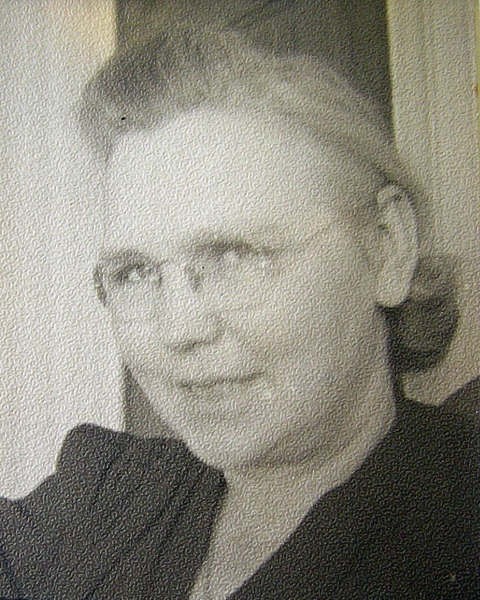 An undated photo of Esther Olson from the collection of Julie and Joel Mercer. Julie (granddaughter of Esther Olson) and Joel saved many photos from ruin after their basement flooded in 2006. The photos were carefully dried out and then Joel rephotographed them with his digital camera. This is one of them.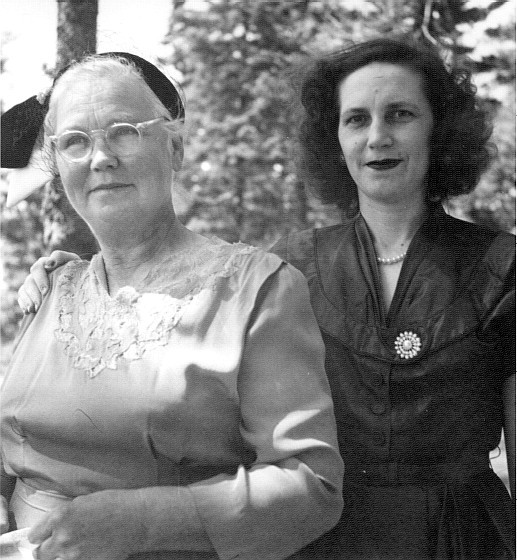 Esther Olson Brissenden and daughter-in-law Margaret Brissenden (wife of Barry S. Brissenden) at the Brissenden farm near Ottawa, Ontario, circa 1950.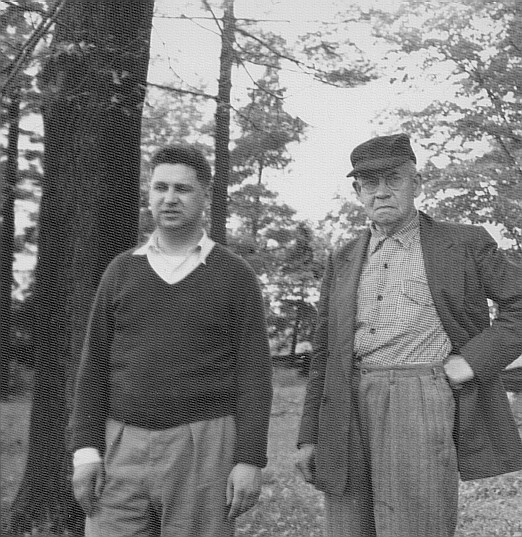 Barry S. Brissenden, with his father William E. Brissenden (husband of Esther Olson Brissenden) at the Brissenden farm circa 1950.
Article by Constance Brissenden
Barry and Margaret Brissenden
These youthful photos of Barry and Margaret are a delight.
My dad Barry Samuel Brissenden (son of Esther) and mom Margaret Brissenden met when she was 25 and he was 26 in England during the Second World War years.
Dad was an officer with the Royal Canadian Navy and mom was a young Hungarian woman who had moved from Pest, Hungary, to London a few years before.
She met dad in a ticket lineup for an all-services entertainment show.
She told me that wanted to go to the show with her sister Elizabeth and her husband Frank but only people in the service could get tickets.
Mom walked up to dad who she thought was the cutest fellow there and asked him if he could please get her a ticket.
He said, "I'll go but only if you go with me."
She did and six weeks later, they were married!
Margaret was a war bride and arrived by ship after the war to join Dad, Esther, Briss (our grandfather) and assorted brothers and sisters on the farm Briss owned near Ottawa, Ontario.
From that point onward, another story begins!
---
JANICE AND SISTERS
by Janice (Nylander) Jones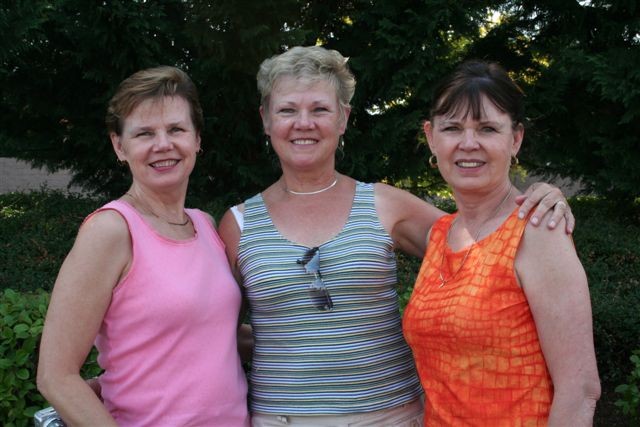 Three Nylander sisters: from left to right youngest is Jacquelyn (lyn), middle is Janice (Jan) and oldest is Josephine (Joanne).
Taken early in September 2006, in Vancouver, WA, where Lynn and Joanne live.
Joanne and Jan are both retired drawing Soc. Sec. How nice that is!
---
ERIC HONORÉ MERCER
by Griff & Audrey Mercer
Eric Honoré Mercer, son of Griff Mercer and wife Audrey Letouzé



Thrilled new parents Audrey Letouze and husband Griff Mercer (great-grandson of Esther Olson)


Four generations of Esther Olson Brissenden family: Griff Mercer, baby Eric, Margaret Brissenden (wife of Barry S. Brissenden), Julie (Brissenden) Mercer (granddaughter of Esther Olson)
Griff Mercer and wife Audrey Letouzé are physiotherapists at Canada's largest hospital in Toronto, Ontario. They met at university in Ottawa, Ontario, and have been married for five years. Griff Mercer works in a multi-disciplinary setting treating injured workers dealing with chronic pain. Audrey Letouze is presently taking a break from providing treatment to people after they have had brain surgery.
Of course, taking care of our firstborn Eric is "more challenging, more tiring and much more rewarding."
Eric Honoré Mercer was born on July 28, 2006. Eric's middle name was Audrey's grandfather's and is a traditional French-Canadian name.
As the months pass, Eric is getting to know us and the world better and as a result is becoming happier. His spontaneous big smiles warm our hearts!
---
ERIC HELMER FAMILY
by Eric Helmer
Eric Helmer family: Grandson of Irma, and Chester Nylander, and his family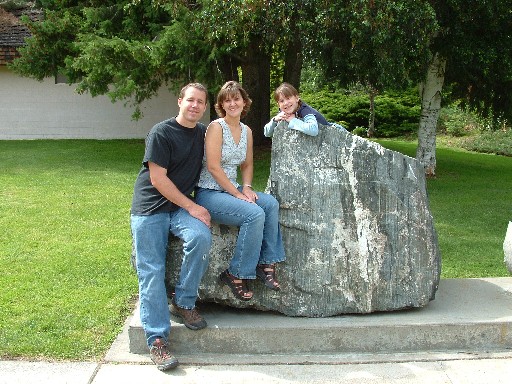 Eric, Lisa, and Nikki Helmer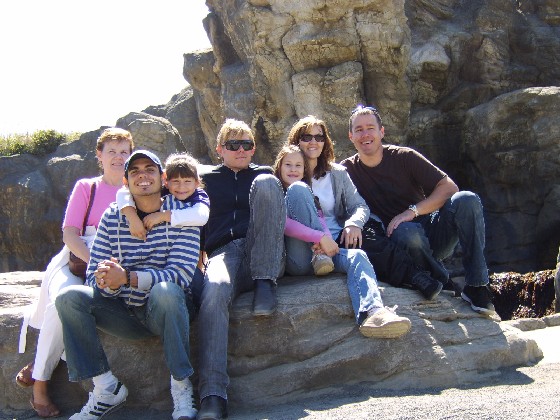 Helmer family trip to Newport: Lyn, Marchello, Katie (our niece) Frank, Nikki, Lisa, and Eric Helmer
---
SAM OLSON BRANCH PHOTO ALBUM
by Don Olson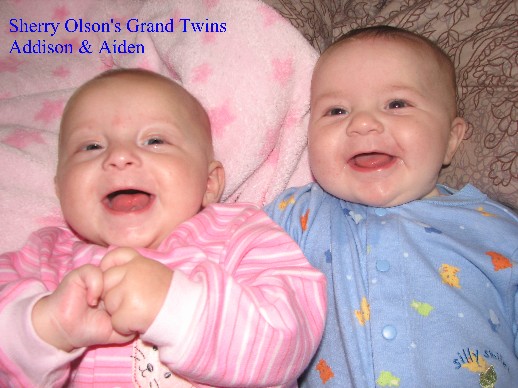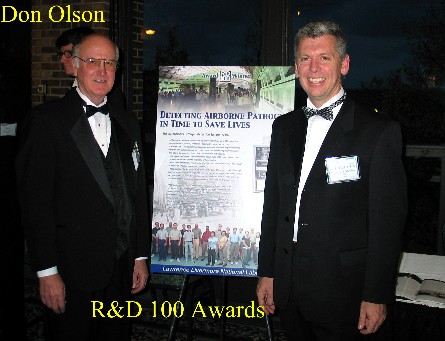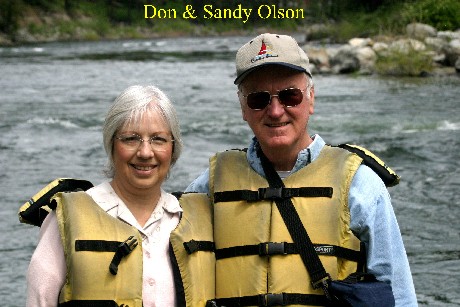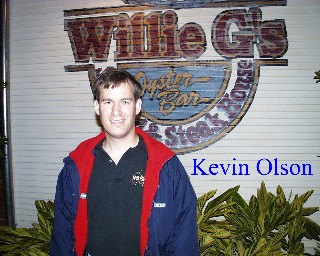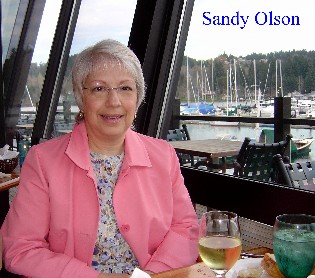 ---
DON OLSON
by Janice (Nylander) Jones
My grandmother was Anna Olson-Nylander. I am Janice Nylander (now Jones).
I'd like to tell you that perhaps the most instrumental and helpful person that has had a life-long impact on my family of four children is Don Olson. He helped my family when we encountered family difficulties many years ago. When computers were the rage, he gave my children and I an Apple IIe computer. (Darlene was 14 at the time.) With the aid of the computer at home my kids excelled in school. We are grateful for his help.
Today, my oldest daughter, Darlene (now 40) has a PhD along with several other degrees. She was teaching business management at Florida Atlantic University in Boca Raton, FL. until giving birth to her daughter, Kalena, age 3. We just learned that Darlene is expecting another baby during the first part of next year. Darlene and her husband, Mike, and Kalena live in Tequesta, FL.
My next daughter, Debbie, went to college at Eastern Washington University. She has worked for Bonneville Power Administration in Information Systems since she graduated with her degree in MIS. Debbie is now married and has two wonderful boys, AJ (5) and Wyatt (3). She and her husband, Kris, and boys live in Kalispell, MT.
My son, Christopher, went to college at Montana State University graduating with a degree in Aerospace Engineering. He now works for an aerospace engineering firm in Bellevue. He works from home 3 weeks and goes to the office for one week each month. Since Chris, his wife Lisa, and their son, Justin (3) and daughter Mandi (1) live in Spokane on Nine Mile Lake, this is pretty wonderful for them.
My youngest daughter, Laura (29) and her daughter, Ella Marie (2), live next door to my husband and I. She works as a cosmetologist in Port Angeles. We feel very fortunate to have them here. They are a big help to us and bring sunshine into our lives every day.
Thank you Don for your generosity and caring.
---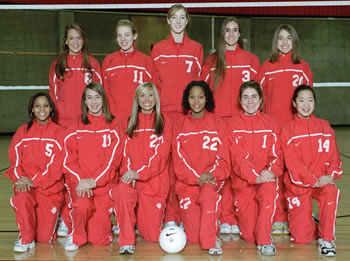 Leanna Ludes #20
Leanna Ludes, 5'9", of Skyview HS in Vancouver, WA, as the team setter lead her club volleyball team to 1st place (out of 216 teams) in the U16 Division at the Volleyball Festival in Reno, Nevada!
The final match was played at University of Nevada-Reno Lawlor Events Center against City Beach of Santa Clara, CA, at 4:00 pm, on Thursday, 6/29. In this double elimination tournament, Nike NW Jrs. went undefeated throughout this 5 day tournament. When matched up against City Beach, Nike lost game 1, won game 2 which forced a game 3. Nike lost game 3 15-10 but wasn't about to give up in the final playoff game. Nike and City Beach went in to the playoff and easily handled City Beach with a win of 25-19!
This is Leanna's second year playing for Nike NW Juniors Volleyball Club located in Gresham, Oregon. This was the first Festival championship win for the Nike NW Jrs. club in 23 years of participation. The team consists of high performance players from throughout the Portland Metro/SW Washington area.
The Volleyball Festival is the largest female athletic event in the world drawing nearly 10,000 athletes nationally and internationally along with coaches, referees, and fans for close to 1000 teams.
Leanna and her family have traveled to tournaments throughout the US including the Junior Olympic Open Qualifiers in Denver; Fiesta Classic in Tempe, AZ; Emerald City Classic at UW in Seattle; and the NW Yakima Jamboree. Leanna's team also took 1st place (out of 87) in the local Columbia Empire Volleyball Association (CEVA) region.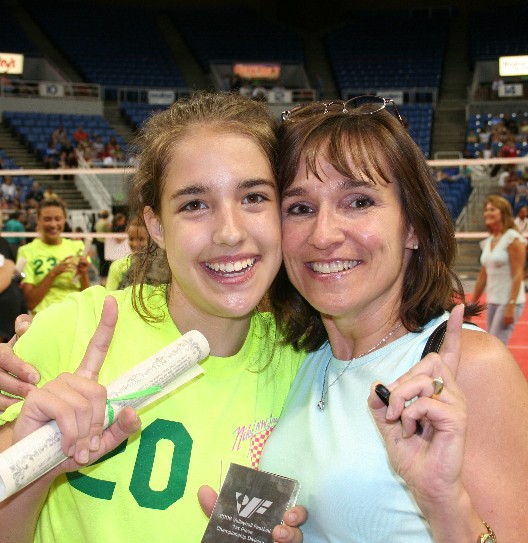 Leanna Ludes and Lorri Ratliffi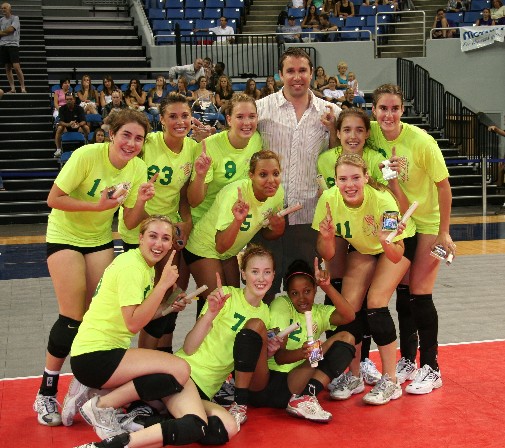 Counter-clockwise starting at top right: Rachel Femling (3), Leanna Ludes (20), Coach Michael Seemann, Britani Hathorn (5), Aimee Frutchey (8), Kyra Speer (23), Claire Scott (1), Leslie Young (10), Kim Hill (7), Bethani Hathorn (12), and Grace Haessler (11)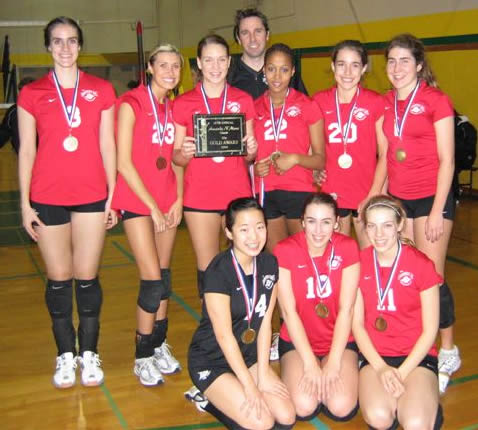 Volleyball team in Longview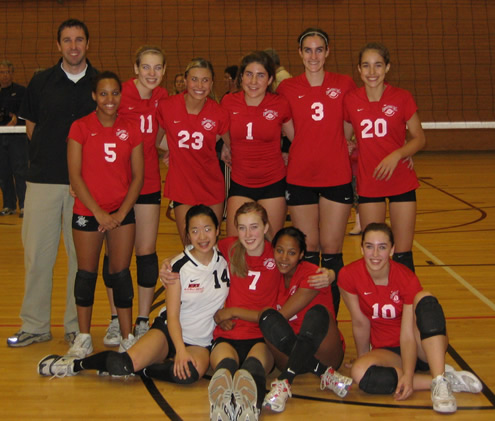 Volleyball team in Arizona
The team/club's website is: http://www.nike-nw-jrs.com/16AE.htm
Additional information about the Volleyball Festival can be found at: http://www.volleyball-festival.com/
---
THE IMPORTANCE OF FAMILY TRADITIONS
by Sherry Olson (Samuel Olson branch)
A theme I thought would be interesting is family traditions. The Olsons have documented the history of the first generation of Olsons and coming to the US.
It would be great to hear from the second generation, what is left of my father's generation, along with spouses (non blood kin).
There are only a few (older) family members left. I think it would be a great way to interest the younger Olsons and bring contemporary relevance to each family branch.
Editor's note: Let's support Sherry's idea -- please send along some feedback by way of your own family traditions.
---
SAM OLSON
"The Genius of Malo Park"
by Joe Olson, Anita Cook and Don Olson
For our readers who are too young to remember the "good ole days," the title of this article is a play on words used by Ernest Olson to nickname his brother, Sam Olson. The first generation of Olsons, i.e. the children of Blixt and Kristina, had a penchant for nicknaming everyone. Ernest's nickname for Sam was a play on a title, the Genius of Menlo Park, bestowed upon Thomas Edison, a popularized American electrical inventor of the early 1900's. As our story progresses, we hope that you will see the reason that Uncle Ernest (Texas Branch) used the nickname.
Sam Olson was a warm, likeable and somewhat stubborn individual. Almost everyone loved him, but he could be frustrating at times. Everyone in the generation following Sam referred to him as "Uncle Sam." Even his children used the name at times. He had a creative mind and often came up with ideas on how to improve life that many called "Sam's crazy ideas." Perhaps he was just ahead of his time. Our story is our best example of one of his craziest ideas.
First, a little history. Sam was born on April 29, 1896 to Blixt and Kristina Olson in Ironwood, Michigan. He was the next to the youngest in the family. He had a twin sister, Ruth, who died because of unsanitary conditions which were common in handling and storing milk at the time. Kristina only had enough milk to nurse one child. That was Sam since he was a boy. Ruth was "bottle fed" with a system conducive to bacterial growth. Consequently, she became ill and died while a baby, as did a set of twins who were born two years earlier. Sam, however, survived and prospered on his mother's milk.
In 1901, Kristina bundled her family of seven children onto a Great Northern Railroad train to move to Malo, WA. Blixt had preceded her a year earlier to establish a family homestead near the source of the south fork of St. Peters Creek in a location three miles east of what is now known as the Malo store. She traveled over 1,600 miles by train on a route taking them from Ironwood to Minneapolis, then across Minnesota, the Dakotas, Montana and Idaho, and finally north to Grand Forks, British Columbia, Canada where the railroad line terminated at that time. There Blixt met Kristina with a wagon borrowed from a neighbor and transported them on a 20 mile trip taking two days to reach the family homestead. Sam was five years old. What an adventure for a five-year-old boy!
The next 15 years were spent on the family homestead with intermittent stays in the winter at Phoenix, B.C., Canada where Blixt worked in the copper mine when not farming. Sam's life was absorbed in roaming, hunting and trapping on St. Peters Mountain when not helping with the farm work. (St. Peters Mountain is now called Mt. Leona.) School started at age six in a one-room school one mile southeast of Malo, a distance of three miles from the homestead. One year later, a log cabin schoolhouse was built on the north fork of St. Peters Creek only one mile from the homestead. Sam spent the remaining three years of his educational career at that school.
| | |
| --- | --- |
| After the United States entered World War I, Sam was drafted into the U.S. Army at age 21. He received basic training at Fort Lewis, Washington and then was transferred to Camp Kearny, California where he contracted spinal meningitis and was critically ill for an extended time. Although he survived, he was left totally deaf for the rest of his life. Thereafter, he communicated with others with a "paper scratch pad" and pencil, or occasionally by lip reading. For Sam, a stoic who never complained, it was a minor disability, although the U. S. Veterans Administration classified him as totally disabled. | |
Following his discharge from the Army, he was sent to the University of California, Davis for training in dairy laboratory work. Subsequently, he worked at dairy testing until he tired of California life and returned home to the family homestead in 1920.
| | |
| --- | --- |
| | Shortly thereafter, Sam met Emma Dahlgren. They married on Friday, August 13, 1925. In November, 1925, Sam discovered that a neighbor, H. M. Scovell, who lived on the north fork of St. Peters Creek, planned to leave his claim and return to Minnesota. Sam, in scouting the adjacent mountains, discovered that the Scovell claim had an excellent stand of timber so he approached his brother-in-law and neighbor, Henry Dahlgren, to join in purchasing the standing timber .Henry would log it with both making a tidy profit. Scovell agreed to sell the 320 acres of standing timber for $1,000 with the condition that it be removed by January 1, 1928. At the last minute, Henry backed out of the deal, agreeing to log the timber, but not to participate in the purchase. Sam then convinced his brother, David, to join him in the venture. Sam and David made a nice profit from the purchase since there was a strong demand for railroad ties at the time and the timber was well-suited for that market. |
| | |
| --- | --- |
| Several months after Sam and Emma had married, they moved to a remote location on Lake Chelan, Washington. After their first child, Miriam, was born in 1926, they moved back to the family homestead to live with Blixt and Kristina. This arrangement proved unsatisfactory, so at Emma's insistence, Sam began looking for a farm of their own. He soon found that the Anderson brothers were willing to sell their homestead located on the north fork of St. Peters Creek, about 2 miles over a mountain ridge from Blixt and Kristina's homestead - just the right distance for Emma. So in the spring of 1927, Sam and Emma bought the Anderson homestead and moved. Their new home was 160 acres, part hillside fields and the rest a large flat covered with pine stumps remaining from a logging operation. The flat was an excellent potential field for raising hay, except that the soil was somewhat gravelly and would not support a crop without irrigation. Thus, Sam faced a dilemma in developing his new domain. | |
Their new home had no domestic water. The only source was the north fork of St. Peters Creek one third of a mile away and 300 feet lower in elevation from their house. Water was hauled in wooden barrels on a "stone boat" drawn by a team of horses from the creek to the house. This was the sole source for cooking, washing, bathing, drinking and watering the livestock. Sam viewed it as a challenge. Emma viewed it as a disaster since she had to do all the housework, cook for hired help and care for two children in diapers with no running water.
| | |
| --- | --- |
| | Sam recognized the problem so he began to search for solutions. He had developed a small herd of beef cattle, which he pastured during the summer on the southwest slope of St. Peters Mountain. One hot summer day in 1930, while riding the range checking his cattle, both Sam and his favorite horse, Dan, became extremely thirsty. Suddenly, Dan "took his head" and moved in the opposite direction from Sam's goal. After battling with the horse for several minutes, Sam finally decided to let him go and find out what was so important. Experienced horsemen learn that if a well-trained horse insists on a direction, you'd better follow his lead. Much to Sam's surprise, Dan soon came to a hillside with water gushing out of a three-foot diameter hole in the mountainside. Dan had smelled water and was going for it! In all the years that Sam had roamed the mountain, even after he had surveyed the timber on the land and Henry had logged it, no one had discovered the fabulous spring. Water poured out of the mountainside, ran for a few hundred feet, then disappeared back into the ground. |
| | |
| --- | --- |
| Sam and Dan quenched their thirst with the cold, clear water before heading for home about one mile away down the mountainside. On the way Sam pondered, "If only I could get that water down to our fields and barn." He decided to tell no one, except Emma, and pledged Dan to secrecy! But then, Dan didn't talk much anyway so he knew he was safe. | |
The next day, Sam headed for the County Recorder at Republic, WA.. In researching the current ownership of the Scovell land, he discovered that after moving to Minnesota, Scovell had failed to pay the property taxes and abandoned the property. Consequently, the County had seized the land for unpaid property taxes and had scheduled it for sale. Sam was the only bidder and purchased the property for back taxes in 1931, the start of our American "Great Depression."
Thereafter, the spring was known as "Scovell's Spring."
Then Sam began to plan. How can I get that water down to my farm? Elevation maps indicated that the spring was at approximately 3,650 feet. The St. Peters Creek ravine was at a lowest elevation of 2,950 feet. The flat where their house was located was approximately 3,200 feet elevation. And the distance from the spring to their house was about 6,100 feet by surface measurement. That would require a 6,500 foot pipeline dropping 700 feet from the spring into the ravine, then up the opposite side 250 feet. Could he build such a pipeline and would it hold the high pressure generated by a 700 ft. column of water?
Sam discussed it with everyone he knew, read everything he could find, and concluded that he could do it. By this time, word had spread throughout the area about Sam Olson's crazy idea. All his neighbors, even a visiting engineer at a neighbor's home, assured Sam that he was out of his mind. No pipe would withstand the pressure from that elevation drop. Sam sifted through all the information and advice, and true to the stubborn genes he had inherited from his mother, he decided, "Damn the advice, I'm going for it!"
So, after summer haying in 1932, he began surveying the route, calculating the needed materials and exploring the cost. Anyone related to, or acquainted with the Olson family, understands that descendants of Blixt and Kristina do not waste money. Sam precisely calculated that he needed a two inch pipeline, various fittings, one inch pipe and tools. He decided he needed 6,562 feet of two inch pipe, with some "black" treated and some galvanized. The best prices he found were with Alaska Junk Company in Portland, OR. They had a branch in Spokane, WA. So, Alaska Junk Company got Sam's business. Appended is a copy of their quotation letter. Sam made several trips to Spokane with a truck and hauled the pipe and materials back to the ranch.
The next year, after spring planting, Sam hired a neighbor Bob Sparks, his son Tom, and Sam's nephew Lee (David Lee Olson) to start digging. Bob and Tom were paid cash wages. Young Lee received room, board, training and advice. Work necessarily revolved around the farming. Springtime involved crop planting, followed by a break for other work, such as digging a thirty inch deep ditch for the pipeline. Mid-summer was haying season. A short interim allowed more ditch digging. Then grain harvest began. Later in the fall, the men returned to ditch digging. Meanwhile, Sam worked on constructing a timbered water collector at the spring site from which water would be partially diverted to the pipeline. Because of the severe weather at that elevation, all work ceased during the winter.
Over a year later, the main pipeline was complete with a main control valve at the spring and the bottom of the St. Peters Creek ravine. The water pressure was so great (180 psi at the barn) that he realized the water could never be turned off at the terminating end. Therefore, it was left running continuously at the end of the pipeline next to the barn.
Sam then began to plan the uses for the water. First in priority was water for the livestock so a line and valve was installed at the watering trough by the barn. Second in importance was irrigating the fields for crops. Then, he thought, "Why can't I generate electricity with all that water pressure and volume? I could have lights in the barn to make the winter chores easier." He had done some reading on electricity and realized the potential. At that time, lighting in the barn was achieved with a kerosene ("coal oil") lantern, while the house lighting was "coal oil" lamps. So, after further research, he ordered an electric generator.
Then Sam sat down with Emma to discuss the plans. After listening patiently, Emma's heart dropped. "What about the house?" she thought. But, she understood Sam's thought processes after 7 years of marriage, and his Olson stubbornness. She wrote to Sam on his pad, "You know, it would be a great help to Joe and Miriam to have electric lights for doing their school homework. Since it gets dark so early in the winter and is so hard to read with these coal oil lamps, it makes it difficult for them to learn." Sam valued education so he said, "Maybe. I'll think about it." Then Emma ventured, "You know Sam, you haven't planned for water in the house." "Of course not," Sam replied. "You and the kids can carry the water from the watering trough to the house. That's only 400 feet. It will keep the kids from getting lazy." Emma replied, "You may be right, but you know how hard it is for you to take a bath in the wash tub at your size. It might be nice to have water in the house and a bath tub." (Sam was over 6 feet in height and weighed 230 pounds.) "And then, think about the outhouse in the winter. It gets 30 degrees below at times and I have heard you mention that your bare skin sticks to the boards when you have to go in the coldest weather." Sam thought, "Maybe she has a point." But his answer was, "Maybe. I'll have to think about that." The "outhouse," where the family performed their toilet functions and put expired Sears catalogs to use, was a wooden shed with two holes cut in a board and a pit below for waste collection. It was 300 feet east of the house in the adjacent field to avoid the odors at the house during the summer.
Two days later, Sam burst into the kitchen exclaiming, "Emma, I have a great idea. Let's put electricity and running water in the house so we can have lights, running water, a bathtub and indoor toilet!" Emma smiled in agreement and nodded her head. Then she went to the bedroom, fell to her knees and thanked God.
By the fall of 1935, work was completed. Water had been piped to the fields with various heads for sprinkling, water lines had been run to the barnyard water trough and house, the house had been plumbed with hot and cold water, an upstairs bathroom tub, sink and toilet, and downstairs with a kitchen sink. The electric generator was running with electric lights in the barn, house and a yard light between the barn and house. A water tank had been connected to the kitchen wood stove and plumbing to provide hot water. A septic tank had been installed with a waste water line extended to a gully 500 feet from the house. To everyone's surprise, except Sam's, everything worked!
When water was first turned on in the house, Emma wept. Her family gathered around her and wondered why. This was the first "rural electrification" in that part of Ferry County. Neighbors came to the Olson house just to see the electric lights. It was the 1950s before the Federal REA program brought electricity to the farms in the area.
The following summer the "Texas Olson's" visited Malo - Uncle Ernest, Aunt Beth and their three boys, Fuller, Bill and Lyndon. Sam invited them up to his farm and proudly displayed his water and electricity achievement. After viewing the project, Ernest enthusiastically patted Sam on his back and wrote on his scratch pad, "Sam, I dub thee the Genius of Malo Park!"
That water line still exists and is in use to this day, including for irrigation (August, 2006). The electric generator has been replaced by service from the Ferry County REA.
Documents:
Economic Analysis Commentary by Collin (Olson) Starkweather:
According to the Federal Reserve Bank of Minneapolis' Price Index Calculator, the cost of the materials for Sam's pipe would be $14,689.38 in today's dollars (based on a completion date of 1935). Add the cost of labor, the generator, the septic system, etc. and it would be a hefty sum, particularly for an income stream based on a single-family farm. Given the possibility that it might not work at all, and you could count Sam not only as a genius, but as a real risk taker. Also, in today's prices, the cost of the Scovell timber purchase (based on the contract for $1,000) would be $14,781.02.
---
LETTER TO SAM AND EMMA OLSON
by Margaret Brissenden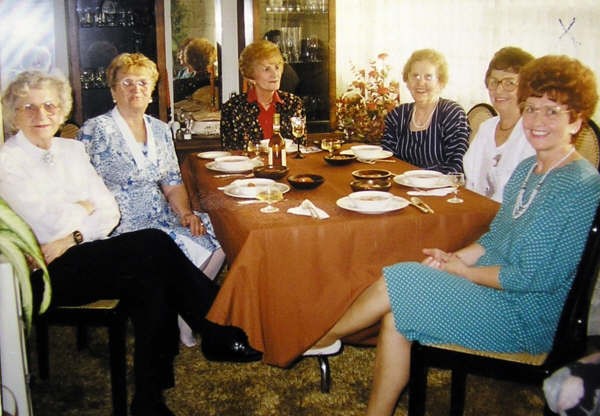 Margaret Brissenden (left) around 1975 with her Hungarian sisters
Excerpts from a warm and chatty letter to Sam and Emma Olson from Margaret Brissenden (wife of Barry Samuel Brissenden, son of Esther Olson Brissenden) from Halifax, Nova Scotia - submitted by daughter Constance Brissenden
Jan 8, 1975
Happy New Year!
Dear Aunt Emma + Uncle Sam
Today is the day I'm writing to you. So this morning a lady calls up and asks me how would I like to drive her and 2 cats to the vet for a checkup and I said no way I have other things to do. My car is in the garage, the driveway is all icy I don't feel like sliding back + forth. Besides it's such a windy day, I have all the drapes drawn as you can actually feel the wind coming in. In fact this morning I spent a good bit of my time taping up 2 doors. We have four doors on this house very drafty and 2 we don't need to use in winter.
First I am going to thank you for the nice letter you sent me and the lovely present. You didn't need to do this. I just wanted you to have a little thing from Nova Scotia, something that would last. I knew Barry was writing to you all the time, I am pleased about that as not too many people care enough about their relatives…
…We were just delighted to get all those nice pictures from Miriam. I must say I admire her tremendously as well as for inspiring Mother (Esther) to write her story. Nobody could have done it here. Not that Mother wasn't willing but she needed encouragement and she got that from Miriam. Also doing all the typing, we are useless I can see that now. And we're not likely to improve either. That's why Barry sat and sat during the Christmas holidays reading his mother's story. Dear Mother we here loved her very much and we'll never get over her passing away. She and I were great friends… I think of Barry's mother and I feel very sad, she was so healthy and very bright.
It was a big thing for Barry to go and visit you. He was very pleased he could go to the races…. I don't like to part with my money foolishly but when I go to the races I sneak off and bet, to my deep sorrow I never win. Last year I sat down beside a woman at the trotting races and I was telling her I never win when her husband popped up and talked me into going half with him on a quinella I picked. Well you don't believe it my horses came in 1-2 and I won 18 dollars of which I had to give him half. I was furious! But I looked for him and gave him 10.00 he supposed to put 2.00 on a horse which again lost…
Why I don't write to people is this: since we left our house in Ontario I get mail and mail, I could be writing a letter a day and never get done with it. I have my parents in Hungary, 2 sisters, 2 sisters in Toronto, Barry and his family. I have to write to all our children as phoning is very expensive from here about 50 cents a minute even before 8 am. I have this big house and all my outside activities. Yesterday we curled all day, I've taken it up only last year and I'm a real novice. Still yesterday I made some good shots so I'm pleased with myself. I bowl on Monday nights and I read a lot as I haven't had a chance to read when I had my half day job for 2 ½ years. I am never going to work outside again as then there is no time for anything else. Of course if I could do anything; I hear Miriam has an interesting job but I've never been trained to do anything and I'm not going to do anything I don't want to. While we have our boy [Lawrence, youngest child] here we can't travel without him … that's why Barry goes alone to so many places… Barry is a seasoned traveler going all over the place even at his new job [in Nova Scotia]. He is going to Toronto and Florida next week.
We got your lovely Christmas cards and how surprised I was when Barry opened Miriam's letter and there was the letter Barry sent with the 50 dollars. You noticed it was addressed 60 Helene Ave, Nova Scotia. He forgot to mention Dartmouth. I am going to keep the envelope forever…
I hope you all had a wonderful Christmas. To be sure it isn't winter there [Phoenix, AZ] but be thankful. Last night the wind nearly blew our house down and it hasn't stopped yet. I have never been to Florida or anywhere warm in winter. I can't imagine what it's like even in Arizona, or is it sometimes hotter there than in Florida? The U.S. is a wonderful place, that's why everybody is jealous of it. I certainly would like to take a year off and drive all over the place. When we lived in Boston we met the loveliest people and I never let anyone say a word against the Americans. I am their best friend. I still write to people we met in 1950. God, where did all the years go? And so soon.
Well I must thank you for taking interest in Barry, he certainly has been a very good husband and I'm surprised every day because this is so. He is a much nicer person than I am. It was lovely writing to you and I won't forget you. Thank you for all the nice things you did for Barry. He was telling me of a trip to the orange grove with Chuck last night. What a nice outing!
Love from us all, Margaret.
---
GETTING TO KNOW BLIXT OLOF OLSON
by Don Olson & Diane Brissenden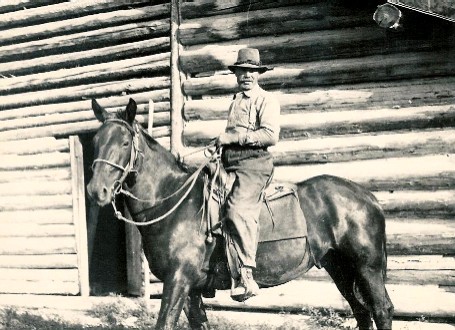 Blixt Olof Olson is the patriarch of the extended Olson family. He now has over 400 descendents. But how many of us know him? Only a handful of older generation Olsons living today knew Blixt. The rest of us have to depend primarily on what is said and what is written about him. But now, from letters written by him to his nephew in Sweden between 1924 and 1941, we can get to know Blixt better from his own words. Some excerpts are captured below. We see a man of strong mind, body and will who was hard-working with a strong measure of optimism, initiative and drive. He was determined and not deterred by the trials and tribulations of life. He was deeply religious, counted his blessings, and found joy in his life even with the hardships he faced. He was humble, but proud of his children and proud of his Swedish heritage. He dearly loved his wife and family, as well as America. He appreciated music and taught himself to play the organ.
Excerpts
March 3, 1924 - Wake up and remember that without a battle no victory will be won.
March 3, 1924 - We are longing for some Swedish gatherings and Swedish preachers. I understand English but it doesn't sound as nice to the soul as our dear mother tongue.
April 28, 1924 - We have a good climate here. The winters are short and not very cold, at the most 25 deg. below zero.
July 10, 1924- The women don't have to help with the mowing in this country.
July 10, 1924 - We have water right in the kitchen from mountain springs. We have put the pipes in ourselves, so we need only turn on a faucet.
May 19, 1927 - We do not like to leave our home here which we have worked so hard on in order to clear the land and get the house built amid stones and stumps.
August 16, 1927- We have been endowed with good health and strength, so we have been able to tend to our work.
June 2, 1928 - I was leader of the Bible class for several years in Ironwood, MI and Vice President and leader of the Sunday School for several years before we came west before 1900.
Jan. 11, 1930 - It is always nice to hear about our old fatherland which holds so many of our childhood memories, yet not always of the nicest kind, but my father and mother, sisters and brothers and ancestors from foregone times are resting there.
Sept. 12, 1930 - The journey went well both on the land and the sea, for which I thank God. (Blixt had just returned to Malo from a visit to Sweden).
Nov. 12, 1930 - Just imagine, 35 grandchildren, some of them more than 20 yrs. old, and one, our oldest son's daughter has been a music teacher in Canada for 3 yrs.
Feb. 10, 1931, reminiscing on his trip to Sweden - I slept so well in your little bed and sister, Anna, was looking so kindly at me from the portrait on the wall, and my father's clock struck and reminded me of him. He was so nice to me when we were together, when we chopped wood and played music in the house.
Feb. 10 - God's goodness has followed me all the way without my having earned it or being worthy of it.
May 12, 1931 - My wife turned 75 today, but is still capable in spite of her age, and in 7 months I'll turn 70. We can still feel our enemy, rheumatism, once in a while.
May 12 - Our children are all doing fine. They all have cars and they are all almost rich.
May 12 -We have had a radio installed in our house, so that we can listen to a good sermon on Sundays and so we can hear a good sermon in the evenings.
July 31, 1931 - Your (his nephew) fiancé is pretty and looks nice, but why cross the brook to get water when there are such nice and fine girls in Bäck. But, of course, one cannot judge since everyone has his own taste when it comes to love.
Dec. 24, 1931 - My family is 7 children, all of them with big shiny cars, an electrician, a Captain in the U.S. Army, 2 farmers, one with 70 head of cattle and one with 40, one son-in-law an engineer, and another has a big orchard which pays off well. With grandchildren and great grandchildren it is 43 persons. I am perhaps a little delirious, but you'll have to forgive me this one time.
Feb. 6, 1932 - I can remember when I was 16 yrs. old and walked to Härnösand in order to carry bricks and tile. 12 hrs/day work and we had to prepare our own food, as we couldn't afford cooked meals. How my feet hurt and how tired I was, and there was no one to advise and admonish me.
July 31, 1932 - My best time was when I was the head of the Sunday school in Ironwood MI and VP of the congregation there, and even here I had the same job for 8 yrs. I taught myself to play the organ so that I could accompany the singing. Those were joyful days even though we had much hard work to take care of the land, build houses, harvest, milk cows, cut ties, and repair chimneys.
July 31 - The other month, a year ago, it was 50 yrs. since I first received the Savior some weeks before Christmas. I was 20 yrs. old and poor, but very happy. The following year, in the summer, my wife was baptized in the Betel Church, and old ma was then my fiancé.
August 29, 1933 - I can feel that I am getting old, because my memory is not as good as it ought to be and my strength is also dwindling little by little.
Aug. 29 - America should have stayed out of this war which has made and continuously makes so many people suffer.
Dec. 30 - In the beginning there was nothing here. It was unknown land that we trod on, but God has been with us in our work and has given us his blessings and protected us all these years, since we set foot in the wilderness and began to clear the land and build houses.
Aug. 26, 1934 - I have many memories from Stockholm. I came there before I was 18. I was saved at the age of 20. Young, happy days, and afterwards I started to teach myself masonry while working on the Mission Emmauel Church making a firewall. There I laid my first brick. I started working for no pay.
Aug 26 - My beloved wife is still at my side now after 50 long yrs., and God has accompanied us all the way during this time, and he was always the same forgiving God and Savior full of love who has never broken his promises to us.
June 15, 1938 - I have the sad duty to tell you that my wife has ended her days on this earth. She passed away in her sleep calmly and peacefully the 6th of June, 82 yrs. and 20 days old and we have been married for 53 ½ yrs. The funeral was big and beautiful with many people and an abundance of flowers. It is so empty around here and I miss her much.
Feb. 7, 1941 - I love America and Sweden also.
---
WEDDING BANNS OF KRISTINA AND BLIXT OLSON
by Don C. Olson
Blixt Olof Olsson was born in Mårtanberg, Sweden where he spent part of his childhood before his family moved to nearby Bäck. He went by the name of Olof, since Blixt was a family farm name on his mother's side. Kerstin Andersson was born and grew up in Utanåker. Kerstin changed her name to Kristina when she immigrated to America.
Although Bäck and Utanåker were only a few miles apart, Olof and Kerstin did not meet until their 20s when they both were living in Stockholm.
Olof moved to Stockholm on September 25, 1883, while Kerstin made the move on August 26, 1884. Both moved to find work during hard times. Olof first lived in the Johannes parish, but on Oct. 9, 1884 moved to the Hedvig Eleonora parish. This was the same parish where Kerstin lived, and as our family history story goes, they met on the steps of the church when Kerstin slipped and Olof came to her aid. It must have been love at first sight, as their first wedding bann was announced in church on October 19. A translation of the wedding bann is shown below. Olof and Kerstin were married on November 28, 1884.
Excerpt from the Proceedings:
Held November 28, 1886,
Stockholm's Magistrate's Office
On the 20th of this month, in the Office of the Magistrate, Stone Mason Blixt Olof Olsson and Kerstin Andersson requested that they might enter in a civil marriage. As is required in certifying such requests, banns were, according to the law and without challenge, read three times, Sunday, October 19, 26, and November 2, by Adjunct Pastor F.J.V. Carlsson of Hedvig Elenora Parish announcing the marriage of Stone Mason Blixt Olof Olsson who was born in Rättvik Parish of Stora Kopparberg County, January 27, 1862, who is able to take Communion, and who is entrusted with citizenship, to Kerstin Andersson, born in Rättvik Parish, May 17, 1856, and who is entrusted with citizenship, and who, on the 17th of this month, transferred to the Baptist Church.
Following a perusal of the proceedings, as required by the Royal Edict of October 31, 1873, the Magistrate gave his consent, after which the contracting parties were asked to enter the hall and, accompanied by Stone Masons Anders Göransson and Hans Hansson, the contracting parties entered the following written agreement.
Mr. And Mrs.Olsson
Preface
The undersigned, who have decided to enter marriage, have each decided and with each other agreed that if our marriage is blessed with children, these will be raised in the Baptist Faith. Stockholm. November 21, 1884.
Stone Mason Blixt Olof Olsson
Kerstin Andersson
Upon questioning by the Magistrate's official, first Blixt Olof Olsson, then, thereafter, Kerstin Andersson answered that they, by their own free will and agreement, willingly entered marriage to one another. On behalf of the Magistrate, they were declared married and were wished happiness and success by the official in charge. Accordingly, the Parish Civil Registration Office for Hedvig Elenora Church would be notified and a copy of the agreement above would be delivered to the Parish Civil Registration Office. Year and day as above.
On behalf of the Magistrate, Nrrm Artig
---


"-- I am fearfully and wonderfully made-" Psalm 139:14
No doubt about it. We stand alone, far above all others in the animal kingdom in our capacities and capabilities. For example, we have immense mental capabilities, spirituality, complex language, ability to reason, and creativity, to name a few. How did we get that way? Evolutionists say by random selection allowing the fittest to adapt to changing environments. Those of faith say what makes us unique was breathed into us by God to make us in His own image.
Now scientists have discovered a unique physical capability of man that comes as a surprise. According to biologist Dennis Bramble of the University of Utah and paleoanthropologist Daniel Lieberman of Harvard University, man has a unique suite of traits in his anatomy that gives him the capability of long distance endurance running. According to the scientists, endurance human runners can, over long distances and under the right conditions, outrun just about any other animal on the planet - including horses, dogs, wolves, hyenas, and antelope. For example, in the Man Versus Horse Marathon held in 2004 which pitted hundreds of runners against dozens of horses with riders in a 22 mile challenging course, a human won.
What is this suite of physical traits? They include legs full of tendons not found in other primates; large buttock muscles which are a distinctly human attribute and vital for running; abundant sweat glands and nearly hairless skin to shed heat quickly; long legs, short arms, and low shoulders; large leg joints in proportion to body mass; a special ligament linking head to spine that keeps the head steady while running; long neck allowing the shoulders to twist freely of the head helping to provide balance during a run; a biomechanics system which coordinates all of these features exquisitely. In short, our bodies are beautifully tuned running machines (although not all of us feel so finely tuned) Actually, we have at least two such finally tuned runners in the Olson clan; Ron Cook in the Sam Olson branch who ran the Miller Triathalon in 1986, and James Roscoe from the Esther Olson branch who ran the Wisconsin Iron Man Triathalon in 2003.
| | |
| --- | --- |
| Ron Cook | Roscoe |
Why do humans have these features? Lieberman and Bramble believe it made early man who lived in the dry savannahs of Africa more successful at catching prey. Even today, Bushmen hunter-gatherers in the Kalahari Desert chase down kudu antelopes to exhaustion. But, interestingly, they only do this when the temperatures climb to near 100 deg. F. Because the antelope cannot shed the tremendous heat generated during running as efficiently as the Bushmen, they simply stop running or collapse when their body temperature reaches a critical level.
Now, the big question for those of faith. Why did God design us to be endurance runners? After all, all that Adam and Eve had to chase in the Garden of Eden were each other. However, God knew the fall would happen and knew that He would be compelled to cast them out of Eden. So, He equipped them with a body design that would enable them to fare for themselves. Where did He cast them? Here is an opportunity to play around with some speculation. In all likelihood, He would have cast them far enough away to make it impossible to find their way back to Eden. Why not Africa? This is where three branches of science, anthropology, genetics, and archeology, agree that the human race originated. Here, as we have already noted, a body designed for endurance running would enable Adam and Eve and their descendents to better put meat on the table.
It is interesting where humans headed when, according to science, they left Africa around 80,000 years ago. Genetic marker tracking has enabled scientists to map migration routes. Initially, like a homing pigeon, they headed straight toward the area of Mesopotania/Iran where Eden is believed to have been located. One path took humans straight to this area where they arrived about 50,000 years ago. But, alas, Eden was overgrown by that time. According to genetic markers in Olson DNA, our paternal ancestors passed through the Eden region in their journey out of Africa, and then headed north to Siberia where they turned west and crossed the Ural Mountains about 10,000 years ago.
In only 80,000 years man spread over the entire globe and multiplied in the billions. This speed of migration has always astounded scientists. It appears that man was born not just to run, but with a wanderlust and ability to trek long distances. Not surprising to those of faith, since God told his people to go forth and multiply and cover the earth.
---
ASIA TRAVELS
by Collin (Olson) Starkweather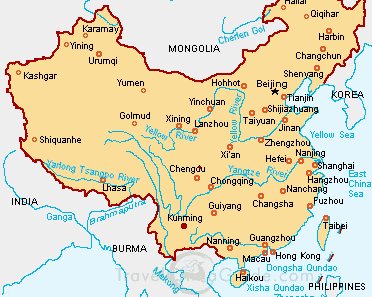 Map of China with Kunming in Red
This year, I decided to take a breather from my otherwise linear career path as an economist working in Chicago's financial industry to try something completely different.
After some inquiries, I found a position at Yunnan University in the city of Kunming, Yunnan Province, located in China just north of Vietnam and Thailand. While I am teaching a variety of subjects that I am familiar with, such as international trade and finance, they asked me to teach a course in business negotiation as well.
| | |
| --- | --- |
| The Moat in Front of the Forbidden City in Beijing | At first, I was a bit put off. Asking an economist to teach business negotiation is somewhat like asking a physicist to teach television repair. In theory, it is possible, but I wasn't sure I was the right person for the job. As it turns out, it has provided me with more insight into the Chinese mentality than any of my other experiences here. |
I have traveled in Europe, but Asia is a whole different ball of wax. While navigating Europe is possible with only a minimum of discomfort, even the simplest endeavors in Asia pose a challenges. The language barrier is only part of the problem. The material aspects of living are quite different at many levels, from eating to the products that are available in the stores (most Americans would be astonished by the types of products that adorn the shelves in Kunming's de facto American embassy, the local Wal-Mart), but there is a much more fundamental difference in the Asian mentality. Culturally, Asia is far removed from the west.

Americans who were polled by researchers listed freedom as the most important cultural aspect of the American mindset. After freedom, independence and self-reliance. The values we share as Americans are not dissimilar (and in part are derived from) the values we have inherited from our Scandinavian ancestors. In Japan, which culturally differs in many ways from China but still shares much of the core Asian mindset, the three most important cultural values among Japanese polled were belonging, group harmony, and collectiveness. In many ways, large and small, these differences in values permeate almost every personal interaction I have with Chinese on a daily basis.


The Great Wall of China North of Beijing

View of the South Wall of the Forbidden City
from the North Side of Tiananmen Square
Leading a class in business negotiation has also been enlightening, not only in how much difference there is between Western and Eastern mindsets but in the difference between business practices between the developed and developing world. My experience in business in the U.S. has been one in which business people are aggressive, say what they mean, and that often includes, "No." In China, business people are much more sensitive about maintaining harmony in interpersonal dynamics and their communication is often tacit. There seems to be a wide variety of ways to say "yes" in China, many of which mean "no." Westerners who do not know this before doing business in Asia can be in for a rude shock.
My experience growing up in a household with a strong Scandinavian influence has also given me a much different outlook on business ethics than exists in China. Transparency International ranks about 160 countries as to the perception of corruption among leading experts and business people. Of the six least corrupt countries in their ranking, four are Scandinavian. (Iceland was ranked the least corrupt country in 2005, in case you are wondering, followed by Finland. The U.S. ranks number 17, just below Germany and just above France.) By the time we get to number 8, Norway, we have all five Scandinavian countries.
| | |
| --- | --- |
| China, on the other hand, is ranked 78, about the halfway point. Just above China is Saudi Arabia, Poland, and Mexico, and just below is Rwanda, Lebanon, and the Dominican Republic. The difference this makes to the way business is conducted is remarkable. As a result of this mindset, difficulty in contract enforcement and other issues, most Chinese business is conducted on the basis of what they call "guan xi" (pronounced "goo-ahn-shee"), which roughly translates to "personal connections." | A Chinese Grocery Store |
| | |
| --- | --- |
| Chinese Child in a Kunming Temple | While I have inherited very Scandinavian values in my business practices, my experiences in Asia have led me to realize that there is more than one stable equilibrium in business conduct. Leading a section on business ethics, I asked my class if they would ever pay a bribe if it were requested. You could practically hear the crickets chirping in response. A student later told me in private that, while exceptions will sometimes be made for foreigners, if a Chinese person wants to do business in China, they must do it the Chinese way or not at all. |
For now, my Chinese is just good enough to attend to the basics, and my experience with such things is purely anecdotal. As my Chinese improves, I hope to be able to gain a deeper understanding of the subtleties of the Chinese mindset and where it will lead the world as China gains in prominence on the international economic and political scene.
---