Where Did We Come From?
Dalarna
---
The Swedish origins of the Olson ancestry trace back to the province of Dalarna located in central Sweden. Blixt Olaf Olson was born in the town of Bäck, and Kristina in the town of Rättvik, across a bay from one another on Lake Siljan.
An excellent description of this land of our roots is the following account by Don C. Olson of a trip he made to the area around 1975. ( If anyone else in the family has visited the area, please send us an account of your perspective for inclusion in our Home Page.)
Back To Bäck
It was a bit exciting to contemplate that we would soon embark on a journey to visit the birthplaces of my grandparents, Blixt and Kristina Olson, in the villages of Bäck and Rättvik in the Swedish province of Dalarna. They had left their homeland a century ago to immigrate to America; now, we would be the first of their descendants to return to Sweden to see where it all began. Those were my thoughts and feelings as the time approached for the trip to our "ancestral grounds" that had been several months in the planning. It was the middle of June and we were in Copenhagen, Denmark, on one of the Scandinavian vacations (primarily to Denmark) that we generally took every 2-3 years. Even though we had been making these trips for over 20 years and had seen parts of southern Sweden, we had never traveled north to Dalarna. I was anxious to see the region where my grandparents grew up, and meet my Swedish relatives; perhaps the urge had been kindled by our last family reunion and the family history that we were treated to there.
Dalarna (pronounced dollar-na) is the equivalent of one of our states and lies near the center of Sweden about 400 miles northeast of Copenhagen, Denmark. Since most of Sweden has beautiful terrain and countryside, we decided to make the trip by train so we could all enjoy the scenery in leisure. The trains in Europe are comfortable, clean, fast and on-time, making them a pleasant mode of travel. The Scandinavian trains have passenger cars that are designed with compartments holding 6 people each, giving you at least a semi-private room. Rättvik , our destination and the town where Kristina grew up, has a direct rail connection with Stockholm, Sweden, so we opted to make the trip in two legs -- Copenhagen to Stockholm, staying there overnight, and then on to Rättvik the next morning.
I had earlier corresponded with our distant cousin, Ellen Osthols, about coming to Dalarna for a visit. For those who don't want to dust off your copy of the family tree to see where she fits in, she is on a branch descended from Kristina's side of the family. Ellen and her husband, Styrbjorn, live in Altarsbyn, near Bäck where Blixt grew up. Both of these villages are only a few miles from Rättvik.
We boarded the train bright and early in the morning in the Copenhagen Central Station, and were soon out of the city and onto a ferry that crosses the body of water called Oresund which separates Denmark and Sweden. Their trip to Stockholm took most of the day, and it was a scenic trip through forests, farmland, along lakes and rivers, with a few stops in town along the way where one could get out and sample Swedish snacks. We arrived in Stockholm in late afternoon and took a taxi to our hotel. We were pleasantly surprised to find a note from Ellen waiting for us. Ellen was in Stockholm visiting her daughter, Kristina, and offered to show us some of Stockholm the next day and then drive us to Rättvik.It was our good luck that the Rättvik Folk Music and Dance Group was performing in Stockholm that day. This group is well-known not only in Sweden, but also has made world tours, including the U.S. Ellen's brother, Bengt, plays fiddle in the group. Fiddle music has always been very popular in Dalarna; in fact, there is an old saying that if you meet two men from Rättvik, three of them will be fiddlers. I don't know if Blixt carried on the tradition, but I do remember he had a fiddle.
Ellen and Kristina picked us up the next day and we all took the subway to downtown Stockholm. Our walking tour of the central city was a special pleasure. I have visited Stockholm a number of times in the past on business trips, and I always enjoy an opportunity for a return trip. It is a beautiful, clean, and richly interesting city, and one I would enjoy living in (at least, in the summertime). The city is perched on 14 islands in an archipelago laced with waterways and adorned with ships and boats of all sorts. We ended our tour at the folk music festival which was held in an open-air park. The players were in full native Dalarna folk costumes and the lively music brought back old memories of Swedish records my mom used to play on our Victrola when I was a boy. All of the musicians in the group participate as a hobby. Bengt, for example, earns his livelihood in housing construction; in fact, he owns one of the major housing construction firms in central Sweden.
The drive to Rättvik took three hours. Most of it was through picturesque farm country with tidy red barns and houses. Then, rather suddenly, we entered a forested region which opened up into a panorama of natural beauty with Lake Siljan as its centerpiece. The first spectacular view of the lake framed by forested mountains happens at the village of Soderas, which I remembered is on our family tree, and is known as the gateway to Lake Siljan. I found it interesting to later read that there is a strong geological evidence that the Siljan "bowl" was created by one of the most immense prehistoric meteorites ever to impact the earth. Over the next several million years, nature sculptured the valley and filled it with the blue lake and flora and fauna which give it such beauty today. It is believed that man first set foot in the valley only 5000 years ago. One might well say that the Almighty spent a great deal of time and effort to prepare Dalarna (which means valley) for our ancestors.
We drove along a line of towns and villages near the western shores of Rättvik Bay, and many of them such as Utby, Lerdal, Uktanaker, Hjortnas, and Bäck (which means brook in Swedish), as well as Rättvik itself, can be found on our family tree as the birthplaces of some of our ancestors. Ellen and Styrbjorn live in Altsarbyn, next door to Bäck, where they were restoring the old farmhouse which belonged to Ellen's grandparents. They have a fabulous view of the lake from the top of a ridge overlooking the water. They have a second house a few miles away where the used to live, and they kindly offered us the use of the house during our stay.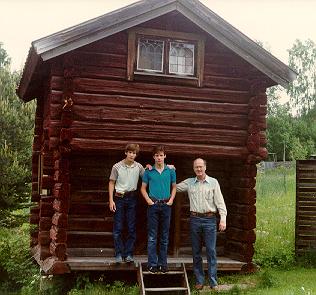 Don, Kevin and Collin at Ellen's guest house.
We stayed in Dalarna for three days, did alot of exploring and sightseeing, visited relatives, saw farms that belonged to our ancestors, and enjoyed many other experiences. To recount all of the details, even though every experience was uniquely enjoyable, would be too lengthy, so I will cover some of the highlights. First, let me say that the Siljan area has so much natural beauty , and the towns, villages, and farms are so picturesque and rich in culture, tradition, and folklore, that I wish that we could have had a much longer time to spend there. The Dalecarlia (residents of Dalarna) have strived to preserve much of their tradition and culture. For example, it is popular with homeowners to put up a type of yard fence which is a unique slanted pole design built without hammer or nail and used on farmsteads for generations. Another is the widespread preservation and restoration of old log buildings ranging from small granaries to barns and houses. Many of hese have been converted to modern houses for permanent residence, as well as summer and guest houses. I could go on to many other examples.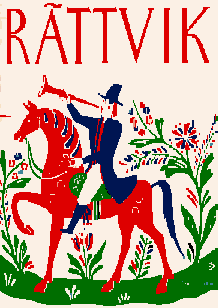 Rättvik is a medium sized, tidy town on Rättvik Bay on the northeast corner of Lake Siljan. It caters to the tourist trade with a good number of delightful shops, but the jewel of Rättvik is its church. Built in the 1300s and expanded in later years, it is a magnificent and commanding structure on the shore of the lake in a park-like setting. Inside the church, it is a moving experience to fell the quiet beauty and strength that the interior seems to radiate. Alongside the church, on the north side, is a large, beautifully landscaped graveyard with gravestones dating back to the 15th century. We have ancestors among them. On the south side of the church is a curious line of small log buildings grouped in clusters. These were individually owned horse stables which were built generations ago, but are no longer used. I was told by a local that I had a chat with that the stables were built by the rural parishioners because the ministers gave such long sermons in the winter that the horses they rode to church would freeze to death without shelter. While most people came to church by horse or by foot, many came by boat across Rättvik Bay (probably Blixt, because of where he lived). Over a hundred years ago, the Sunday boat trips developed into a custom which is unique to Rättvik and a well-known part of Sweden's folk history. Each town or village built its own stylish longboats with room for about 25 people. The boats were designed for speed, and every adult manned an oar, but not because they were in a rush to get to the church to hear the Sunday sermon. Instead, the trip became a race between the villages, and each village was bound and determined to outdo its neighbors. The tradition, which is still staged in the summertime for tourists, reminds me of our car trips down the mountain to the Malo store when I was a boy. If another Swede showed up on the road, the trip became a race to see who could stay out front to avoid "eating the other guy's dust".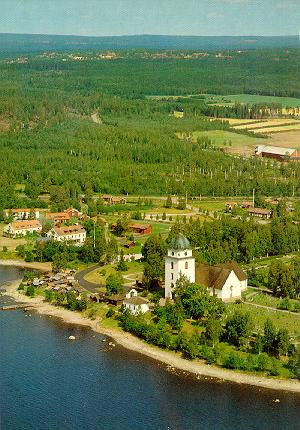 Rättvik Church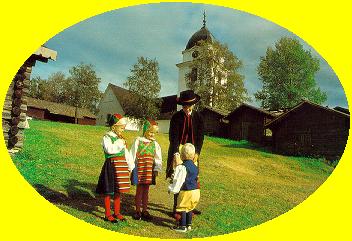 The Dalecarlia are well-known throughout Sweden for their stubbornness and determination, and while the church boat races are a good example of these traits, perhaps the best testament is an impressive stone monument which Rättvik proudly displays on the church grounds. The monument was presented to the Dalecarlia by a Swedish king for the role they played in a decisive battle fought in 1521 against a Danish army. The Danes thought they had the Swedes beat because they were weak and starving, but the Dalecarlia, living off the bark of trees, wouldn't give up. They launched a surprise attack and won against great odds. According to a historical account summarized on our family tree, the Dalecarlia were led by one of our ancestors, Peder Svensson.
So much for the sights of Rättvik. Let me turn to the sights and experiences more relevant to our family history.. On our second day in Dalarna, Ellen invited a number of our Swedish relatives to her house for a visit, including Elof Hagan and his son, Hans-Olof. Elof was a nephew of Blixt and is a storehouse of history about the Olson family. In fact, it was Elof who put together the original version of the family tree, much of it gathered from the Rättvik Church records. He was in his 80s, but his memory was still good. We were given a tour of the old Olson farmsteads while Elof recalled his memories. The oldest farm was called Pellasgarden (farm of Pellas), named after Blixt's father, Pellas Olaf Hanson. This was the farm where Pellas grew up and still has most of the original log buildings which are still in excellent shape. Of special interest was an apple tree that Pellas had planted about 150 years ago and still bears fruit. Elof told us about a dark period in Pellas's life. As a young man, he married an only child, Anna Larsdatter, from a fairly large farm near Martenburg, about 5 miles from Bäck. When Anna's parents died, Pellas and Anna inherited the farm. Unfortunately, the farm was near a tavern, and it turned out that Pellas had a weakness for spirits. He became an alcoholic, and over the years he mortgaged and finally lost the farm supporting his habit. But eventually, Pellas reformed, and some of his children bought him a new farm, in Bäck right across the road from Pellasgarden. The new farm was named Blixtgarden and it was here that Blixt grew up. The original house, with a second story added more recently, still stands and is owned and used as a summer house by Elof. Near the road that runs by the farm is the brook that Bäck is named after. After seeing the beauty of this area, one can easily wonder why Blixt and Kristina left it for a distant, unknown land. There were a number of reasons- bad economic times, religious oppression, large families - but one sort of unique to Dalarna might be attributed, ironically, to the legendary sense of fairness and honesty characteristic of the Dalarna farmers . It was their custom to divide the land precisely equally among the children in their wills. Over the generations that preceded Blixt and Kristina's time, so many divisions had been made that there was not enough land for a family to make a living on. Blixt left for Stockholm to work as a carpenter, but work was scarce and wages were low, so he looked beyond for better opportunities in America.
We, too, left Dalarna for Stockholm, regretting that we could not stay longer, but promising ourselves to return one day. We had one more enjoyable and interesting experience on the way back to Copenhagen. We stayed in Stockholm overnight, and that evening a business associate took us out to dinner in a rather unusual restaurant which was built in an old cellar that was used by a merchant to store potatoes in the 1500s. It turned out that the merchant was from Dalarna, and he was the man who first introduced the potato to Sweden (not to eat, but to make potato brandy, better known as aquavit, the "water of life" in Swedish). No, he wasn't a relative!
Author: Don C. Olson
---